As with any bathroom or kitchen renovation, you want your design to be functional and timeless.
Predicting kitchen trends can be a bit like waving a stick in the wind. No one really knows if they're a trend until the style is used consistently – like copper and subway tiles. Both of these were popular in kitchens last year, but this year, they have been slowly edging out of trend.
No matter the kitchen trends, if you're looking renovate your kitchen in the new year, choose what works for the space. The following predictions are based on what architects and designers are seeing overseas and by international trend forecasting agencies.
Tuxedo Cabinets
Tuxedo cabinets are a combination of two colours in the cabinetry. Some renovators will take this literally and use black and white cabinetry, while others will use a muted palette of greys, browns and navy.
Wood Paneling & Dark Woods
Dark wood floors and wood paneling will also be featured in kitchens to add a natural tone to the space.
Minimalism is in
Just like the bathroom trends predicted for 2017, minimalism will be huge for kitchens. Taller cabinets will allow for more storage and bench appliances will be concealed in cabinetry.
Hidden Appliances
Appliances will form part of the cabinetry, blending into the kitchen. Stainless steel appliances are out, while coloured appliances that match in with the kitchen colour palette will be in.
Mixed Hardware & Desert Colours
Mixed hardware in brushed metals of gold, brass, nickel and copper will be on trend. This trend will lend itself to tapware too. A bold and sleek sink mixer will add interest to the kitchen and be a key focal point. Desert colours like saffron, terracotta and nude will be very popular in kitchens.
Greenery
Internal vegetable gardens will also be seen in many modern kitchens. The greenery adds colour to the kitchen, but also nods to the minimalist, simplistic lifestyle of growing your own food.
Which kitchen trend resonates with you? Do you like to follow trends or are you happy to do what you want when it comes to interiors?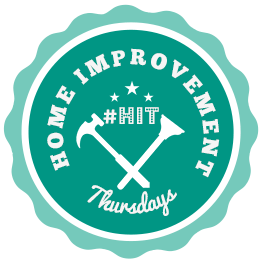 Last week on Home Improvement Thursday, House Home gave handy tips for a DIY Bathroom Renovation. Always remember when it comes to the plumbing and electrical services, these require a licensed tradesperson to disconnect and install the services. Do it yourself will incur a fine and void your home insurance.
Home Improvement Thursday Rules For Linking Up
If you're a DIY, home organization, building, renovation, home makeover, home decorating, home maintenance or trade related blogger we'd LOVE you to link up with us below. Here are the HIT rules for how to link up and what you need to do once you have linked up.
Linkable posts, must centre around the topics of DIY, Renovations, Home Organisation, Home Improvement, Home Makeovers, Home Styling, or Home Maintenance.
You can share 1 post each week. Please make sure they are new to the "Home Improvement Thursday" party.
Linking is simple, find the little blue button at the end of the post that says, Add Your Link, and then pop in your URL, and follow the prompts.
Your link only needs to be added once and it will automatically show up on both of our blogs… it's that easy! Grab our #HIT button and pop it on your sidebar.
Don't forget to share it with others. Follow the blogs of your fellow #HIT family, and leave a comment.
Please visit and comment on at least three blogs that are near you on the list.
Leave a comment on the post below so we can return the favour and comment on your post.
Don't forget to follow The Builder's Wife and The Plumbette.