I'm excited to share this before and after reveal with you of a modern black and white kitchen renovation, for three reasons:
1. It's another friend's home.
2. I know the builder, Paul and Kristie from Alps Constructions, because dad and I used to work with them.
3. The kitchen was designed by Kitchen Gallery, whom I've featured on the blog before. You can check out that kitchen here.
When I saw Rochelle and Rob share their kitchen renovation on Facebook, I really really REALLY wanted to show it to you because I think they've done a great job in getting the right layout and colour balance in the kitchen.
Here is what the kitchen looked like before.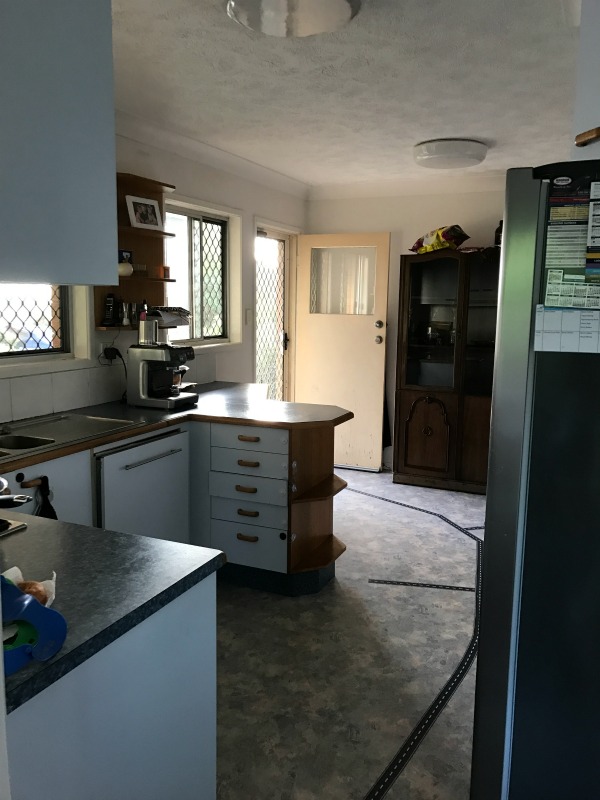 And what the kitchen looks like now. I think I have kitchen envy. How good does it look?!
This monochromatic kitchen is ultra modern and on trend. It's the type of kitchen I'd happily see myself cooking in. There is nothing I don't like in this kitchen.
I love the white hexagonal tile splashback. I recently shared a similar splashback on Instagram. The cabinetry teamed with the timber floors looks stunningly impressive also. I'm also a fan of the island bench and pendant lights.
This kitchen definitely adopts some of the key kitchen trends that were predicted for 2017, specifically the tuxedo look.
Alps Constructions and Kitchen Gallery have produced a stunning kitchen. If you live on the south side of Brisbane, definitely give these guys a call if you're looking for your kitchen to be renovated.
Thank you to Rochelle and Rob for allowing me to share your kitchen renovation. I hope you make some fantastic family memories in your new kitchen.
Are you a fan of hexagonal tiles? Do you love a modern black and white kitchen?