There is a saying that often gets shared online that says
'I'm not interested in competing. I hope we all make it.'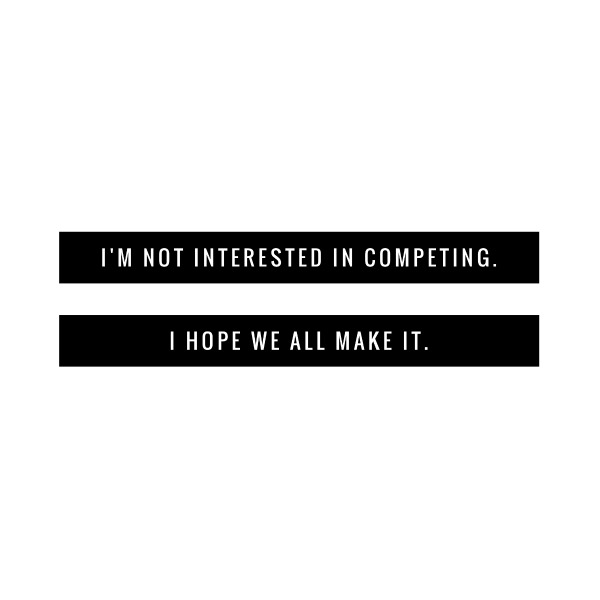 I love this.
It's the right attitude to have in life, but it's also important if you run a business or write a blog (or even both).
Healthy competition can be good (I think it's necessary), but isn't it a wonderful feeling to be genuinely happy and proud of a fellow competitor smashing a goal… even if it's similar to yours?
I read a lot of blogs. I've gained a lot of useful information from reading blogs. And yes some blogs have influenced my buying decisions – all of which have been good.
I look up to a lot of bloggers too. I'm not afraid to admit I do get overwhelmed by those that do different things and are successful by it.
But I'm always reminded that it takes a team to get someone to their goal. As John Maxwell says it takes teamwork to make a dream work and readers are a necessary part of that team for the success of a blogger.
There are many ways a reader can support a blogger as they consistently pump out new posts each week. The awesome thing is, bloggers can support other bloggers too.
Here are 10 Ways to Support a Blogger This Year
1. Read their blog posts.
This is kind of obvious, but it's actually necessary. If you love a blogger, you have to read their stuff. Organise a day or time when you can check in to see what's new on their blog. Alternatively follow their blog on bloglovin and you will get an email each day sharing the link to their latest blogpost.
2. Promote and share a blogpost that resonates with you.
Sharing blogposts is a great way for a blogger to build traffic, but it also reassures them that the content they have created has been useful or worth sharing. It helps with their content plan too so they know what resonates with their readers.
3. Subscribe to their newsletter.
Most bloggers have a newsletter you can subscribe to. This will often share the latest blog posts. It can also include news or promotions not shared on the blog.
4. Like their social media pages.
Don't like a social medial page for the sake of liking it. Genuinely like it because you enjoy the content they share. This last month has been rife on Instagram with bloggers following me for a follow back. That's not real engagement and I ignore the requests. If you read a blogger consistently, like their social media pages. You will get to see their latest posts sooner and they often share different content to what is on their blog.
5. Don't scroll past sponsored posts.
If a blogger is making a living from writing their blog and you have been helped or have enjoyed reading their posts, then you should have no qualms with them making money and writing sponsored posts (sponsored posts are posts that a brand has paid for the blogger to write). It means they can keep spending time creating what you love to enjoy.
Every blogger has a different strategy to making money and what may be considered the best way to make money, may not work for everyone else. Sponsored posts are given a lot of considerable thought by bloggers before they accept the proposal. Saying you will scroll past a sponsored post is like watching your favourite tv show and not wanting to see the ads. Those ads keep the channel running so you can watch your favourite show. Sponsored posts can do the same for your favourite blog.
6. Leave them a comment.
Bloggers love to interact with their community. Don't ever think a blogger doesn't want to hear from you. It's the opposite. So leave a comment on the blog post or on social media and let them know what you think. Don't be afraid to disagree, so long as it's done nicely.
7. Buy their products.
If a blogger writes a book, an ebook or sells any type of products on their site, support them and buy their stuff. Don't buy it for the sake of it. Keep their products in mind for Birthdays or gifts or just because. If you were already going to buy it, then buy it off a blogger so they can get an income from your purchase.
8. Click on the banners on the side of their blog when considering to make a purchase.
Bloggers will usually have banners or advertisements on the side of their blog. Some of them make money per click or they make money through commission (a percentage of what you spend gets sent to the blogger). If you know you're going to buy something from one of the advertisers, why not click through the banner on their blog so they can get some commission? I do this for fashion bloggers. I can't earn commission from the banners I have on my blog (cause it's like double dipping and it's wrong). Instead, I head to a fellow blogger's page with the same advert and buy through their banner so they can get the commission. This is a great way for fashion bloggers to help other fashion bloggers.
9. Nominate your favourite blogger at awards.
Bloggers don't run off awards, but gosh receiving a nomination is a lovely pat on the back and can be so encouraging. Nominations are a lovely way to tell the blogger you follow that their work is appreciated and should be recognized. There are often all types of blogging awards each year. When you see one promoted, be sure to nominate your favourite blogger.
10. Put their blog forward for business opportunities. 
Sometimes if I get a brief that doesn't work for my blog or if a media agency wants some recommendations for a campaign, I happily send my colleague's blogs forward. Readers can do the same. If you work in marketing or a sector where promotions are needed, why not put your favourite blogger forward as an advertising possibility? I've had readers send me messages to contact certain companies to offer my blog as a way to promote their services. It's a clever way of helping each other and it offers me more contacts for future income opportunities.
I'm sure there are other ways you can support your favourite blogger, but these are just some of the ways I support others and how others have supported me as I write this blog. No one misses out when you offer support and I think if more support was given, we'd all be smashing goals sooner rather than later.
How do you support your favourite blog? Can you share a way of supporting a blogger that I haven't listed?