Our Phoebe turned 1 on Saturday. The big 1. How did that happen? It doesn't feel all that long ago that I brought her home as a darling newborn. I do yearn for those newborn days, but I don't miss the sleep deprivation or sore boobs or sore… well everything. But the pain is worth it. I couldn't imagine our family without our gorgeous curve ball. I'm not sure why I was so worried. This last year has been wonderful and I'm looking forward to each day after even if the days are now more chaotic because I have a 1 year old on the move and a 2 year old who thinks it's fun to join in with the 1 year olds antics!
When I planned Phoebe's 1st Birthday, I decided to do something special and base it on a Tiffany and Co. theme. The colours were easy and the play on Phoebe's name was a lot of fun to create. Our Phoebe & Co. 1st Birthday Party was a fun success.
Jacob bought most of the party ware from a local discount shop called Stacks. They had a great range of Tiffany and Co coloured plates, tablecloths, cupcake patties, cups, straws, serviettes, pompoms, bunting and pin wheels. I gave Jacob a list of what I wanted and he bought everything for me. Except the lolly bags which he promptly purchased on Friday when I realized I had nothing to put the lollies and fake diamond rings in.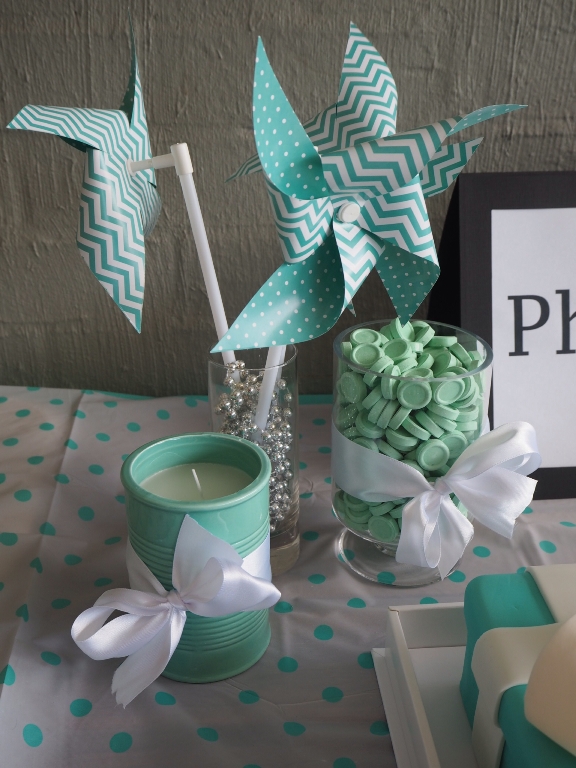 Last week on my Birthday, I headed to Kmart to get the finishing touches for the decorating. I bought an '&' light and 2 citronella candles that were in the right shade of blue. I also went to a confectionery store where they had spearmint lollies on sale which I used to display in two candle vases, bought for Esther's 1st Birthday party. A bit of white ribbon here and some silver beads there and the decorations were set for the table.
I got the cake and macarons professionally made. My baking and icing abilities are limited (although I can make a mean chocolate mousse) and I knew if I wanted to get the wow effect with my cake, I'd have to get someone to make it for me. So I sent pictures to my friend Jo who outdid herself with the cake and gorgeous macarons. If you live in Brisbane's Western suburbs and after a cake for your next celebration, get in touch with Jojo's Treat House. Not only did the cake and macarons look good they tasted delicious too.
When it came to inviting people to the party, I decided to go smaller rather than invite every man and his baby and toddler. I've learned from past experience that less is best and it makes for a relaxed party environment.
I had bubbles and craft activities for the kids to do, although they enjoyed playing on our outdoor swing set. It reminded me that kids love the simplest of activities best.
The morning was hectic getting everything set up for the party and it went quite quickly. Magdalene announced it was the best party EVER and then promptly asked when it was her Birthday.
As I was going through the photos, I couldn't help but smile. We made it to Phoebe's 1st Birthday, smiling and happy. Bring on the next family adventures for our family of 5.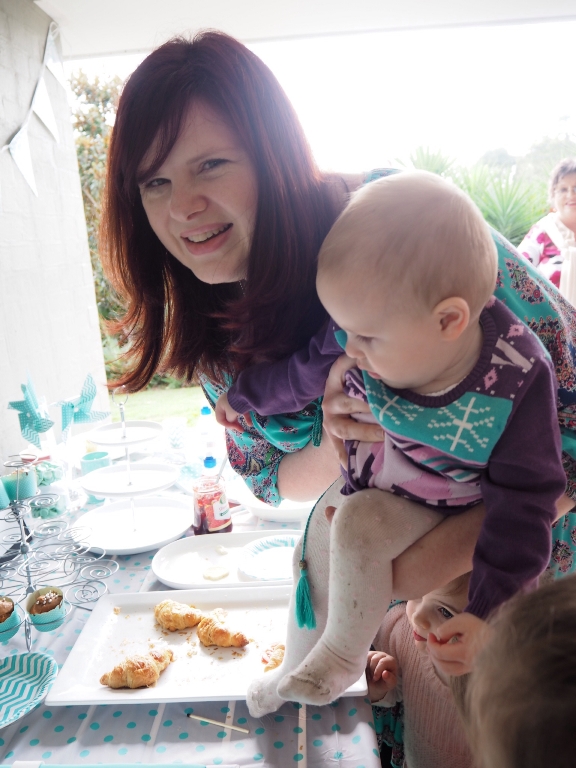 How was your weekend? What was the theme of the last party you went to? Or the last party you organized?
Like this post? Why not check out my current giveaway on 31 things I know or 3 Fun and Easy Family Outings to do in Brisbane with a Baby.
I'm linking up with Essentially Jess for IBOT.