If you're looking for an easy Easter Hat that you can create at home with recyclable materials, this hat is for you – well your kid actually. This Bunny on a Hill Easter Hat is a lot of fun to make and requires little effort.
Esther told me after school last week that she needed a hat for the Easter Hat Parade this Thursday.
I smiled and told her I was already prepared. She could wear the ones we made last year, which I had put away for safe-keeping so we wouldn't have to worry about making one this year.
Unfortunately, Esther wouldn't have it. Everyone saw it last year and you can't wear the same hat twice in a row. #firstworldproblems
I sighed and told her if we were to make another one, we would only use what we had available in the craft box. And the toilet. This hat needs a toilet roll and I can guarantee every house in Australia has a spare empty roll sitting on the holder or the floor. I've been collecting ours so we had a good supply to get creating.
Making this hat was so easy. We ended up making two. It made for a great after-school activity inside after we had a week of rain.
Bunny on a Hill Easter Hat
Materials
1 Empty Toilet Roll
1 Plastic or White Paper Cup
2 Pieces of Green Paper (A4)
Pom Poms
2 Googly Eyes
Sharpie Pen
Cotton Wool
Elastic
Hole Punch
Scissors
Craft Glue
Sticky Tape
Instructions
1. Grab the green paper and cut strips halfway into the page. This will make for the grass on the outside of the cup. Cut the second piece of green paper in half, lengthways. Cut the strips to create a second row of grass.
2. Glue the green paper around the cup.
3. Make a bunny out of a toilet roll by twisting white pipe cleaner into ears and attaching to the top of the role with sticky tape. Glue googly eyes, a pink pompom for the nose and a cotton wool for the tail. Draw the face using a black sharpie.
4. Stick the toilet roll bunny to the top of the cup using craft glue and sticky tape. You may need to cut some of the grass to see more of the bunny.
5. Glue pompoms on the side of the cup on the grass to create 'flowers'.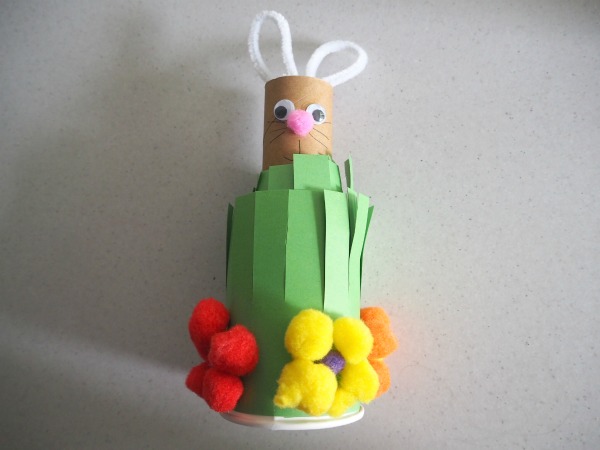 6. Use a hole punch to punch holes on each side of the cup. Thread elastic and tie it to each side of the cup.
7. Wear your Bunny on a Hill Easter hat at the Easter Hat Parade.
We've now found out Esther will be making a hat at school to wear for the parade, but Maggie and Phoebe won't want to miss out, so they will definitely modelling our bunny hat creations.
If you need some more last minute Easter Hat ideas, head to this post on Be a Fun Mum.
Are you sorted for the Easter Hat Parade?