There have been a few things that have annoyed me in our ensuite bathroom since we've lived here for nearly ten years.
The first is not having enough towel rails to hang up more than one towel. There was also never an allowance for a hand towel holder either.
The second was having no soap holders. We did have soap holders when we first moved into our house. But they were originally installed in a way where the chrome part of the holder just balanced on the two screws that were installed to secure the holder to our shower wall. I rarely use soap, but the one occasion I did put a bar in, the whole holder fell at my feet, smashing the glass dish and chipping a tile in the shower. The screws were so rusted from the way it was installed, the heads came off leaving half the screw embedded in the shower. It has been an eyesore ever since. When the same thing happened to my husband's side of the shower I knew we had to get new soap holders.
The third was not having a niche or any sort of accessories to hold the bottles of shampoo and shower gel off the floor.
These annoyances were ones I could live with. But it wasn't until I was contacted by FUSION-LOC and had a look at their stylish bathroom accessories, that I knew I'd found the answer to remove the eye sore mess from my shower floor.
FUSION-LOC are easy to install accessories that work as their name suggests – using vacuum fusion to lock the accessories in place on the wall. They work perfectly on glass, sealed tiles, vinyls and laminates. The design is patented to FUSION-LOC, so it's a unique installation anyone can do. No tools or drilling are required. The vacuum-fusion pump does the work for you.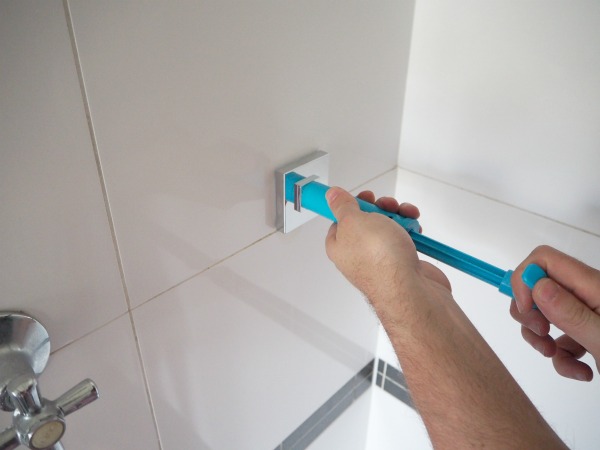 The range is stylish and comes in chrome and matte black. The matte black is GORGEOUS. For our ensuite, I've used a mix of both to show you what it looks like. Jacob has kept the matte black for his side of the shower. I do have chrome to remove the black should we decide to make the accessories uniform.
I was sent a range of products to install in my bathroom and I put them to the test.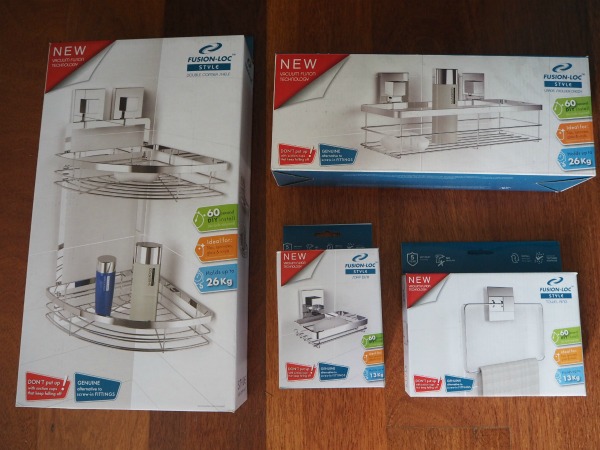 Initially, the soap holders would not seal to our tiles. The reason for this is because they are porous. It's a very rare issue to have porous tiles. The way to get around that was to install adhesive discs (which can be purchased separately) and then install the FUSION-LOC accessories to the discs.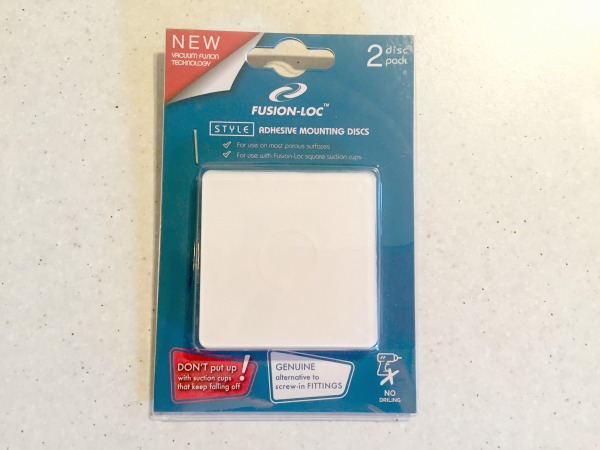 I was dubious about whether they would hold, but after a month's worth of showers, our accessories are still in place, and they hold a few kgs of shampoo, conditioner and shower gel products. We rarely use soap, but I'm happy to have the soap holders installed for display purposes.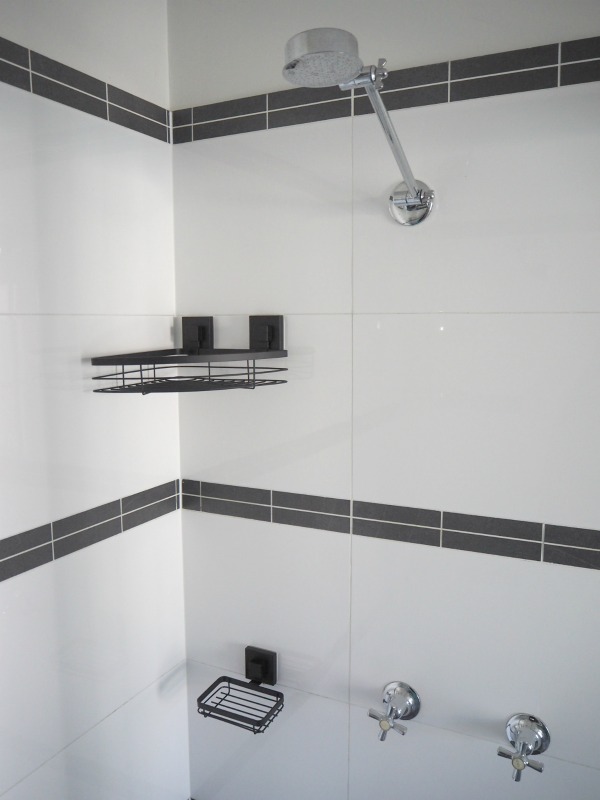 Here is a video of how I installed the soap holder. It takes less than 30 seconds. For me, it took 34 seconds because I was having multi-tasking issues.
The FUSION-LOC range also includes a towel rail, suction towel ring holder, toilet roll holder and hooks.
We installed a suction hook as another place to hang a towel. We will look at getting an additional towel rail to add to our main bathroom in the future as the towel doesn't dry in winter when hung like this.
Overall, I've been really happy with the FUSION-LOC bathroom accessories. If you're looking for a way to style up the bathroom, then adding these accessories is certainly the easiest and best way to go about it.
Best of all, the accessories can be removed and installed in a different position if needed. All you need to do is remove the cap and use your finger nail to release the vacuum in the centre valve and then remove from the wall. If you use an adhesive plate though, this will damage your plasterboard wall as it is a strong adhesive. You will need to replace these if they are to be removed.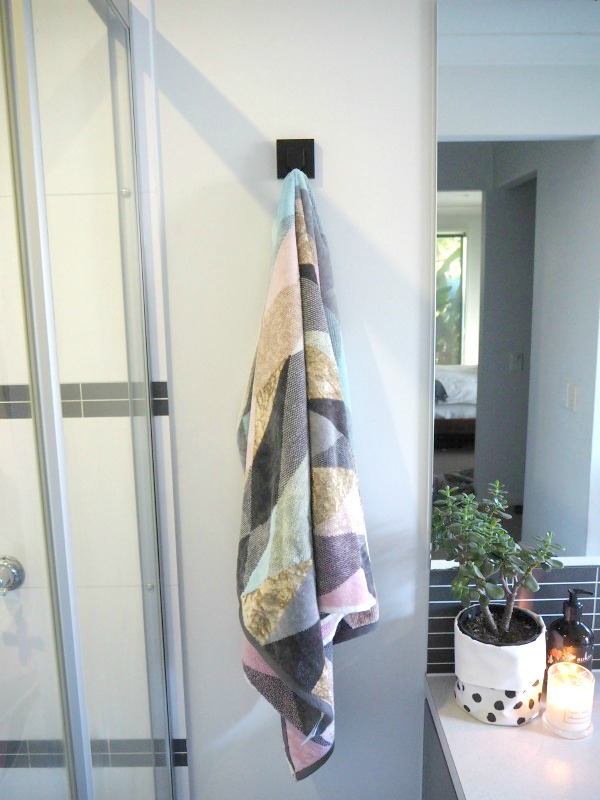 When I head into our shower, it feels like new. It's a delight to head into the shower and not have to bend to reach bottles of shampoo and conditioner. It's also been nice not to have towels draped over the shower door.
The FUSION-LOC range is available exclusively through Bunnings. But if you want to get your hands on some for free, the FUSION-LOC team have offered to do a giveaway in your choice of colour accessories.
FUSION-LOC STYLISH BATHROOM ACCESSORIES GIVEAWAY
There will be two prize packs. Each pack will include :
1 x Large Shower Caddy
1 X Soap holder
1 x Bathroom hook
1 X hand towel or face washer holder
2 x adhesive discs
Chrome RRP $107.80
Black RRP $103.80
The winners can choose Chrome or Black for their prize.
All you need to do to enter the giveaway is:
Like The Plumbette on Facebook
Answer this question in 25 words or less:
Why do you need FUSION-LOC accessories in your bathroom? You can comment here on the blog, on Facebook under the post, OR via my contact form.
Winners will be chosen on their answer.
Terms and Conditions
This is a game of skill. Each valid entry to be judged on creativity and originality, not by chance.
There are two prizes of FUSION-LOC accessories as detailed above. The winner has a choice of black (RRP$103.80) or chrome (RRP$107.80)
Entries open from 5am Brisbane time Saturday 26th May to Friday 15th June 2018 5pm Brisbane Time.
Prizes are not transferable or changeable.
Prize sent out by third parties will not be replaced in the event they are stolen, lost or damaged in transit or virtually.
Entry is leaving an answer to the question on the post or Facebook and visiting and liking Facebook pages.
A valid email address must be included in your entry.
Entry into any giveaway or competition is deemed acceptance of these Terms and Conditions.
This Giveaway abides by my Privacy Policy.
Entrants must be Australian residents and aged 18 or over.
The winner will be notified by email and has 3 days to reply and claim the prize. The winner may be announced on Facebook. This giveaway is not endorsed or affiliated with Facebook.
Disclosure: I was gifted FUSION-LOC accessories for the purpose of this post. All opinions are my own. This post has been written in accordance with my Disclosure Policy.