Last Monday I went back on the tools…. for an hour to do some plumbing maintenance at Esther's kindy.
Despite the plumbing having passed inspections, a workplace health and safety check advised a potential hazard with a down pipe off one of the water tanks. The pipe was installed in a way that a child could step up on it and climb over the fence.
I'd highly doubt a kid would even think of climbing over this particular fence, but the issue had to be rectified once it was brought up.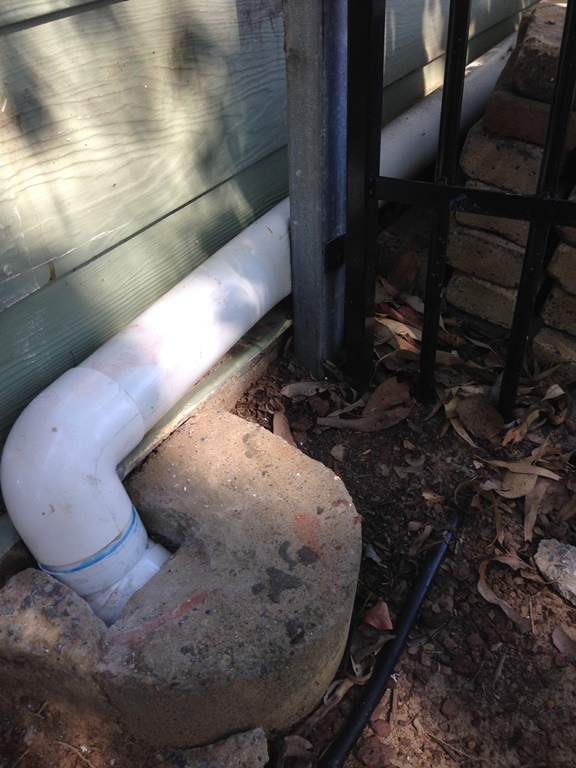 At the same time the hose tap off a different water tank had to be replaced because the handle had broken off the existing one.
What worried me about that job was the tank was full of water and getting the new tap on would have to be done under pressure with water gushing out. I explained to the kindy teachers that if I were to replace the tap, the tank would probably get empty.
But I brought along the master (my dad) who was confident he could change the tap under pressure. I suggested putting a ball valve on before the hose tap so that if the tap had to be replaced again, it would be much easier to do so.
Dad suggested installing a slim line ball valve with the lever facing the ground so kids wouldn't think to look underneath and play with it.
I took a video of dad replacing the tap and I had to laugh at our conversation in the background. I stopped the video promptly after he got up and looked at his crotch and sighed 'It looks like I whizzed myself.' Dad and I would always laugh and make fun of each other when we worked together. It was like old times… dad joking around and me rolling my eyes and agreeing with him. Had I done the job myself I wouldn't have had the tap on hence why I asked dad who turned the tap on… but he knew what he was doing and proved that you can always learn something new on the job.
The jobs took an hour or so to do. As a result I was able to tick off one of my gardening jobs as part of helping with the Kindy this year. Thanks dad. 🙂
Dad said while he enjoyed working with me, he didn't miss being back on the tools. He also advised me his call out fee had doubled since he retired.
Have you ever worked alongside someone in your family? Could you ever work alongside someone in your family?
I'm linking up with Essentially Jess for IBOT.