Milo and Maltesers Hot Chocolate… could there be anything more decadent? Probably. I've devoured many hot chocolates in my time, topped with cream, ice-cream, caramel sauce, chocolate fudge sauce, Tim Tams and now Maltesers.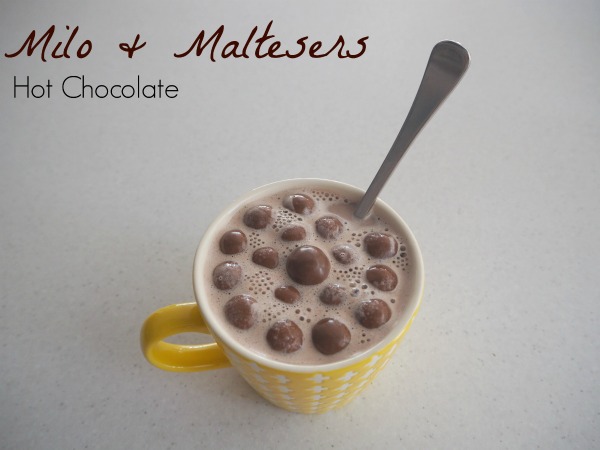 I came across this delicious treat accidentally this week. Jacob brought in a hot cup of tea and a small container of Maltesers while I worked on Wednesday night last week. When I went to put a Malteser in my mouth, I dropped it into my tea. I grabbed a spoon to whisk it out and OH MY WORD. The Malteser had kept form, but melted in my mouth and suddenly I discovered a new way to drink my tea. I poured the rest of my Maltesers into my tea and used my spoon to slurp them out. It was delicious.
So, this gave me an idea to add Maltesers to my hot chocolates and well, I think I've discovered a rather dangerously delicious treat.
I usually eat Maltesers when I head to the movies with a large box of popcorn. I love mixing sweet with savoury. I like to suck the chocolate off the Maltesers so I'm left with the malt centre which melts in your mouth. Sorry does that sound gross to you? Let's move on…
I'm a fan of the hot chocolate. Instead of eating a chocolate bar, I will opt for a hot chocolate instead because apparently it's better for you. I'm not sure on those claims, but I definitely know it keeps me warm in winter.
Our hot chocolate of choice is Milo, so for this recipe I've used Milo, but you can use whatever hot drink of choice. If you're at work, why not order a hot chocolate from somewhere and grab a pack of Maltesers to top your drink. You will thank me, I promise you.
Are you a fan of Maltesers? How do you like to eat them?