Hi I'm Rebecca Senyard. But most people call me Bec. The Plumbette is my blog where I write about my experiences being a plumber and a mother. I write my blog in a way to explain why plumbers do what they do and teach others what to look out for when hiring a tradesperson. I also write about my personal life including how I handle being a wife, mother and other responsibilities life throws my way.
I like to smash stereotypes so when people think of me as a plumber they visualize this
 But in actual fact most times I look like this
At the moment though I look like this
And more recently like this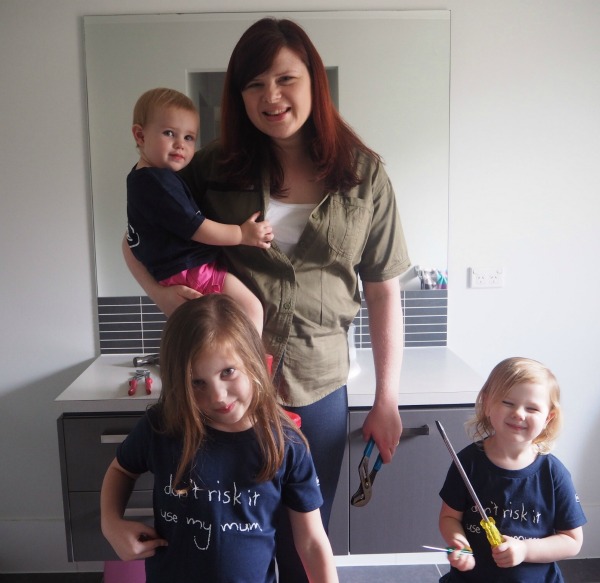 I started my apprenticeship in 2006 and received my provisional plumbing and drainage license in early 2011.
In 2008 I received the Dux QLD Plumbing Apprentice of the Year.
In 2009 I received the Dux Australian Plumbing Apprentice of the Year.
I also won the most Outstanding Achiever Award at the Constructions Skills Excellence Awards which is like winning the Gold Logie at the Logies, except it was for Construction.
I started my blog at the end of 2011 but didn't show anybody until February 2012.
Since December 2013, my family plumbing business Jacol Plumbing Pty Ltd stopped trading because my dad wanted to retire and I needed to focus on my growing family. You can read about that life changing decision here.
I have three daughters Esther, Magdalene and Phoebe. Esther is great at drawing pictures and building blocks. Magdalene is proficient at climbing furniture and seeking mischief. Phoebe is my baby and she is happy to be doted on by her older sisters. I have been married to my husband Jacob for over 10 years.
The Plumbette is my intellectual property and I own it's trademark. It was the name used to promote my services as a female plumber in my family plumbing business during 2008 and 2009, so it was only natural for me to write under this name.
On World Plumbing Day, 11th March 2016, I was awarded with the first Women in Plumbing Ambassadorship for QLD by The Master Plumbers Association of QLD and The QLD Premier.
This blog is not a tool to do your own plumbing handiwork. All plumbing should be carried out by a licensed plumber. If you require some plumbing work done, enquire at your local plumbing hardware store or your state's Master Plumbers for a reputable plumber and make sure they have a GOLD Card BSA license.
If you want to get in contact with me, check out my contact page. I'd love to hear from you. 🙂