Here are tips to prepare your home for storms now that summer is on our doorstep. Maintaining your home can help protect it when hazardous wet weather approaches.
The Bureau of Meteorology has shared the climate outlook from November to February. A La Nina is forming over the tropical pacific which will produce above average rainfall and an increase in storms and cyclones.
This could be seen as another punch to this years' events.
We started the year with bushfires and we could end it with cyclones, storms and floods.
Admittedly, we do need rain.
With the outlook available to the public, it's always a good idea to be prepared for the worst. As they say, preparation is the best form of prevention.
I thought I'd share 10 ways to prepare your home for storms so your home is in the best state possible to withstand intense rain and storms.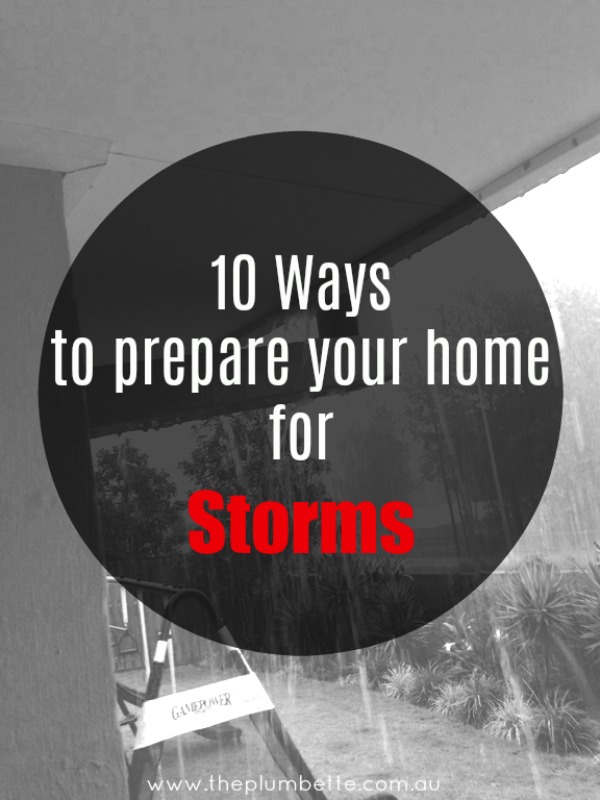 1. Prune the gardens, remove trees and overhanging branches
Tree branches which hang over your gutters or drape over the roof can be hazardous should they snap during a storm. They can impact the structure of your roof causing it to cave in, allowing rain to damage the internals of your home.
To prevent branches impacting your roof, prune them back.
Look for unstable trees around your property and get branches trimmed. Some trees are protected by council so check before you start cutting it down.
2. Clean your gutters and down pipes
Once you've pruned the tree branches, you will most likely have leaf debris in the gutters. Be sure to clear the gutters to prevent the debris travelling to your down pipes causing a blockage.
Use a hose to test every downpipe to ensure it's clear. Also check the storm water drains around your home and inspect them for dirt blockages.
The gutters, downpipes and drains need to be free flowing to ensure they are ready to remove heavy rainwater when the storm hits. If they are blocked, the water can overflow through the gutters, under the eaves, causing ceiling damage inside your home.
3. Book a roof inspection
When was the last time you had someone visually inspect your roof? Broken tiles and rusted flashings should be replaced to prevent an entrance of water into your home. Book a licensed roof plumber to inspect your roof and fix any potential issues which could turn into a big problem during a storm.
4. Secure outdoor contents
Most Australians will make use of the outdoors during summer. Outdoor contents like lounges, planters and the BBQ need to be secured under the roof or within a shed. Wind and rain can cause damage to unsecured contents. It can also turn these items into missiles should they become airborne.
5. Locate where to turn off power, water and gas to your property
Depending on the severity of the storm, you may need to isolate the services like water, gas or power. Know where to turn these utilities off before a storm hits.
6. Have an emergency kit and plan
Every household should have an emergency kit. It should be a container which includes:
Enough water for 3 days for every member in your household
First Aid Kit
Battery powered Radio
Torch or lamp with spare batteries
Important documents
Spare Clothes
Batteries
Non-perishable food items
Insect repellant
Power charger for phone
An emergency plan should be well thought out in advance to a natural event.
If you have to leave your property, where will you go? Who do you need to alert if you need to evacuate? Are the numbers ready in your phone so you can make the calls if needed?
7. Have an emergency repair kit
Having an emergency repair kit should the unpredictable happen can prevent further damage to the inside of your home.
An emergency repair kit should have tarps, duct tape, plaster knife, sandbags, battery operated  lights, hammer and rope.
Emergency repairs should not be conducted unless it is safe to do so. Having these items ready means you can temporarily protect your home. They can assist also SES or emergency first response.
8. Organise to receive weather safety alerts
Set up weather alerts to your phone and email to keep informed of storms heading your way.
Listen to the radio for any breaking news alerts.
Sometimes checking the sky activity near your home is all the alert you need to prepare for a storm.
9. Have mobile phone charged with backup chargers
Ensure your mobile phone is fully charged before a storm in case you need to call for help in an emergency. Don't use your mobile phone during a storm. Keep a fully charged charger to charge your mobile phone should the power go out.
10. Have home and contents insurance in place
Home and contents insurance can give peace of mind should your property get damaged during a storm. Storms account for one of the highest claim incidents in QLD.
Check that your home and contents insurance is up-to-date. Read the PDS to understand what is covered under storm damage.
Preparing your home for storm season doesn't guarantee it won't be affected. Storms can be unpredictable, but following these steps will ensure your house is more prepared when the heavy downpour hits.
The information is intended to be of a general nature only. I do not accept any legal responsibility for any loss incurred as a result of reliance upon it – please make your own decisions and enquiries. Always follow local authorities guidelines and directions during an emergency.