The 2021 bathroom trends have evolved from a year of lockdown where experiencing new locations and visiting new cities was put on hold.
As a result, the trends have shown a desire for hotel inspired bathroom spaces which can be enjoyed all year round.
Each year I write these posts, I'm always mindful how the trends have evolved. In some years, the trends stay the same.
Choose what will be of practical use to you and your family. Incorporate colours and styles you love. A bathroom renovation/new build is an investment and should be designed with  longevity in mind.
Hotel Luxury
The day spa bathroom is still popular but hotel luxury is what most renovators are aiming for.
Hotel luxury bathrooms are designed with space in mind. They are visually impressive with the use of bold tapware and lavish fixtures, pared back with a neutral colour scheme.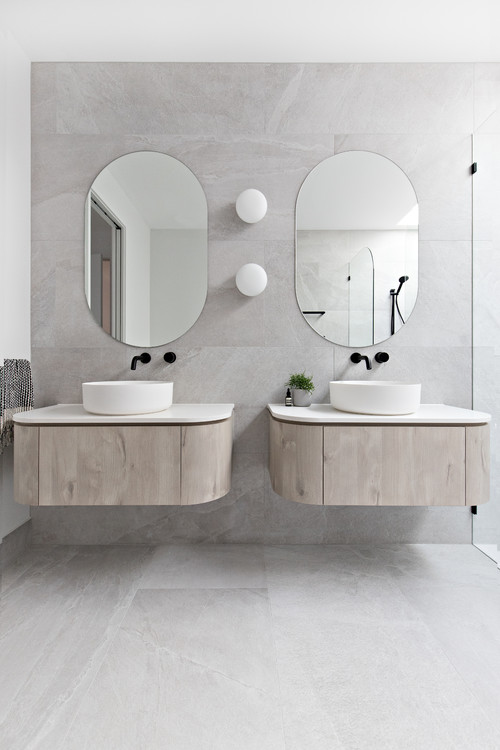 Double Showers
With bathrooms becoming roomier, the shower spaces are doubling in size with room for two to shower at once.
The wet room bathroom style has been around for a few years, however the double shower has evolved as a must have in bathrooms. Some have even forgone the bath.
This is a great option for ensuites. However, removing a bath and opting for a double shower in the main bathroom could be a deal breaker for families needing a bath if you decide to sell.
Walk in shower
A walk in shower creates a cohesive flow through a spacious bathroom. It offers one less panel to clean and ease of entry when in use.
Separate hot and cold taps
Surprisingly, separate hot and cold taps are coming back in style as they provide a balanced look. Whether mounted on the wall or through the bench top, they can aesthetically fill a void.
I see this as a surprise trends as a mixer lever requires less handling therefore less contamination. In this season where hygiene has been a focus, I would have thought less handling would be a priority.
Sensor mixers
Sensor mixers will increase in interest. The market for these has been predominantly in commercial kitchens and public bathrooms, however new styles for domestic use will become more available.
Metallic tapware
Chrome and matte black tapware are still popular, however your finishes in gunmetal, brass nickel and gold toned tapware will rise in prominence this year.
Tapware which builds a patina over time will also be highly sought.
Do keep in mind if one tap needs to be replaced in the future, how easy will it be to source a replacement?
It will be an inconvenience to change all the taps to match each other. Choose a quality tapware brand to avoid this scenario.
Coloured basins
Coloured basins will introduce a focal point to the bathroom and some much needed colour in a neutral space. These basins compliment your metallic tapware and work well with brass and gold wall mounted taps.
Fluted details
Fluted details will become more widespread. It's been introduced recently in fluted glass shower panels and timber vanities. It was certainly brought into the limelight last year on The Block bathroom reveals.
A freestanding bath will still be a much sought after fixture in bathrooms this year. It immediately adds a relaxing element to the bathroom and creates a focal point.
Smart toilets and bidets
The lack of toilet paper in the country due to panic buying had renovators look for alternatives in the toilet department.
Smart toilets with bidet function will definitely add sophistication to a bathroom. Do check they are compliant for installation in your state/shire.
Backlit mirrors
Pinterest noted a rise in backlit mirror searches for bathrooms. They certainly add a luxe-feel to the bathroom, brightening the space at the same time.
Timber accents
Timber details like bath stools, caddies and even vanities with a marble or quartz benchtop adds a sustainable and warm element to the bathroom.
Arches and curves
From arched mirrors to curve openings, rounded edges will be factored into bathroom designs this year.
Similar wall to floor materials
Abandon busy walls and floors or using feature tiles for splash backs. Renovators are using the similar toned or the same large scale tiles or panels for both the floor and wall. This removes decisions around tile choice, and also creates a cohesive flow from wall to floor. it also makes the bathroom look bigger.
Skylight
Natural light in the form of a skylight will continue to be a popular way to brighten the bathroom.
Sconces for lighting
Wall mounted lighting adds ambience and brightness to a bathroom. Sconces also give symmetrical balance to the vanity.
Which of the 2021 Bathroom Trends in Australia will  you be using in your design?
Other Posts to check out