If you want to conceal a rainwater tank, check out these 6 clever installations.
Rainwater tanks are a great way to save water but they can take up space and interfere with the outdoor aesthetic.
The position of a rainwater tank will depend on a few factors
Ideally underneath the largest surface area of the roof
Near downpipes and storm water drains
In an area where space is not limited
Ease for use and maintenance when needed
Rainwater tanks are typically installed in the back perimeter of the home. The local council will have laws on the placement of your rainwater tank which need to be followed.
If you're looking for ways to make your rainwater tank less obvious, take some inspiration from these clever installations.
1. Out of view
If your property and roof line allows it, install your rainwater tank on a side of the house which gets little traffic.
A slim line tank is perfect for a side path installation. This is the most popular way to conceal a rainwater tank, but it's not always possible when homes are built close to the neighbour's boundary line.
2. Blend it in
Ideally, having your rainwater tank in view can ensure it is maintained. With that in mind, why not blend it into the exterior colour of your home like these installations below?
3. Install underneath
If your house is elevated, install the rainwater tank underneath your home.
4. Along the fence line
Use your rainwater tank as backyard border by installing it along the fence line. This is a great solution for smaller backyards or where there is no side access to the home.
5. Shield with a garden
Create a garden around the rainwater tank so it camouflages into the foliage.
6. Screen using lattices, ladders or fencing
Install a lattice or some timber ladders to screen your water tank.  Plant some vines to grow up the lattice, which will conceal the rainwater tank even more.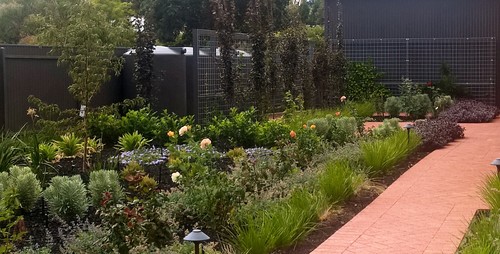 What have you done to conceal a rainwater tank in your backyard?