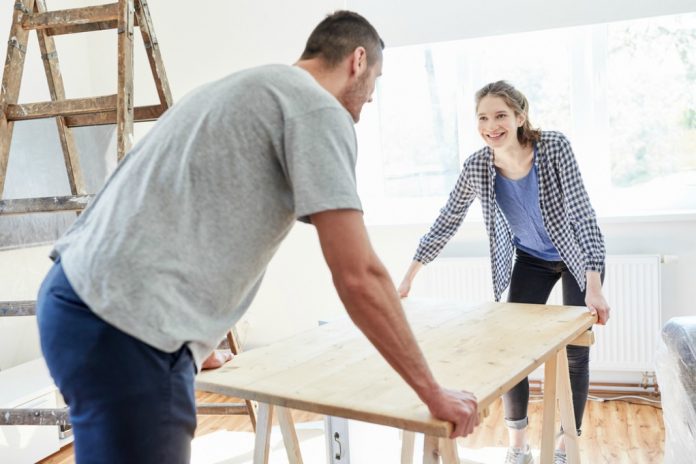 Living in your home while renovating is best described as challenging but doable!
If you're about to start a home renovation, you may have wondered whether to move out and rent a property or live in your home while renovating.
Jen Bishop from Interiors Addict shares her 7 tips on how to successfully live through the chaos and still keep your sanity. Just!
7 Tips for Living in Your Home While Renovating
1. Plan to renovate during warmer weather
If you can, do it when the weather's warmer. There's a few reasons for this.
With trades in and out all day long, if it's winter, it can get really chilly and you'll feel your power bill rise while you see that warmth quite literally disappear out of the door! Not to mention muddy tradie boots when it's raining.
Plus, if you're changing windows and doors, you may find yourself with a tarp over the hole left behind, as we did for a while as we waited for our new bathroom window to be made, and let's just say, that isn't optimum insulation! Brrrrr!!!! And it's a lot easier to live off BBQs and salads, if you're having your kitchen ripped out in summer!
2. Keep kids out of the way
If you have kids, keep them out of the way.
If you choose to live through your reno, your little ones' safety is really your responsibility. Good trades will do their best to keep things safe, but keeping kids away from the construction areas is a matter of health and safety.
And while I find my boys come over all "Bob the Builder" whenever they see someone in the house with tools, and it might be cute when they try and "help", time is money, so don't slow your trades down!
If your kids are too young to know they need to keep out of the way, baby safety gates are a great way to block off parts of your house (just make sure the builders know how to open them!).
3. Lower your expectations around keeping a clean and tidy house!
I'm a total neat freak so living through a reno is challenging for me!
But there are some things you just can't get around and one of them is dust. It gets everywhere, however hard your trades try to minimise that. So if you're having your bathroom renovated and that includes jack hammering up old floor tiles, I'd advise you to remove precious clothes and belongings from any nearby bedrooms, rather than hope for the best.
Your trades should be covering your floors and taping up doors where possible to keep things cleaner.
You can try to clean and tidy at the end of every night but you'll really be wasting your time. Perhaps save that effort for once a week on a Friday evening so you can enjoy a relatively clean house at the weekends!
Personally, I kept our fortnightly cleaner, even though she couldn't get everywhere and the foreman said I was crazy and wasting my money! I also found keeping one room (the living room) clean and tidy at all times kept me sane, while the rest of the house descended into dust and mess!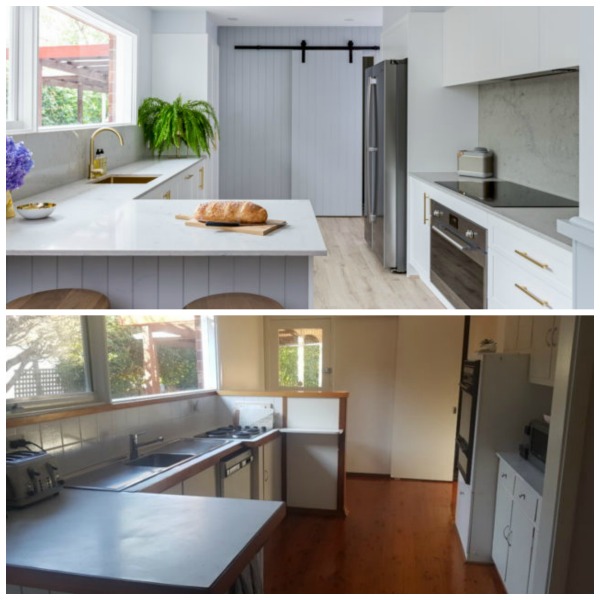 4. Give trades their own entrance and exit
If trades can have their own entrance and exit, this will make life a lot easier.
In our case, they came in and out through the back door off our guest bedroom and I removed as much stuff as possible from that room so they could use it to store things inside.
Make your trades' lives easier and it will pay off! This also keeps mess to a minimum.
5. Be a nice and thoughtful customer
If it's hot, make sure trades know where the air con remote is, offer water, coffee and use of your microwave.
Make them feel comfortable to sit at your outdoor furniture and take their break.
Let them know if there's somewhere they can safely leave their tools overnight rather than have to pack up each time. If you're okay with them playing music, tell them so.
I'm sure all trades would prefer to work in empty houses where they don't have to worry about being noisy or in your way, or worse still, watched! So try and make them feel welcome.
6. Set up or rent a temporary kitchen
Whether you live in a house or apartment, if you're in the Sydney metro area, you can rent a mini KitchenPod which you plug into a regular power point and cold water tap.
I wish I'd known about this genius invention when we did our kitchen!
But what I found really helpful was setting up a bit of a makeshift kitchen in the dining room with a microwave, kettle, toaster and plastic plates.
Think about all those 'fad' small appliances that often end up forgotten at the back of a cupboard, like a slow cooker, air fryer and sandwich press.
They can come into their own when you don't have access to your full kitchen! I'd wash up at the end of each day in the laundry sink. And of course, the BBQ and the odd takeout will become your best friends!
7. Don't chat too much!
I'm a chatty person by nature and I always love chatting about my plans for the house but as I've already mentioned, time is money.
Of course mention something if you're not happy, and ask questions, but let the experts get on with their job in peace!
At the same time, be available and approachable if your trades have questions for you. Make sure everyone has your mobile number.
What tips could you add to living in your home while renovating?