If you're planning to renovate your bathroom next year, you will no doubt be researching bathroom trends for 2019 to help with your selections.
Each year when I research and compile this post, I'm amazed at what trends have stuck around and what ones have reared their head. I also preach – trends come and go, so it's important to incorporate what you LOVE because you will be the one using the bathroom everyday. When bathrooms are being renovated on average between 15 to 20 years, it's important to make selections you can live with.
But if you do want your bathroom to make it's mark, these are the top 8 bathroom trends for 2019 to look out for.
8 Bathroom Trends for 2019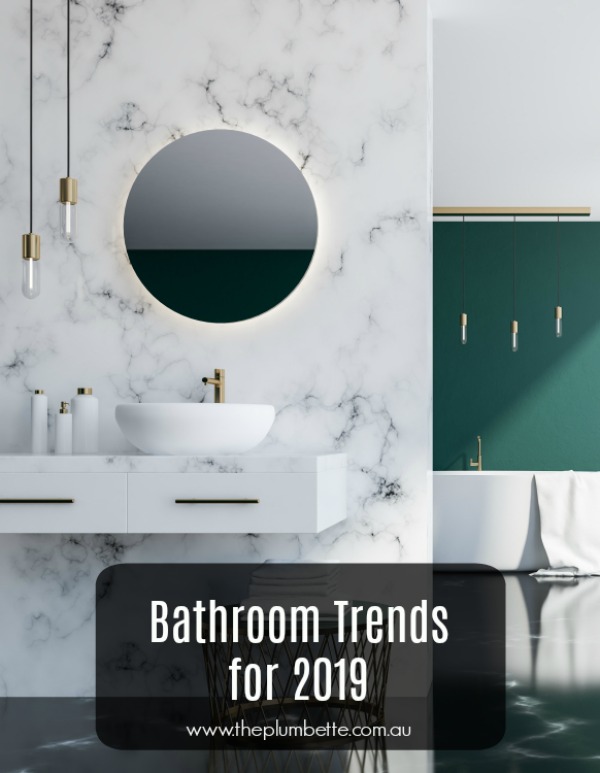 1. Bathrooms will become more compact
Bathrooms will be more compact in 2019 with living spaces decreasing in size. This will be embraced by combining the shower and bath. However, this won't compromise on space (ie small bath!) or style. Double vanities will be disregarded for a singular basin with more vanity bench space.
2. Wet Rooms will be embraced even more
The Japanese inspired wet room style of bathroom will become even more prevalent in 2019 as renovators and builders opt for a more open look for their bathroom.
3. Round is IN
When choosing your fixtures, round is IN. From circular basins, tapware and the popular circle mirror, fixtures that are round in shape will become more common. Even the round free standing bath will be an admired piece in the main bathroom.
4. Natural Materials aren't going anywhere
For a few years now, natural materials have been a key trend in bathroom interiors, and this won't change in 2019. Marble is here to stay and will be used on walls and vanities. Timber will still be popular, but coloured marble with a strong vein will be a widespread choice.
5. Terrazzo makes a comeback
Whenever I think of Terrazzo, I think of a shopping centre floor… but it's going to be a popular feature in bathrooms for 2019. It's already been embraced in current bathroom revamps this year and is predicted to make it's mark in bathrooms in 2019. Terrazzo is  easy to camouflage a highly trafficked room so it works well in the family bathroom. It is a polarizing material to incorporate so if you love it, go for it.
6. 3D Tiles & Textured Tile Patterns add substance
Tiles are becoming more textured to give a 3D look. Think mosaics, herringbone or hexagonal tiles as a feature. Tiles that have an unusual edge and contrast will be sought for niches or a feature wall.
7. Coloured Basins add a pop of interest and colour
White basins will be swapped with the coloured variety. It's like the bathroom trends from the 70's will make a complete revival in 2019. Dusty pink and all shades of blue and green will be embraced when choosing the vanity basin.
8. White and Brushed Metal Tapware leave Matte Black and Chrome behind
White taps will be embraced more as the tapware colour of choice for 2019 (I shudder at this as they are a pain in the butt to service later on). Brushed metals in brass, chrome and nickel will also be popular. Matte black and chrome will still remain classics.
Some of these bathroom trends are a revamp from last year. It will be interesting to see which trends will get embraced the most next year.
If you're looking to make a design statement in your bathroom for 2019, check out this post on using taps and fixtures to give that wow factor.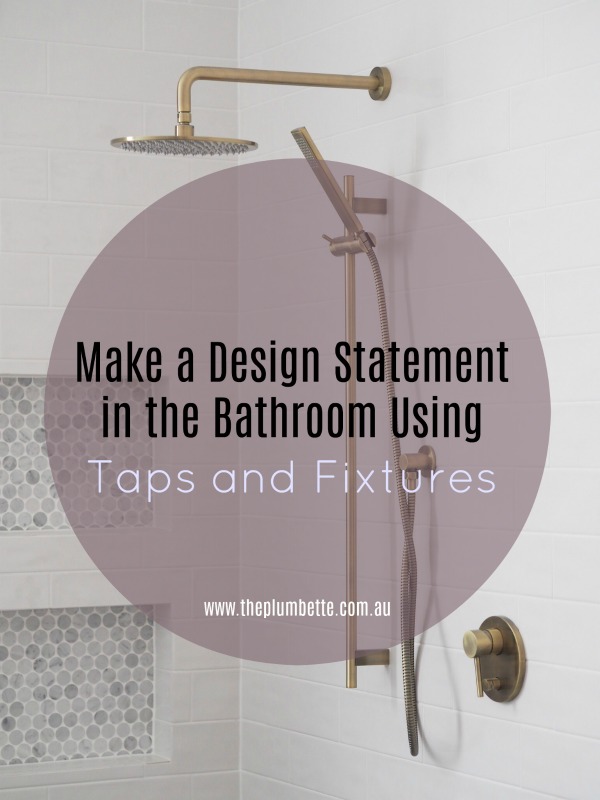 Which bathroom trends for 2019 would you most likely go for if you were renovating your bathroom?