Are overflow holes in bathroom basins necessary? And if you're renovating, is there a code dictating they must be installed in the bathroom? This post will explain all you need to know about basins with overflows. 
If you've perused your local plumbing fixture supplier, you will notice bathroom basins can be ordered with or without overflow holes.
Confusion has arisen over what is the purpose of the overflow holes, and is it necessary for all of the vessel fixtures (basin, sink, bath) in your bathroom to have one.
This post will explain
The purpose of overflow holes and
Are overflow holes in bathroom basins necessary?
What is an overflow hole in a basin?
The overflow hole in a basin or bath is the opening near the top rim. The hole extends to a channel which runs on the underside of the basin (or bath) and connects to the waste. Choosing an overflow basin will mean you will also need a pop-up waste or plug and waste with an overflow.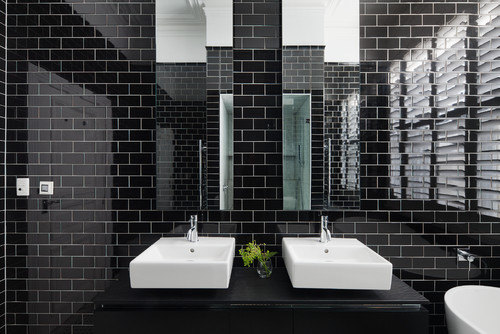 The purpose of basin overflow holes
There are two functions for the overflow holes in your basin.
The first is to prevent water from overflowing the basin if the plug has been pushed in and the tap has been left to run. Water will slowly flow through the overflow hole, down the waste to prevent the water from spilling over top the basin edge. It's an opening which can prevent a flood in the bathroom.
It is a preventative measure and there are no plumbing codes to regulate the need for installing a basin with an overflow hole. But this could change, so it's best to check with your local licensed plumber at the time of installation.
The second function of the overflow hole is to help the basin drain faster. Air is allowed into the drain pipe through the overflow channel, allowing the water to drain more effectively down the basin.
Why does my basin overflow hole smell?
All drain openings will smell from time to time due to the type of water flowing through them. An accumulation of soap products, toothpaste, body fluids and solids like hair can get caught in the overflow if the basin is filled to the brim for washing.
Like any drain, it needs to be cleaned regularly to keep it odour free. A flexible brush like a straw cleaner brush can be maneuvered to clean down the overflow channel.
A teaspoon of bi carb soda and half a cup of vinegar poured down a funnel can freshen the overflow hole too.
Bleach can also be used, however it is unpleasant and can't be used on properties connected to septic systems.
Is it mandatory to choose a basin with an overflow?
It's a matter of personal choice if you want a basin with or without an overflow. Some basins may not have the option of choice.
For some property owners and landlords, it's seen as a necessity to prevent overflow accidents – especially if children are around.
Bathrooms in commercial buildings and public areas will usually have basins with an overflow to prevent water damage via flooding.
Concrete and stone basins won't have overflows because of the way they are cast.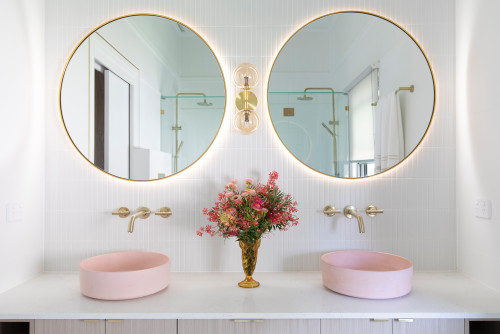 Regulations can change so while it's not mandatory to have a basin with an overflow, check before selecting your fixtures. When in doubt, your bathroom designer and licensed plumber will ensure your bathroom meets both local and national codes.
Do you have basins with or without an overflow?