This post has been written in collaboration with Super Amart
If you've read my blog for a while, you would know I'm a huge fan of The Block. My favourite part of the show is the reveals on a Sunday night. I take extra note on how the teams furnish their bedrooms because it's always been a room I've struggled to style successfully.
When Super Amart asked if I wanted to collaborate to do a mini make over I jumped at the opportunity and said yes as it would assist with the restyling of our master bedroom.
I've always been into the matchy matchy quilt cover sets where I would purchase the quilt cover, matching European Covers and the matching decorative pillow. When we first moved into our home 6 years ago we had a navy quilt with silver sequins. The quilt went well with the olive grey feature wall in the master bedroom. This colour was not chosen by us and we didn't mind it. What I didn't realise was how hard it was to find the right linen to match with that particular wall colour.
Before Christmas I purchased a new quilt cover from The Home Sale and some black polka dot pillow cases from I Love Linen. I won a heart cushion in an Instagram auction and in my head this cushion was going to be the piece that completed my new look. In January I put the ensemble together before Jacob came home from work.
When I finished making the bed, my gut told me it suited a teenage girl's room. Jacob confirmed my gut feeling by telling me he didn't like it. It definitely did not go well with our olive grey wall.
Slightly deflated by my styling misdemeanor, I took photos and shared them on Facebook and Instagram (as you do) not showing the complete picture.
This is what our bedroom looked like before the make-over.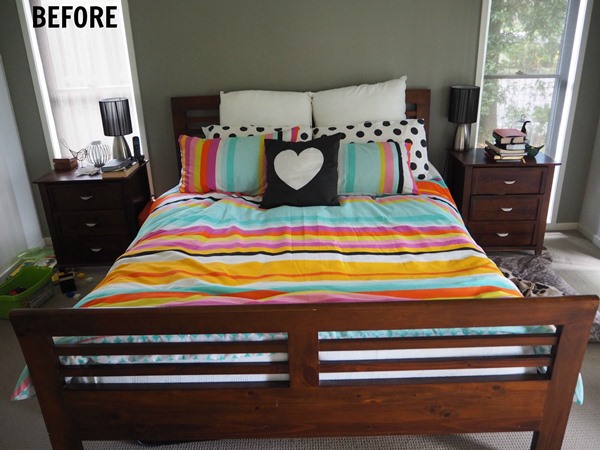 And this is what our room looks like now.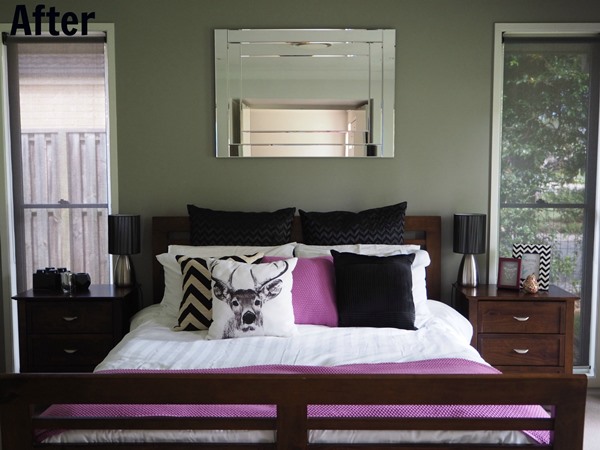 A lot of effort went into getting this look. I got some styling inspiration from my blogging friend Vanessa from Style and Shenanigans. If you want tips on how to place cushions on your bed check out her post here. I also used hints from this post too.
Super Amart has a really good selection of cushions to choose from. Their bedding department also stock Logan & Mason bed linen. I decided to use my Super Amart voucher to get something for our wall and cushions to dress up our bed.
I fell in love with the mirror when I was researching online. I knew it would be perfect to lighten up our wall and add some elegance to our room. It would also work well with our existing lamp shades.
I decided I would use a white quilt (from Target) to be my base and then add cushions and a throw to tie the wall colour, lamps and mirror together.
When I went to Super Amart I chose three different textured cushions in green colours. Unfortunately when I took the cushions home, they did not match with the wall and in fact clashed terribly. The mirror was also chipped on one of the corners when I unpacked it. So I headed back to Super Amart that same afternoon to exchange the items much to the Macgregor store's frustration. I weighed on whether to write this because I don't like to write negatively about a company but it's important to be honest.
A new mirror was found to replace the chipped one and when I asked if I could exchange the cushions, the lady behind the counter asked me with exasperation 'What's wrong with the cushions?' I explained that the colours weren't right. I was apologetic for being a nuisance and further explained I had to go with a monochrome look because I wasn't going to be able to match the cushions to our feature wall.
While this was all unfolding, Esther and Magdalene decided to do the opposite of what I had asked them NOT to do and jumped on the lounges. Thankfully there was no one else in the store but it was stressful having to explain why I had needed to exchange with my two girls going crazy in the store. The new mirror was placed in my boot to assist me (as had been done that morning) so it may have just been an off afternoon.
Despite the disappointing reaction, I love the products from Super Amart. In fact most of our house furniture comes from Super Amart as it was bought 10 years ago when Jacob and I bought our first home together. The furniture has stood the test of time and some items are still sold in their stores today.
I have always gone to Super Amart at Oxley and have never had any issues with service and the only reason I went to Macgregor was because they had stock of the mirror. When I rang Oxley to see if I could exchange the cushions there to avoid having to drive over to Macgregor, I was told that there would be a lot of paperwork but they would be happy to assist me. Unfortunately due to the chip in the mirror, I had to head back to Macgregor anyway.
Once I decided on the monochrome look, it was easy to choose the cushions. I chose a beige and black chevron cushion, a deer print cushion and a black pleated cushion. From the bedding department I chose the Logan and Mason Chevron textured European Cushion covers.
To add more interest to our linen, I decided to add a block colour and chose this orchid purple as it complements the olive grey wall really well. This knit cushion and throw are from Adairs, current season.
The decorator pieces come from Target, Pillow Talk and Bed Bath and Table.
We love our new room and I'm really happy with the final result.
What do you think of our make – over? Have you ever had a style faux pas?
This post has been written in accordance to my Disclosure Policy. I received a voucher from Super Amart and payment.