I watched tonight's episode of The Block in anticipation that maybe Jason and Sarah would be heading home.
But they hype was just another ploy to draw us to watch the show. (Well that's what I think)
Jason and Sarah delivered last night and it was amazing what they produced in a week. Of course, I then got frustrated that they didn't put the same effort from last week into the previous week. But I do have a theory… because of their lack of money, they may have thought to have all the tradies working on 3 rooms to save labour costs so they'd be at site longer… I don't know. What I do know is I am relieved for them and was impressed with what they delivered.
Starting with their main bedroom – I didn't think it was as luxurious as the previous teams and there were no window dressings on that huge window. I loved their ensuite though. Those herringbone floor tiles were worth the effort. Loved the black tapware and tiling to the ceiling. If I was in their position, with no money, completing a room that had already been judged, I would have used less of the money and chosen a simpler design, but the teams do have to think about the potential buyer when it comes time to auction.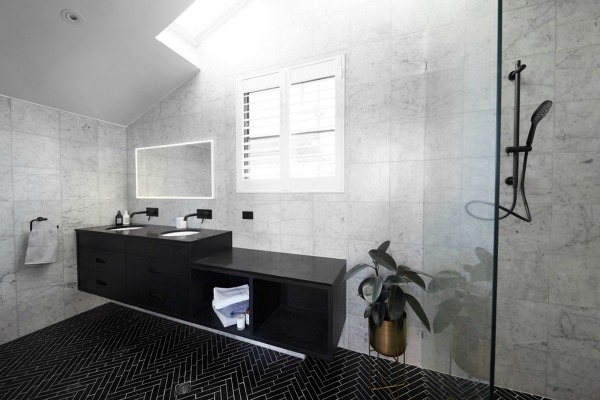 Their kitchen was stunning. I loved the benchtop and the mini shelf along the back of the splashback. I definitely thought it was clever, although, it is another space to clean. Not a huge fan of the pendant light above the bench. The electrical cord needs to be more taut, but that's a simple fix I think. The study nook was also a clever addition.
Hannah and Clint's kitchen was also another favourite from the night, although, I think there were too many wine fridges. Not enough thought was put into the size of the existing fridge, and that's crucial during the design stage. When Clint and Hannah realized their mistake, it was too late.  I loved the styling with the lemon foliage. Something anyone of us can incorporate on our kitchen bench to create an inviting space.
Ronnie and Georgia's kitchen was another stunning space. Loved the grey cabinetry and black kitchen sink. I'm glad they took in the advice from Scotty and Shelley to change the original sink to a larger one. I do agree that their space does need some colour. It looks a bit boring with all the neutrals in the living, dining and kitchen.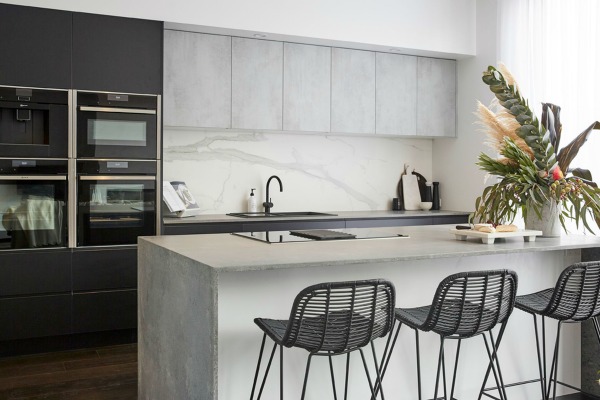 I wasn't a fan of Sticks and Wombat's kitchen. I felt like it was a bit too busy with textures. Did chuckle at their pendant lights as we have a similar set up over our dining table with the ceiling plate. I did appreciate the workmanship in the details though. Loved the wine rack. Thought that was very clever.
Josh and Elyse won again this week and their kitchen was my favourite. Loved how they changed the position of the island bench. I think their kitchen and living space flow on really well. It's definitely an entertainers kitchen – perfect for families.
It will be interesting to see what Jason picks up as a fault in Josh and Elyse's kitchen. It may have something to do with the spacing between the gas stove cooktop and the splashback which is a gas issue. Or it could be another drama that I'm being drawn in to watch… again!
Overall, it was great viewing last night. Love when teams produce competitive rooms. Makes the reveal night much more exciting to watch.
Who's kitchen was your favourite last night? Were you relieved Jason and Sarah stayed in the competition?