On Tuesday I shared a news report that showed a video of two Australian tradesmen attacking a building site with chainsaws over unpaid invoices. The video was shared on Snapchat and was reposted to Facebook where Channel Nine news picked up the footage and shared this report.
https://youtu.be/52Uz-lP5yD8
The video has been viewed more than one million times (on Facebook) after being uploaded to the Uptrend Engineering and Construction Facebook page. The video was captioned, "When this guy's boss didn't pay his workers on time.. He is gonna learn the hard way to never do that again."
The video is evidence that there are still builders who don't pay their tradies on time. I know it's common issue within the construction industry as it was brought up at the World Plumbing Day breakfast.
It's the stressful side of running a business that's not talked about enough. Unfortunately it's not always a situation that can be avoided unless the tradesperson knows the full financial credentials and integrity of the builder.
Of course builders can also be caught in the middle too if they haven't been paid by their client. The domino effect causes stress for all tradies involved.
But this is where there needs to be understanding of how important it is to have a business that isn't functioning on payment to payment to pay their bills. By law, if a company has been issued an invoice and the claim has been made under the Building and Construction Industry Payments Act 2004 (Qld), it should be paid by the due date, no matter if the builder has been paid by the client.
If we bring the matter to a more personal level, I can't tell Telstra I can't pay their bill this month because I haven't been paid. Telstra won't care. It's not Telstra's fault I haven't been paid and the same analogy can be used between a builder and their tradies.
So what do you do when you haven't been paid? Usually stopping work altogether for the builder is the best approach. The Queensland Building and Construction Commission (QBCC) explain the process involved in pursuing further action to get a payment.
The QBCC state:
Once you have served a payment claim, you may be able to suspend work if the amount claimed remains unpaid. However, you can only do this under certain conditions. You can only suspend work if the person who owes you money didn't:
◾pay the full amount claimed by the due date and didn't serve you a payment schedule within time; or,
◾pay the amount stated in the payment schedule by the due date; or,
◾pay the amount decided by an adjudicator within five business days after the due date for payment.
You need to give the respondent two days' notice in writing, stating that you are suspending work under the Building and Construction Industry Payments Act 2004 (Qld).
If you've been paid, you must start work again within three business days.
The biggest issue around late payments – or no payments at all is the stress it can cause to families who rely on this income to make ends meet. The domino effect hurts families and onsets anxiety in tradesmen who are the main breadwinner of their household.
If a company employs tradespeople or hires sub-contractors, they need to ensure they have money in the bank to pay for their bills even if they are still waiting on payments from their own clients.
The way our family plumbing business was able to manage with late payments was to always have a buffer of money in the account to pay our tradesmen. My dad was also wise in ensuring our eggs didn't all come from the one basket – meaning we worked for a number of builders, not just a couple, so if one fell over, the hit wouldn't hurt us too hard.
The reaction from the tradesmen in the video is not one that should be repeated (even if it feels good at the time) because it doesn't achieve anything. It makes the issue worse.
As one commenter shared under the video, "He did this for not getting paid on time? If I took that attitude with my clients I'd be well and truly out of business. People think it's easy being the boss and paying everyone on time. Well, it's not easy at all."
It might not be easy, but invoices need to be paid on time, every time.
Responding with damage to a construction site is certainly not the way to handle it.
What do you think? How have you handled a situation where you haven't been paid on time? What steps did you take to get your late payments?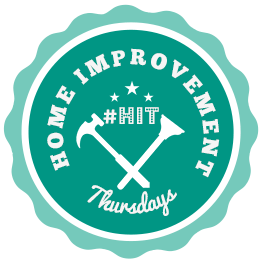 Last week on Home Improvement Thursday we had 4 blogs link up. Alix from The Builderette shared tips on how to improve the thermal performance of your home and her tips come at the perfect time with the weather starting to cool in some parts of Australia.
If you are a tradesperson and write a dedicated blog post on your company website, why not link your current blog post to this link up? It's a great way to get more eyes on your blog and hopefully it will offer new information for our Home Improvement readers.
I hope you all have a safe and happy Easter.
Home Improvement Thursday Rules For Linking Up
If you're a DIY, home organization, building, renovation, home makeover, home decorating, home maintenance or trade related blogger we'd LOVE you to link up with us below. Here are the HIT rules for how to link up and what you need to do once you have linked up.
Linkable posts, must centre around the topics of DIY, Renovations, Home Organisation, Home Improvement, Home Makeovers, Home Styling, or Home Maintenance.
You can share 1 post each week. Please make sure they are new to the "Home Improvement Thursday" party.
Linking is simple, find the little blue button at the end of the post that says, Add Your Link, and then pop in your URL, and follow the prompts.
Your link only needs to be added once and it will automatically show up on both of our blogs… it's that easy! Grab our #HIT button and pop it on your sidebar.
Don't forget to share it with others. Follow the blogs of your fellow #HIT family, and leave a comment.
Please visit and comment on at least three blogs that are near you on the list.
Leave a comment on the post below so we can return the favour and comment on your post.
Don't forget to follow The Builder's Wife and The Plumbette.