Blogging events are very few and far between these days. And the events I do get invited to, I have to decline simply because of work and family commitments.
But one event that I had been waiting to arrive in Brisbane was the Kids Business Bloggers Brunch.
I've been invited to these events in Sydney and Melbourne, but wouldn't attend due to kids and the cost of getting there. When it finally arrived in Brisbane, and I saw the key speaker would be Kerryn Carter from Tool School (also brand ambassador for Ryobi), I RSVP'd before I organised someone to look after Phoebe!
You can read an overview of the event on this post I wrote for Be a Fun Mum. But I wanted to talk about tools. Specifically women getting on the tools and having a crack at making something, because this was a theme that was tackled head on at the event.
There has been an underlying message in our society that tools are 'men's toys'. Whether it's through advertising, old ideals, social norms and having the trade industry generally dominated by men, women aren't being taught basic skills on how to use power tools. The reality is, it's sometimes seen as unusual to see a woman on the tools. While the wheels are slowly turning with more and more women embracing a trade, we still have a long way to go before women are accepted as equal on the construction site. Praise be for the companies and sites that do embrace women.
Anyway, I digress. I know there are women (you may be one of them) who have been curious about…
How to use a power drill?
What's the correct way to sand?
How do I turn a lawn mower on and mow a lawn?
How do I change a battery to my battery powered drill?
What drill bit will suit this or that job?
How can I patch a hole in the wall?
How do I paint a wall?
There are many women who have had an underlying desire to renovate.
To build furniture from scratch.
To upcycle an old piece of furniture and give it new life!
All these desires require skills and a bit of know-how using tools.
I was lucky to learn a lot of these skills through my trade. But gosh, when I started I was so scared when I held a battery drill. I may have even creamed my jeans the first time I used a hammer drill. But over time, that anxiety lessened as I became familiar with using the tools.
The thing is, curiosity is often quenched with fear of what if I stuff this up? and what if I'm not doing it right?
Being curious is a good thing when it comes to using tools. It's something we should investigate further. But often women are deterred directly or indirectly that they can't do certain things, and using tools is one of them. I noticed the hesitations from some of my blogging friends when it came to signing up for the Ryobi workshop (I've experienced the same myself!), where we could make a cheese board.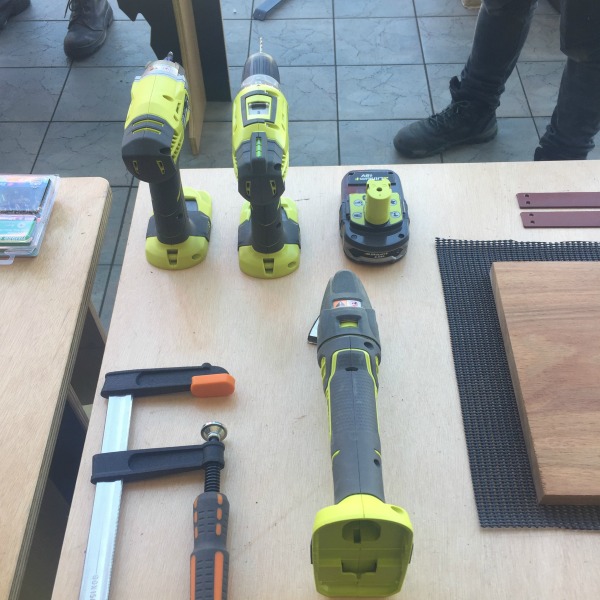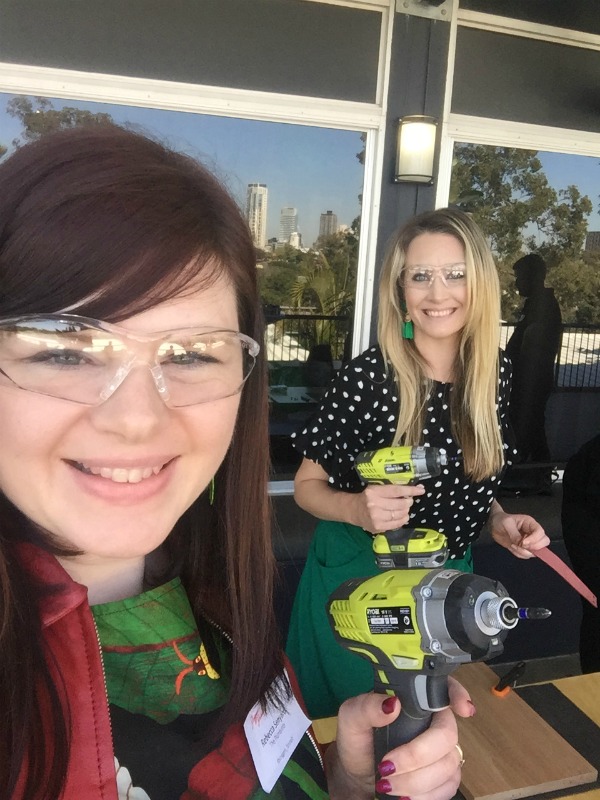 Ryobi are passionate about getting women on the tools. And I love that women like Kerryn Carter have made it their calling to teach kids and women how to use tools to change the status quo. TAFE can be quite daunting to learn new tool skills – especially when you're the only female in the workshop. A teacher with no bias, but a passion to teach people what they need to know, is important when it comes to teaching tool skills.
Heading to the Kids Business Bloggers Brunch awakened a confidence in me after making the cheese board. Clicking the batteries into place for each of the Ryobi tools felt good. I knew what I was doing. And that confidence was only acquired after being taught how to use the tools before, and repeating the skills over and over again in my trade.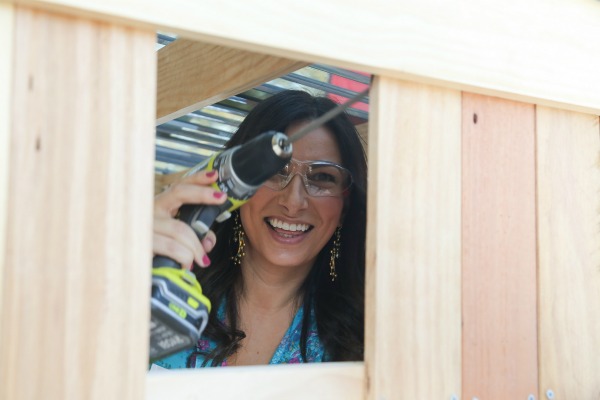 Whatever your curiosity, I encourage you to discover ways to develop it. Whether it's getting someone to show you how to use a power drill or booking yourself into a class to do woodwork. YouTube can show you various tutorials on how to use tools, but sometimes having someone show you in person is better. There are various 'shed's' that have been developed as local initiatives to get men and women using tools. Do a Google search to see what is available in your area.
If you are looking to do a workshop, here are some that I know:
SALT – these workshops travel to schools, offering girls a chance to use tools.
If you know someone who can teach you how to use a certain tool, ask them. And then tackle your project and give it a go.
There is nothing more fulfilling than producing something you've created yourself.
What have you been told you can't do? What tools would you love to know how to use? What project have you outsourced because you lacked the confidence to try it yourself?