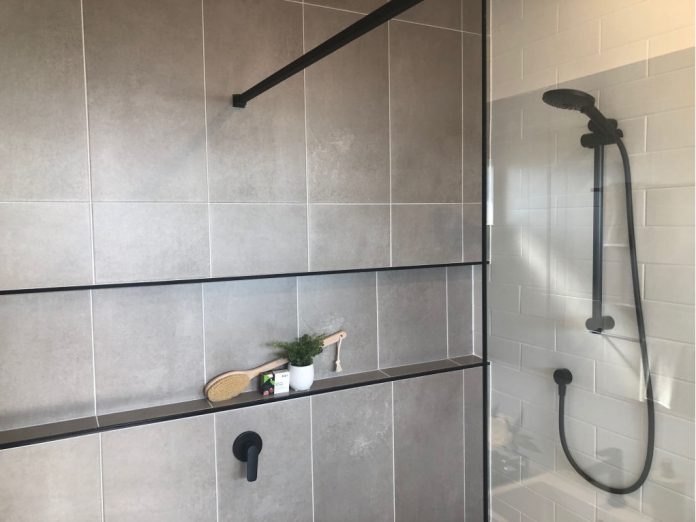 A shower niche offers a stylish and practical solution for product storage in the bathroom. However its minimalist design needs to provide the functionality it was created for. Here's how to choose the right size shower niche for your bathroom.
What is a shower niche?
A shower niche is a recessed shelf in the shower to hold soaps and bottles of shampoo and conditioner. It's also known as a shower recess.
It removes the need for shower caddies and soap holders as the niche offers a surface to store these items off the floor.
Shower niches are popular as the provide a minimalist approach to storing personal products in the shower.
Lower shower niches can be installed to create a ledge for shaving legs in the shower. It's personal preference on the height of your shower niche.
What height should you install your shower niche?
The height of installation for a shower niche will generally fall between 120mm-150mm above the finished tile surface. This height can also be adjusted for personal preference. Consider the reach of those who will be using the shower the most and adjust accordingly.
If a recess is above a bath, the height will be closer to the lip of the bath for accessibility.
What is the right size shower niche for your bathroom?
There is no point having a shower niche which is not tall enough to hold pump style shampoo and conditioner bottles. Enough space needs to be allowed for when handling or pumping out products.
With that said, it's best to measure your commonly bought products to ensure the width of the niche will fit your favourite bottles.
Shower niches will generally be half the width of your shower wall. For some bathrooms, the shower niche has been installed the full width of the wall.
The most common sized shower niches are
Length 300mm to 600mm
Width 300mm to 400mm (depending on heights of shampoo bottles
Depth 70mm-80mm deep
Consider placement of the shower niche to ensure accessibility and cohesiveness to balance and style of the bathroom.
Who can install a shower niche?
Installation of a shower niche is best left to a licensed builder. It must be installed as per Australian standards and National code. The niche also needs to be adequately waterproofed to prevent water penetration through the wall cavity.
Common shower niches are manufactured from polyurethane or sheet metal and can be tiled over. While there are prefabricated options available, you can also get custom built-to- size options to fit the look and design you're after.
Cleaning and Maintenance
The only downside to a shower recess is having an extra surface area to clean and maintain.
Due to the recess nature of the niche, it is prone to moisture build up and can grow mould if not dried or cleaned regularly. This is definitely something to consider for future maintenance in keeping the shower maintained.
Other Bathroom Storage Ideas