Bathrooms can be cold, damp spaces during winter. While the room can get steamy during a hot shower, it's quite another experience to be enveloped in coolness the moment you step out. Here are some tips to keep your bathroom warm during winter.
How to Keep Your Bathroom Warm During Winter – Existing Bathrooms
Seal the windows
Drafts come through open windows and while they can be great for escaping steam and moisture, it can also allow cool air into your bathroom space. Ensure your windows are sealed and choose an appropriate window covering suitable for bathrooms to keep warmth in. Use an exhaust fan to remove steam from the bathroom to prevent dampness and moisture build up which promotes mould and mildew.
Layer the floor with mats and rugs
In your existing bathroom, you don't have the luxury of pulling up the tiles to install underfloor heating. One way to add warmth to the floor is having rugs or bathroom mats to keep feet from getting cool.
Install a heated towel rail
A heated towel rail is an accessory that can be added to an existing bathroom. Some can be ordered with a plug or hard wire. You will need to organise an electrician to install a power point for you for a plug one.
Portable heated towel rails can also be used in the bathroom. It's a cheaper alternative, but may not give the desired look. A lead will also need to be run to connect power supply. Care should be given when using these types of heated towel rails in the bathroom.
Install a heat lamp exhaust fan
A heat lamp exhaust fan is an appliance that can extract the steam but keep the warmth in the bathroom. They are less cumbersome and can sit flush in your ceiling.
Use a wider shower head
A rain shower head can offer poor water pressure, but what it lacks in pressure, it makes up for in equal heat distribution. A rain shower head can cover the whole body, keeping you warm. Choose a WELS rated rain shower head to prevent a blow out on water use and energy bills.
How to Keep Your Bathroom Warm During Winter – New/About to be Renovated Bathrooms
Add a skylight
Dark bathrooms feel cooler. Install a skylight and it will not only brighten the bathroom, it can offer natural heat from the sun.
Install underfloor heating
Underfloor heating is becoming more popular in bathroom renovations. A plumber runs coils of copper under the tiled floor to heat the floor from below. The right licensed plumber can install this system for you. It's the ideal way to keep your bathroom warm, when installed in conjunction with the ideas above.
Alternatively, you can install wall heating by turning any towel rail into a heated towel rail with the Thermorad In-wall Panel.
Choose a bathtub that retains heat and is warm to touch
Freestanding baths are a prominent feature in bathrooms. Choosing the right material for your bath can ensure the water retains its heat. Acrylic and steel baths are a great choice. However, steel baths can be cold to touch when not in use.
Install heat lamps
Choose lighting which can add heat to the bathroom. Be wise with this as, the bathroom can also become a hot house during summer. Talk with your electrician to get the right lighting balance for your needs.
Use natural materials
Natural materials like stone and timber add warmth to a bathroom. They can also be warm to touch, evoking a cosy interior.
Install a fire place or heater
Another luxurious addition to the bathroom, but it may not be used frequently if you live in a fairly warm environment. However, it is another way to add warmth in the bathroom.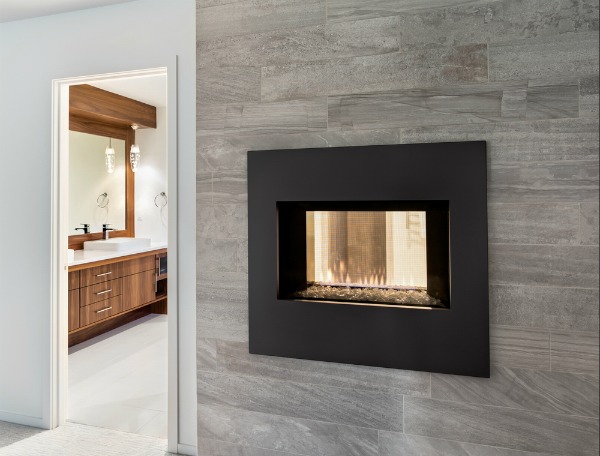 Choosing one or a few options can help keep your bathroom warm during winter. Which ones will you be adding to your bathroom?