On Thursday, Jacob sent me a message about The Home Show being on at the Brisbane Convention Centre this weekend.
I've been meaning to get to one of these shows since I started this blog, but taking babies and toddlers to a home show where there will be a lot of people and displays is not my idea of fun. But this weekend, we didn't have plans and I bribed my girls with – if they behaved well we'd go to the playground at Southbank and visit Max Brenner for chocolate and ice-cream.
If only I'd known the bribe wasn't needed.
The moment we walked into The Home Show, the girls were happy to walk past each exhibit display. Who'd have thought it would be kid friendly with lolly bowls galore at each display? My girls thought it was unreal. Before I knew it we were thrust with bags, blow-up hammers (Thanks Smith & Sons), textas, colouring in paper and crayons, stickers, tattoos and frisbies. I lost count how many lolly pops, mentos and redskins my kids were offered, but they weren't complaining and neither was I because it meant I could check out the displays without whining. Unfortunately it also meant my girls looked to see what lollies were on offer at each display and Mags was happy to explain to one exhibitor, 'we just came for the lollies.'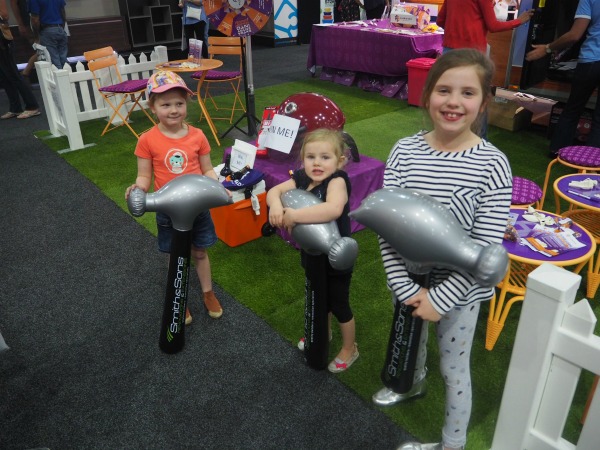 The Home Show is a good place to head to if you're looking to build, renovate or even make some fresh updates to your home. It's a one-stop-shop to get inspiration and the names of suppliers for the nitty gritty parts of renovating.
My motive for going was simply to see new interior trends and to make a few enquiries for updates on our own home. Like Plantation Shutters and screens.
Some of the displays that caught my eye were…
Builders World. Who'd have thought they supplied plumbing fixtures?! I'd never heard of them before, but they are more well known in the commercial plumbing sector. They have stores at Nerang and Woollongabba.
There were various other bathroom displays. One that definitely caught my eye was Kokoon. It's a family run business and they specialise in luxurious bathroom fixtures. One of the benefits of heading to The Home Show is purchasing product off the display. Like that claw free standing bath. You can save a bit of coin by purchasing on the day at the show. Tomorrow will most likely see a lot more sales, so if you are after a few bargains with taps and fixtures, head to the show.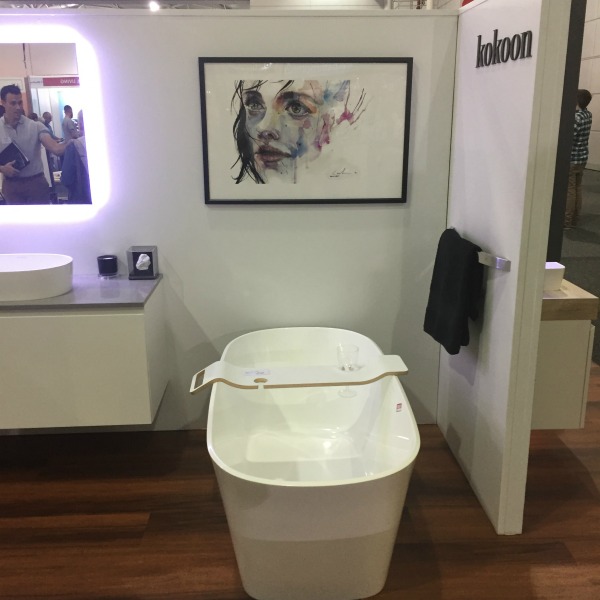 The upholstering display also brought back memories of my grandparents' chairs. Upholstering can be expensive and most people prefer to buy from furniture stores as it suits their budget. But if you have an antique piece that needs to be updated or reupholstered, The Upholstery Man is where you need to go. I just love that teal green chair. So did Phoebe.
The electronics were out in full force too. I'd only been told by my in-laws recently that TV screens could be in picture frames and as a flat surface on the wall. And would you know, I saw a picture frame TV at the Home Show.
Another item that made me stop was this Denim Fridge by Smeg. It's around $5000 and reduced to over $3000 at the show. Could you imagine this fridge in an all white kitchen? I really love the orange fridge beside it.
Storm water drainage has been on my mind with summer coming up. It was good to see a Patent Products share their display of different grate solutions. The storm water grates can be manufactured to size.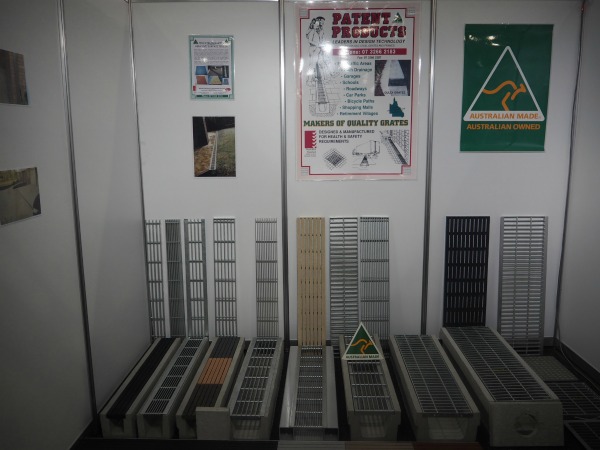 One display that definitely got my attention were these basins. At first I thought they were wood or bamboo. But they're not. They're ceramic. Beautifully crafted, one-of-a-kind pieces. If you really want to make a statement in your bathroom, these basins are something to consider. They are also discounted on sale at The Home Show.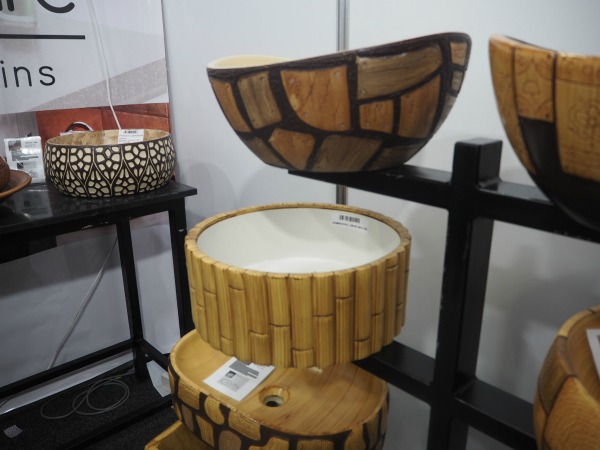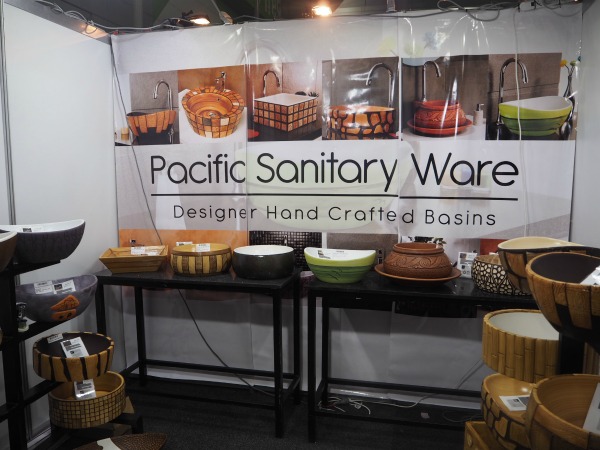 From window screens to floor coverings, to banks and builders, all your renovating needs are covered under the one roof at The Home Show.
If you want to get the maximum use of your time, make a list of things you want to look at. Alternatively, you could do as we did and walk up and down each aisle.
Jacob was very useful in scanning his ticket to win all the big prizes. I also told him to enjoy the influx of marketing emails from the companies offering prizes. But you've got to be in it to win it don't you?
The Home Show is on tomorrow from 9am to 5pm. Head to the website to purchase discounted tickets online.
Have you been to The Home Show in Brisbane? Where do you go to get inspiration for your renovation?