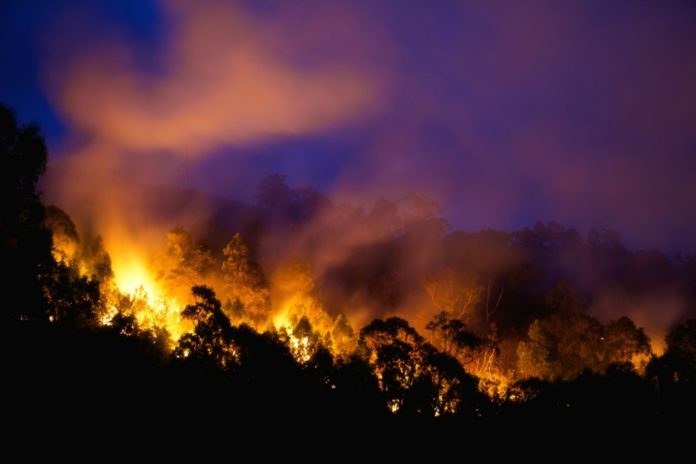 I've been on holidays from my job for two weeks now. But I've been thinking about people affected this week by the horrifying bushfires. It hits home when you can see the dust in the air and smell the smoke; when the news reports update us with more grim news of houses lost or a new fire that has sparked in a drought stricken area.
I look to the sky for rain, but there is no relief. Just wind and a belting hot sun.
I've also been saddened by the fires which have destroyed Binna Burra Lodge and parts of Stanthorpe and Tenterfield surrounds.
I loved our weekend in Stanthorpe. I've checked on my favourite stores to look for updates. When the fires are contained, and the area is rebuilt, do consider having a weekend away in these areas. Send some tourist money their way and support the local businesses who have been affected by these fires.
I've also been thinking about my colleagues in claims who will be working overtime to help people who have been affected by the bushfires.
It's devastating when a natural disaster destroys the buildings and homes we love. Yeah sure they're just buildings. But they are our homes. They hold history and memories. They also house our belongings – often items with sentimental value. There isn't usually much time to pack them when you need to escape to safety.
But it's hard to imagine these circumstances when the disasters aren't occurring. And this is probably one of the most frustrating parts of my job. Explaining the importance of insurance and why it is absolutely necessary to read the Product Disclosure Statement (PDS) to know what is covered when a disaster does strike.
On every call I get on my phone, I try to leave the customer reassured with new information about what their insurance covers. Often, they are surprised with the new information because they've never read the PDS.
But this blog post isn't about my frustrations with people not reading their PDS.
It's more to encourage you to look at your existing home and contents insurance now to make sure you are covered sufficiently for your home. Ensure your home and contents insurance is up to date and hasn't lapsed.
No one asks for a natural disaster to come to their house
No one is immune to bushfires or floods or cyclones or earthquakes – even if history is to prove otherwise; disaster can hit anywhere, at any time. Floods can happen to homes on hills and fires can sweep through an urban street, or a rainforest. The unexpected can happen.
The second reason why it's important to check your insurance is when there are bushfires raging or flood waters rising, there will often be an embargo on the surrounding areas that are/or could be affected. Basically it's a time exclusion where you are not covered for damage from an incoming event on a brand new policy. It's important to have your insurance sorted out well before anything arises to ensure you are covered.
I'm often haunted by the calls from customers with lapsed policies, or those who took the typical Aussie 'she'll be right' approach, thinking it would never happen to them, and it did.
How You Can Help Those Affected by Bushfires
Firstly, be in a better position to help others by making sure you have the right home and contents cover for your property. Check with local fire updates to protect yourself and your family. Leave when they tell you to leave. Remove firewood debris away from the home.
The Chronicle Outlines 6 ways you can help others affected by the bushfires – via donations of money, items and baked goods.
Consider having a weekend away to these affected areas in a years' time after they have been rebuilt.
Purchase Christmas gifts from businesses affected in these towns, where roads have been blocked and business has been impacted by lack of sales or because staff have been helping their community evacuate. Styling You has a great post on places to purchase from in drought affected areas. My post on Stanthorpe lists some amazing businesses in the area you can purchase preserves, wine and even soap from. Look for businesses in the Peregian and Yamba areas (where fires are currently burning in these suburbs) and send some support their way too.
If you have been affected by the bushfires, I'm sorry this has happened to you and I grieve with you for your loss. I send prayers your way over the coming days as you regroup and face the extent of the damage.  Take all the support offered to assist you. It's ok to cry over buildings and lost items. We don't realise the impact of these things until they are lost. They're tangible memories you can not replace. You can rebuild new memories though. God bless you and keep you safe. xx
Disclosure: This article is simply a personal post and is not meant to give financial advice in general. It has been written from my own perspective. All advice about home insurance is my own. I am not a financial or insurance adviser (but I do work in insurance as a customer specialist). To find out more about what insurance products may be suitable for you, contact your existing insurer or do your own research to find the right provider.