If there is one thing that many kitchen designs get wrong, it would be not allowing enough power points for appliances at the island bench. Often it's a frustration that isn't recognised until the kitchen has been installed.
When designing a kitchen, there can be so many things to consider. There's the layout, design, colours, materials, lights, appliances, plumbing, electrical points, flooring and the list can go on. But once the layout has been planned, it's necessary to consider where to have water and electrical points in your kitchen.
Everyone knows the bench is the workhorse for a kitchen, so a lack of power points can make a practical space impractical, because all appliances need power.
We live in a world where multiple power points are necessary to charge iPhones and tablets, to power diffusers or ensure appliances work on any bench space that is available. We want the functionality of using a Mixmaster while the Slow Cooker is on for dinner. Imagine not being able to use these appliances on the island bench at the same time due to a lack of power points. It's a design flaw that can be avoided.
Over the years, there have been pop up products that have offered homeowners the ability to have more power outlets at their bench. But the designs of these products can disrupt the aesthetic of the kitchen bench.
Enter Point Pod, a fully-integrated power socket system that seamlessly blends into your bench top.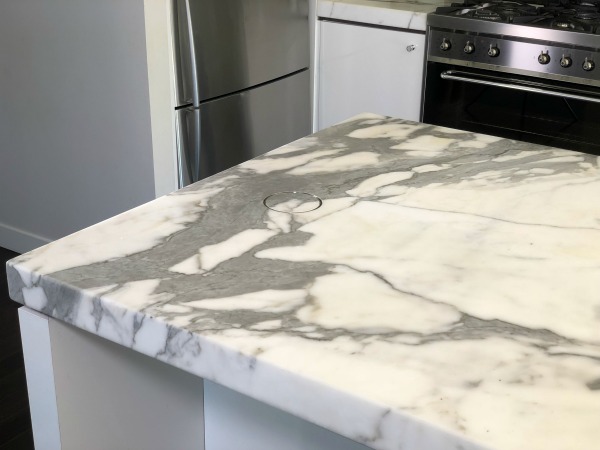 What makes Point Pod different to other products similar on the market is it integrates the benchtop into the top of the unit. The Point Pod is mounted underneath the stone (or whatever bench material you have) to create a flush, seamless finish.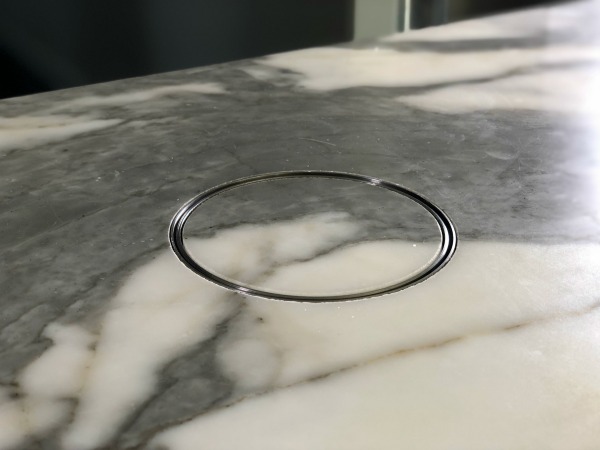 The unit is able to be retrofitted to an existing island bench that has power at the bench. For stone benches, it is recommended a stonemason installs it as cutting the 100mm hole through the stone is extremely important to get right.
The Point Pod can be customized on request if there is a need for more USB ports than electrical points and vice versa.
When I asked about maintenance, there is none required. Point Pod also has a 2 year Australian Warranty.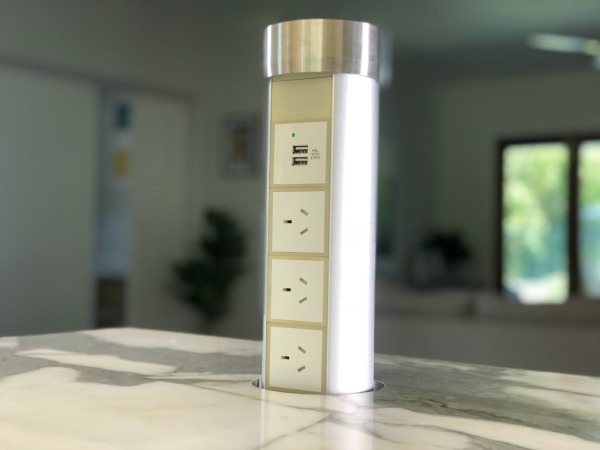 It has been product tested over 15000+ cycles to ensure it lasts as long as your kitchen. It's easy to install (takes approx. 1.5 hours for a retrofit) and has been designed to be easily swapped out for different models so you're not stuck with the same model.
There is also a safety design feature where if the Point Pod meets resistance on the bench, it will go back up.
If you are looking at getting your kitchen renovated or need more power to your exiting island bench, check out Point Pod. It's a power solution that won't compromise on the design aesthetic of your kitchen.
Point Pod will be available from early August. If you're interested in having this product in your kitchen, contact Cam directly for any enquiries.
What do you think of the look of the Point Pod? Do you have enough power points in your kitchen? Ever wish you had more power at your island bench?