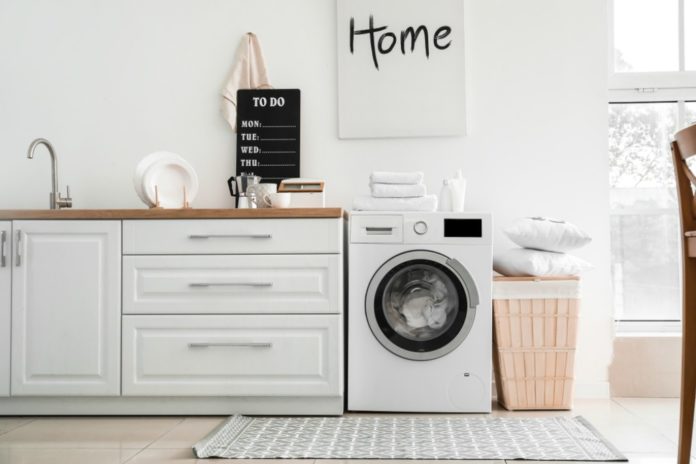 Should the laundry match the bathroom or kitchen? Or should all three spaces have their own independent look?
The rules of design are often constructed to create cohesion in a property.
But it can be confusing to know which materials should be used where and which rooms should match or not.
It's often a question which pops up during a new build or whole home renovation.
So what is the answer? Should the laundry match the bathroom or the kitchen?
The answer comes down to what you want. It's a matter of personal choice.
Not helpful?
Well here are some points to consider to help navigate your decision.
Where is the laundry located in comparison to the kitchen and bathroom?
Location is important when deciding whether to match your laundry to the bathroom or kitchen.
Often the bathrooms and kitchen will have different materials, but the same theme. They may have one common feature – same splashback tile or same benchtops or cabinetry.
If the laundry is located next to the kitchen, it's going to make sense to use common materials to create cohesion when moving between rooms.
 On the other hand, if laundry is attached to a mudroom or powder room, it may make more sense to match to the bathrooms.
Consider the common dominant feature to repeat
To lessen the decision making process, it may be wise to have similar materials or tile placement throughout the three spaces.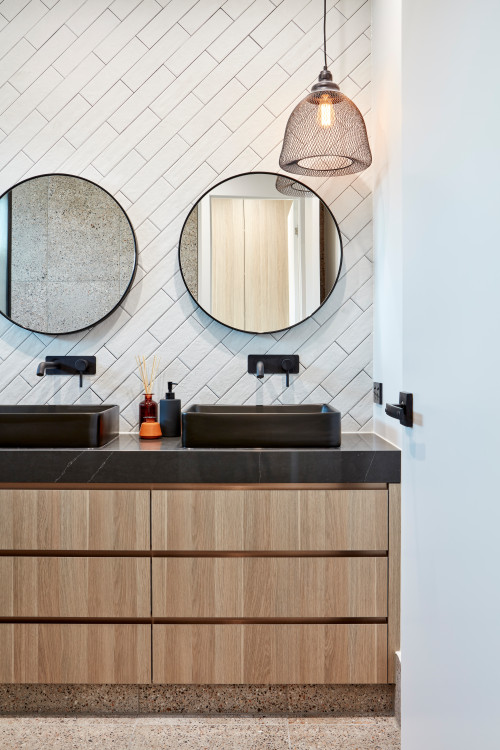 But if you've gone all out in the kitchen with a black sink, it may be overkill in a laundry. If  you have the budget, then go for it. If the budget is tight, opt for matte black tapware instead.
Consider the overall house theme
There are no hard and fast rules about the laundry matching other rooms in the home. But do consider the overall design theme. If you've gone modern coastal, choose similar materials to replicate the theme in the laundry.
Overthinking it can put unnecessary pressure and stress to the decision making process.
When in doubt, chat with an interior architect. They will put your mind at ease and advise points you may not have considered.
How will you use the laundry?
People don't want to spend time in their laundry. If it's stylish and functional, you've achieved the perfect balance for the room.
I'd much rather spend my time in a kitchen or bathroom and so I'd invest in in those rooms before a laundry.
What do you think? Should the laundry match the bathroom or kitchen? How did you make your decision on what did or didn't match?