This post has been written in collaboration with Local Agent Finder
Five years ago Jacob and I sold our first home. We had lived in our first house for over 3 years and we made good money on the sale which allowed us to upgrade and purchase our current home. There were things we did to our first home that I believe helped us get the best price on our property. With that knowledge and my tradie background, I've compiled a list of ten ways to get more money for your home.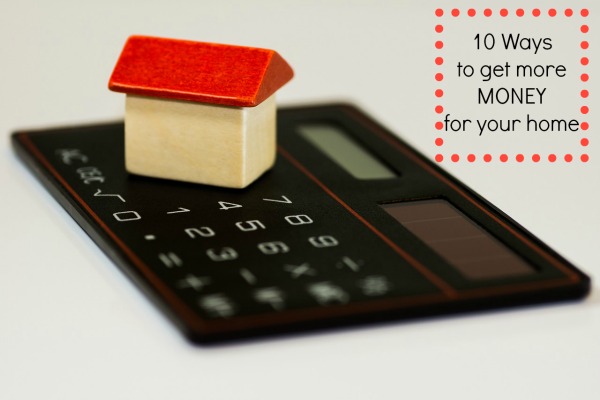 1. Find a good real estate agent. We talked to four agents, including one that sold properties outside of our suburb. On this agent's advice, he recommended we use a local agent because they would have more contacts of buyers wanting to purchase in our area. Using the Local Agent Finder would have helped us get an idea on all the available agents in our area and we could have compared their rate of commission which would make a difference in the amount of money we would get after the sale.
2. Update the front appearance of your property. We had unkept side gardens in our front yard so we got new plants and added some mulch to give the gardens a mini make over. We also painted the front pole near our front door as the paint had started to fade. We also replaced the fly screen on our front door. There were holes and rips in the previous one caused by our psycho puppy.
3. Declutter and create space. Inside our home we decluttered and made our house look bigger than normal by removing items that took space. We kept items like the crosstrainer in the garage. In the kitchen we put all appliances and utensils away. We took off all the magnets on our fridge to create a crisp looking kitchen.
4. Make spaces look new. In the bathroom, I thoroughly cleaned the shower screen doors. If you want to add value to your home, make the bathroom and kitchen look as clean and modern as possible. If you have frosted glass, replace it with clear. Silicone any areas that need to be re-sealed. Clean the grout and try and remove as much mould from the tiles as possible. If you can afford to replace the taps, then do so because it will make a big difference. Replace the toilet seat with a new one which is just a cosmetic update to the little room. If the toilet suite is cream, you may not be able to replace the seat or it will look odd.
5. Make walls neutral. Fix up holes in the walls and paint the walls a neutral white. This allows buyers to imagine what they can do with the space when there is a neutral background to work with.
6. Get rid of odour. Before you have an open home, make the home smell nice with essential oils. Baking cookies sounds like a homely touch, but if you haven't cleaned your oven in a while, the baked smell may not be as inviting as you think. I remember using a rose and lavender oil because it is a universally recognized fragrance.
7. Allow as much light as possible into the home. Clean that skylight if there are bugs and dust in the viewing glass. Open the curtains and drapes to allow natural light flood into your home.
8. Fix up any areas that buyers may question. For example in our first home, the enamel started to come off the tiles in shower. I got my dad to replace those tiles so the shower looked as good as new.
9. If you have a pet, remove any evidence a pet lives in the home. Not everyone likes pets and seeing a pet bowl of food and water can deter buyers. Also pick up the poo from the yard. The smell and view is offputting to a potential buyer.
10. Know your figures. Work out the lowest offer you will accept. It can be risky not accepting the first offer, but in our situation it proved the best decision because it allowed the buyers to look elsewhere and then come back to our property because they knew it was the best on the market for what they were looking for. That risk paid off when they offered us more than their first offer.
Have you ever sold a house? Do you have any tips to add to my list?
This post has been written in accordance with my disclosure policy.