So many of you were right about last night on The Block. No one got sent home. The ads were simply to hook in viewers.  But how intense was it watching Scotty rip into Jason and Sarah? I hate any type of humiliation at the best of times, and last night, I winced at the national humiliation. I wished Jason and Sarah had cared enough to put a bit more effort into their zone. But they didn't. I totally think Scotty's reaction was warranted, but I still don't like watching people get into trouble. Do you?
I know there is a heck of a lot of editing that gets done to make the show. But, I don't think they did themselves any favours by showing unfinished rooms. If they were desperate for money, wouldn't the incentive of winning the room, to get more cash, prompt you to go hard and deliver an incredible space?
Who knows how next week is going to pan out for Jason and Sarah. If they thought last week was hard, this week will be even harder with the completion of 4 zones essentially. They will have a master bedroom, ensuite, walk-in robe and kitchen to get done in one week, or else they will be off The Block. I might just watch during the week now to see how they do it.
I really hope for their sake, they can find motivation to get stuck in and finish what they started.
If there is one thing we can learn from Jason and Sarah, it's that sometimes it can be overwhelming when you're renovating and those feelings of wanting to quit are normal. But you have to keep going, even when the budget hasn't been well managed and you wonder how the heck you're going to finish. Saying you don't care and giving up is not the right attitude. As Scotty said, it is a competition where over 10,000 couples applied to be on the show. When an opportunity presents itself, you have to steward it and give it all you've got.
Anyway, despite the Jason and Sarah debacle, there were the main bedroom, ensuite and walk-in-robe reveals last night. My favourite was Clint and Hannah's.
I loved that wall paper, the bedhead and chandelier. Having block out curtains is something they can add down the track. Their ensuite was lovely and I had to disagree with Neale about chrome taps no longer being modern. Chrome is classic and timeless.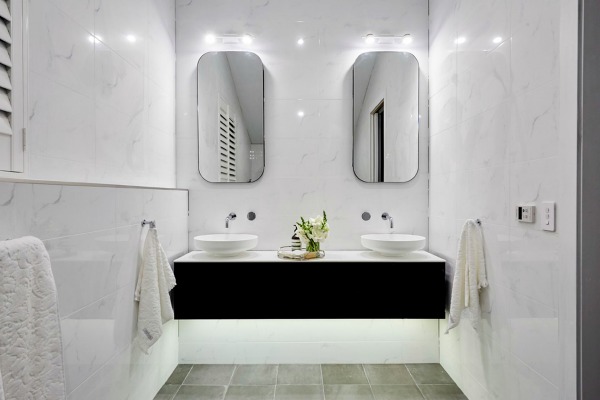 Loved how the mirrors opened up for extra face level storage at the vanity too. Despite what I thought, Clint and Hannah's space came third.
Ronnie and Georgia's master bedroom was beautifully styled. Loved the colour palette. I also liked how the bathroom complimented with the master bedroom. Even though I've seen the concrete/grey tile look before, it worked well in Ronnie and Georgia's space.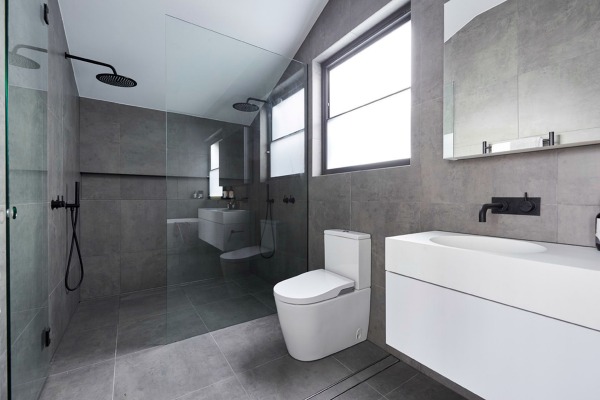 Sticks and Wombat's master bedroom felt more casual than elegant. I agree with the judgers on their comments. Loved their ensuite and the double showers using black tapware. Not sure if I'm a fan of the bar along the shower heads. It still offered something different to their space though.
Josh and Elyse's master bedroom and ensuite won by half a point. I loved the styling and the tiling in the ensuite was stunning. Not sure about having an open space with no door to the master bedroom. We had a similar set up when we went to Stanthorpe. There is no privacy. Hopefully it won't deter buyers come auction day.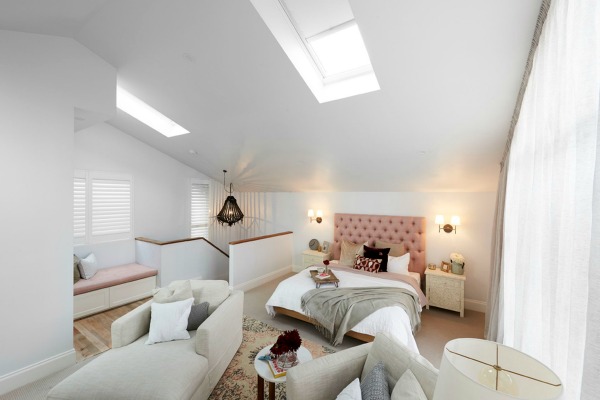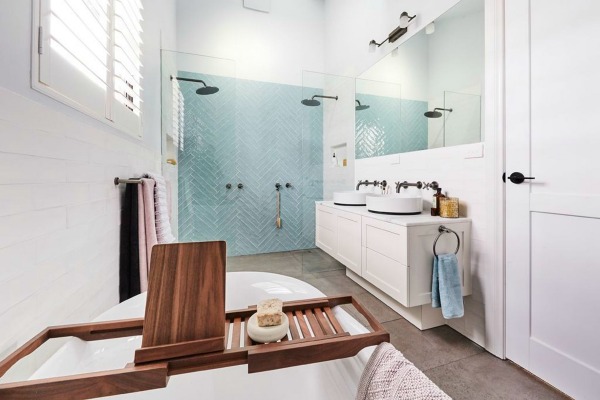 If you want to see more of the reveals, head here.
Which space on The Block Master Bedroom reveals was your favourite from last night? Do you think Jason and Sarah will be able to complete 4 zones this week?