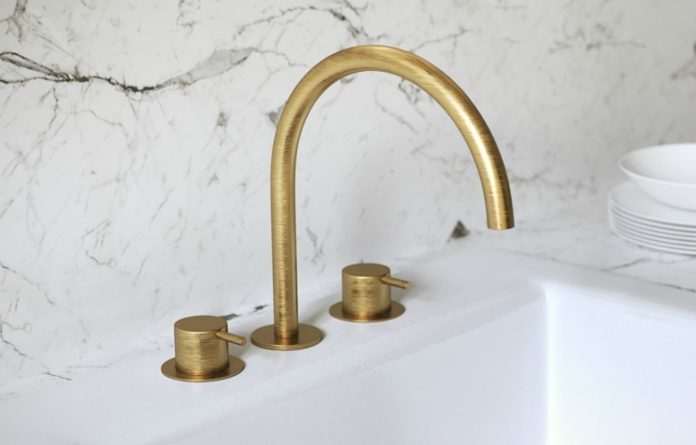 Brass tapware is not as highly sought as chrome or matte black, however for those who like to go against the trends, brass tapware can certainly make a statement in the bathroom. But like other finishes, there are pros and cons of brass tapware.
In fact the cons often persuade some to disregard this finish, yet when looking at the images below it's definitely an investment to consider.
All taps are brass taps, unless they are made from stainless steel. Melissa from Reece Plumbing Mill Park explains, "some suppliers will finish directly with the brass, "raw brass" or "living brass", these are natural and will develop a patina on them."
When looking for brass tapware, head to a bathroom display store like Reece to see the finishes in person so you can discern what you like. You can also have a bit of an idea on which brass tapware you're after by checking the finishes offered by different suppliers. You may want brass tapware, but a brushed gold may be the colour you've pictured.
Pros of Brass Tapware
Brass tapware was often chosen for traditional or heritage style bathrooms, but now it's filtering into contemporary bathrooms. This merge can be striking – especially in an all white bathroom with timber accents.
Brass tapware can also warm a cool toned bathroom. If you have navy blue or moody greys, brass can warm the interior to create a balanced look.
The tapware finish itself can come in two types: polished or brushed. Polished brass offers a shiny look and feel – similar to chrome. It can be easily matched with polished accessories which seem to be more readily available. Brushed brass is muted and has a slightly worn look to it. It has an understated elegance which many choose over polished brass.
Brass tapware can come in a range of different styles. Where this finish shines is when it's installed as a wall mixer. The contrast with the splashback can really make it pop, creating an instant feature in the bathroom.
Cons of Brass Tapware
The cons of brass tapware can often persuade some renovators to rethink their choice in tapware finish.
Firstly, it's more expensive than other finishes. This can blow out the bathroom budget.
Secondly, it can be hard to match brass tapware with brass accessories or brass plug and wastes. And even when they're matched, they can be more expensive to purchase than chrome or matte black.
Thirdly, brass can lose it's luster over time. It can acquire a weathered look. For some, this look is loved because it adds a warm element to the bathroom, for others it can make the bathroom look a little old and in need of some love. I do believe choosing a high quality tapware brand will ensure the longevity of the finish.
Tip: When choosing brass tapware, check if the tapware brand also offers matching accessories. This can take the guesswork out of matching taps to accessories. It can look odd with different finishes in the bathroom.
Brass tapware is not offered by many tap suppliers. Some brands to consider are
If brass taps aren't the colour way you're after, consider brushed gold which is becoming more commonly sought with brushed nickel and gunmetal.