This post has been written in collaboration with RYOBI
Cleaning the outside of our house is not usually on the agenda of spring cleaning… until we notice how dirty the exterior of our home is. A pressure cleaner is the best way to remove the annual dirt and grime that settles on the outer surfaces of our home, to bring it back to new. In today's post, I'm sharing three ways to update your home using a RYOBI Pressure Washer.
I was gifted the RYOBI 2400W 2500PSI Pressure Washer and Patio Cleaning Kit to review on my blog. It's been on our wish list for a while as each spring, we'd have to borrow my dad's. Having our own pressure cleaner means we can get onto our exterior cleaning jobs straight away, and this Pressure Washer from RYOBI made the enormous cleaning task, easy.
We have a light Colourbond roof, so the dirt can be easily seen in the grooves if we don't clean it. Our house also backs onto a road, which means our back outdoor entertaining area can get filthy with a fine film of dust. It can also get splashed with paint when crafting or drips from ice blocks the girls will eat outside. The RYOBI Pressure Washer was going to be put to hard to work to get these areas looking new again. Here are the three areas of our home that got an update from using our RYOBI Pressure Washer.
Outdoor Entertaining Area
Every time I'd look at our outdoor entertaining area, I would mentally list it as an area that needed to be cleaned. Our furniture was COVERED in black dust as was the entire floor area.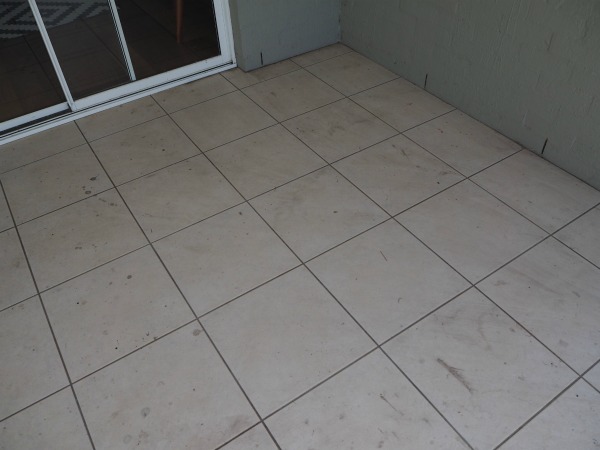 Jacob and I removed all the furniture so that we could start cleaning the tiles. The Patio Cleaning Kit is ideal for undercover areas, where there is a large, smooth surface area to clean. I started with the Patio Cleaning Head first to remove the dirt and then changed the head to the turbo nozzle to remove paint splotches and other marks that needed a good blast to get rid of.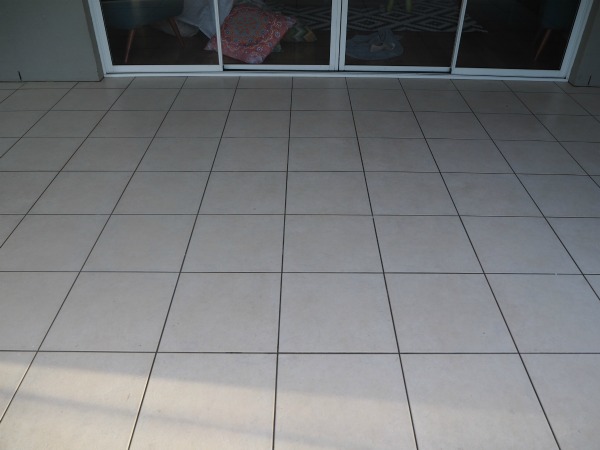 I also used the turbo nozzle to clean our concrete paved area. Here is a video of me using the turbo nozzle on the concrete sections of our paved area. The before and after results speak for themselves.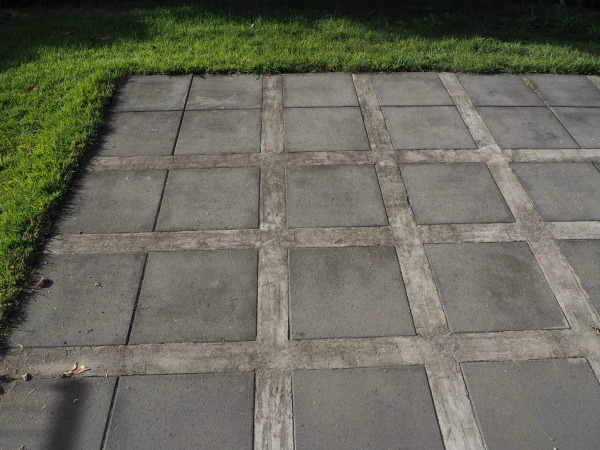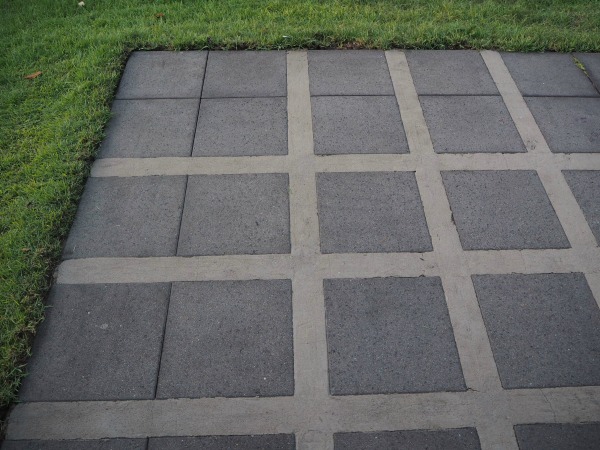 Roof
One of the main reasons I wanted a RYOBI Pressure Washer was to be able to clean our roof when needed.
Our near white Colourbond roof always shows the dust. It's an annual job to pressure clean it, as rain alone does little to remove the dust.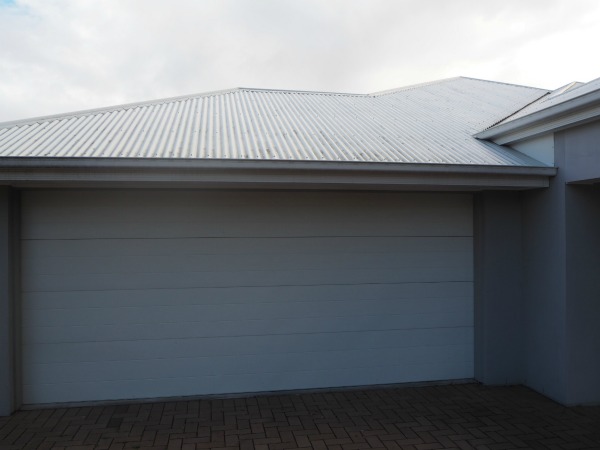 The best thing about using the RYOBI Pressure Washer when cleaning your roof is the length of hose which enables you to reach further. The 8 meter hose can be unwound from the reel, which makes it easy to unwind when needed.
Indoor Rug
Our indoor rug has gone through a bit in the last year since we've owned it. It only cost me $69, so I've never been too worried about how long it will last, but I have noticed there have been marks on the rug which I'd wanted to remove so it would look less worn.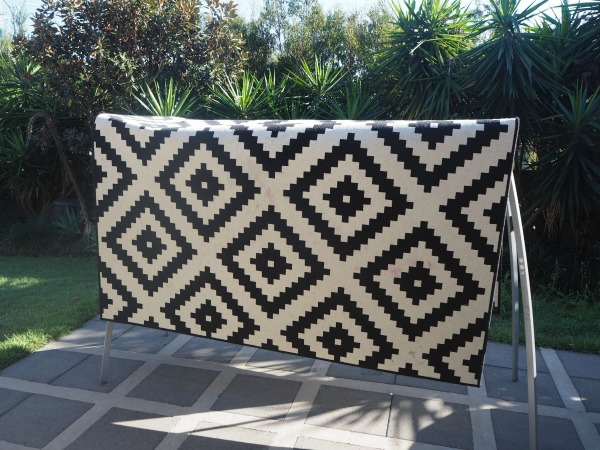 I saw a tip on Facebook of someone using a pressure cleaner to clean their rug. So I thought I'd give it a try on our rug and it's come up beautifully! If you do decide to pressure clean your rug, make sure you do it on a warm sunny day, and first thing in the morning so the rug has time to dry.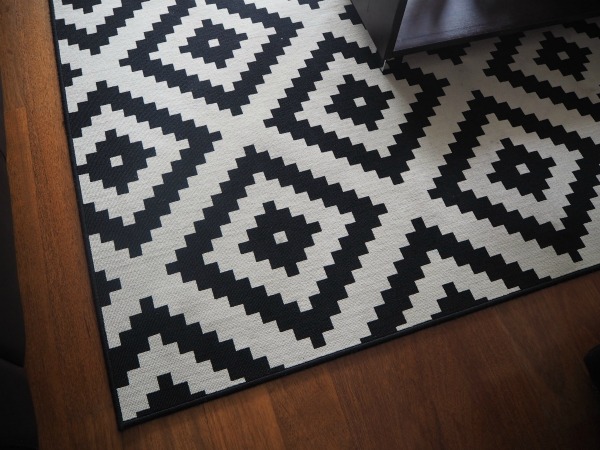 Thoughts About the RYOBI Pressure Washer
The RYOBI Pressure Washer is easy to use. I found the pressure to be brilliant and changing between the nozzle and Patio Cleaning Head was simple. I love that it can be wheeled to wherever you need it to go. You can add detergent for a deeper clean, but I was happy with using water. The RYOBI Pressure Washer is $299 from Bunnings and the Patio Cleaner Kit, also available at Bunnings, is sold separately for $39.99.
Since acquiring our RYOBI Pressure Washer, we have been cleaning the front of our house, the driveway, gutters and eaves. It's definitely made our home look newer and fresher for summer entertaining. I'm grateful that this time next year, I won't have to ring my dad to borrow his pressure washer. Our RYOBI Pressure Washer will be waiting, ready to be used again.
What outdoor jobs are on your spring cleaning list? Do you have areas that could do with an update with the RYOBI Pressure Washer?
Disclosure: I was gifted a RYOBI Pressure Washer and Patio Cleaning Kit for the purpose of this review. This post has been written in accordance with my disclosure policy. All opinions are my own.