If you're after top loader washing machine laundry ideas, this post is for you.
Whenever I've come across a post sharing about laundries, they always have front loader washing machines. There seems to be little inspiration for design when including a top loader washing machine.
The reasons can vary. The main one is front loader washing machines are more popular. They have smart technology, water efficiency and are compact in design. It's quite easy to fit a front loader washing machine and dryer in a small laundry and still have space for storage.
But if you've got a top loader washer which is still in working order and fits in with your lifestyle needs, there is no need to miss out on having a stylish laundry. These top loader washing machine laundry ideas can give you inspiration.
Top Loader Washing Machine Laundry Ideas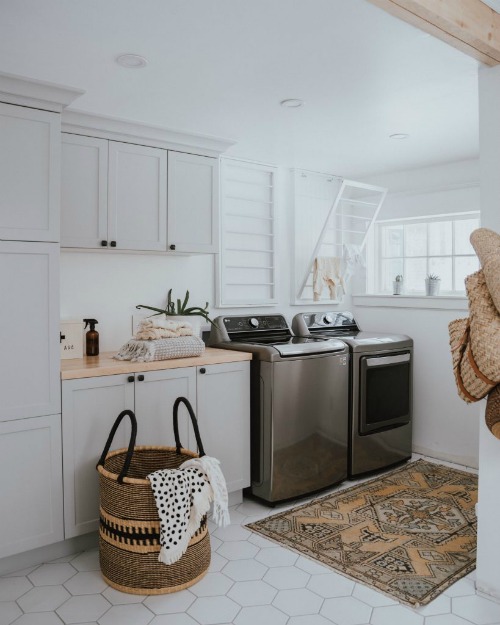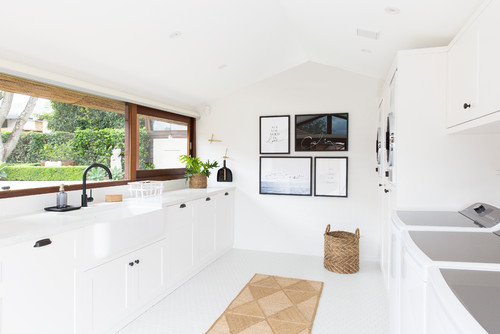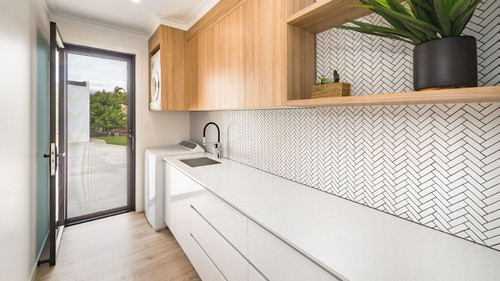 Top Loader Washing Machine Laundry Design Tips
These tips will ensure your laundry is functional when using a top loader washing machine.
Keep the space above the top loader washing machine clear. If you do need to add shelving or cabinetry across, measure enough space to ensure the washing machine lid can stand upright without jarring against any obstructions.
Pair the laundry sink and washing machine together to make it easier for the plumbing to be concealed. Hoses can be concealed by placing the water taps in adjacent cabinetry or behind the washing machine. Check your washing machine manual to see if it offers guidelines on the configuration and position of the hoses.
Allow for an empty space for future appliance upgrades. You may one day decide to get a front loader washing machine so it will look odd if the void in the cabinetry has been made to suit a top loader. If you opt for an empty space rather than a void in the cabinetry, it allows for appliances to be stacked to keep a streamlined look in the laundry.
What type of washing machine do you have? A top loader or front loader?
For more laundry ideas, check out these posts