Towel hooks are popular solution for hanging towels when wall space is limited.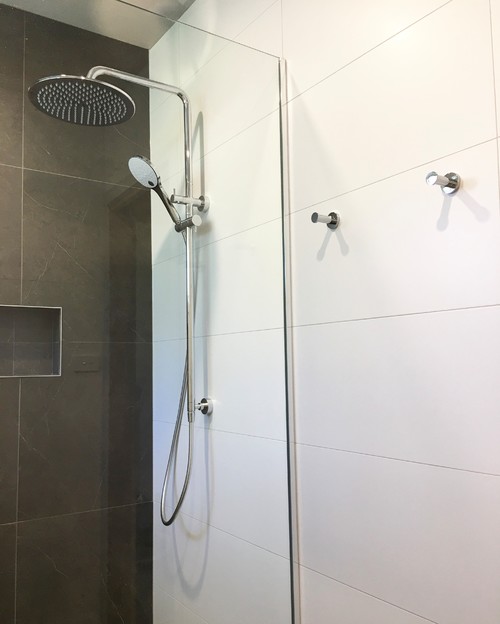 They are known as robe hooks when searching online, but they are typically used for hanging towels.
 The benefits of using robe hooks to hang towels are
You can have a hook per person meaning all towels have a place to hang
They are space saving – allowing towels to drape vertically
Cost effective (this can depend on how many you need and the finish)
The drawback to using robe hooks is they don't always allow the towels to 'air' or dry thoroughly.
They aren't always effective in keeping towels off the floor if they haven't been draped over properly.
If I had the choice of a robe hook or towel rail, I'd go the towel rail every time. But sometimes the available wall space won't give the luxury of choice.
Let's be honest, as long as the towels have a place to hang, and they keep the bathroom tidy, robe hooks can be a great alternative.
Choosing the robe hook finish
Chrome, matte black and brass/gold robe hooks are fairly easy to find.
Ideally, you want your robe hook to match the tapware and other hardware accessories in your bathroom.
It can be difficult to source the style of hook to match your tapware.  I recommend purchasing from your tapware provider as they should have accessories to match.
When looking for robe hooks, I recommend checking out Reece and Tradelink. Brands like Meir, Milli and Abi Interiors will offer a range of robe hooks in various tapware finishes for all budgets. I've found the more uncommon the finish, the more expensive the accessory.
The other point to consider is the style of the robe hook. Your minimal and sleek hooks are great for contemporary and modern bathrooms. But if you have an Art Deco bathroom, you may want something more ornate.
Towel hooks for every tapware finish
I've found towel hooks for every tapware finish – well at least the most common ones.
If you're finding it hard to choose robe hooks in your available finish, choose a similar tone.
For example Chrome works with Nickel and Brass works with Gold.
Matte Black and Matte White Robe Hooks
Matte Black: Clark Round Robe Hook, Milli Axon MK2 Robe Hook, Meir Round Robe Hook
Matte White: Abi Interiors Otto Robe Hook (on back order till mid August), Clark Round Wall Hook
Gold Toned Robe Hooks
Rose Gold/Copper: Milli Pure Robe Hook Rose Gold, Meir Round Robe Hook Champagne, Abi Interiors Brushed Copper Robe Hook (on back order till Mid August)
Brass/Gold: Abi Interiors Brushed Brass Robe Hook, Mizu Drift Brushed Gold Robe Hook, Meir Tiger Bronze Gold Round Robe Hook
Gunmetal, Chrome and Nickel Robe Hooks
Gunmetal: Milli Pure Robe Hook Brushed Gunmetal, Milli Exo Robe Hook Gunmetal, Milli Voir Robe Hook in Brushed Gunmetal
Chrome: Meir Polished Chrome Round Robe Hook, Clark Round Robe Hook, Reece Kado Era Robe Hook Chrome
Nickel: Meir Brushed Nickel Round Robe Hook, Milli Pure Hook in Brushed Nickel, Milli Voir Robe Hook Brushed Nickel
Do you prefer towel hooks or towel rails for your bathroom?