Shower diverters are a must have when combining your bath and shower together. There are 3 types of diverters available and it is often an oversight for many new-to-the-scene renovators as they don't purchase this valve for rough in. It's important to ensure the tapware chosen suits the bath and shower configuration. This post will hopefully explain what you need to know about shower diverters.
What is a Shower Diverter?
A shower diverter is a valve that directs the water to the bath spout or shower rose, depending on which is to be used at the one time.
There are three types of shower diverter valves. You can get a push button diverter which sits near the handle of the shower, a ceramic cartridge diverter which is also installed next to the shower handle and a spout diverter, where the diverter button is on the bath spout.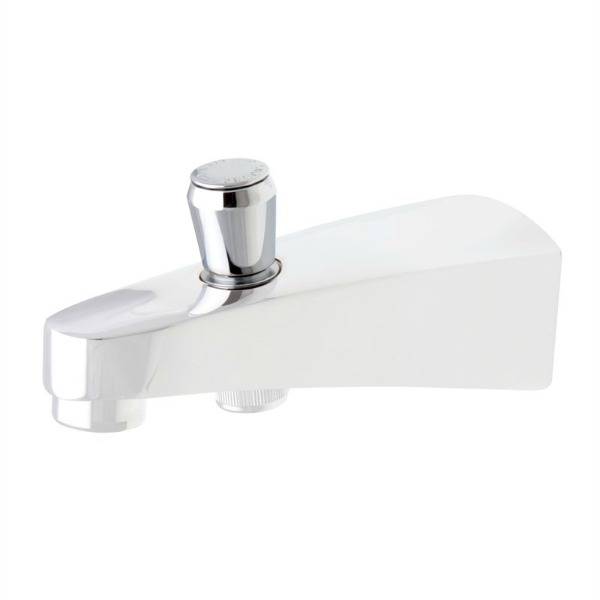 Each diverter functions in a similar way – if you push/pull or turn the lever, water will be directed to the orifice it needs to go through.
The most common diverter is the push pull button diverter. It's quite common to see these diverters in overseas hotels.
But they can be frustrating and fiddly to get the water to come out when you want it to. I've experienced the surprise of a cold shower when I've wanted the water to fill the bath for the kids. And sometimes the diverter can jam causing no diversion whatsoever. Unfortunately, they do have a limited time span.
The benefit of a ceramic cartridge shower diverter ensures a smoother transition by turning the handle. It's much more user friendly and is a stylish option for your bath and shower combo.
All combined bath and shower configurations need a diverter. Your choice on diverter can depend on the tapware you choose, the finish, look and functionality.
What shower diverters have you used in the past? Do you have a shower diverter in your bathroom?