Collaborative Post
The beauty about blogging is that you can pretty much do it anytime, anywhere. If you choose to make your blog your business, you may want to create a dedicated home office. I've worked in many offices in the past 11 years. I've even seen new offices fitted out. Here are 12 things to consider when creating a home office suitable for blogging.
1. Computer. This one is a bit obvious, but many bloggers blog via their phone or Ipad which is not something I would recommend. There is a lot to consider when purchasing a computer like whether you go Apple Mac or Microsoft? Laptop or Desktop? Choose the computer you're used to because you are going to spend a long time at it when writing your blog. And make sure it is up to date with the best anti-virus program you can afford.
2. A large desk. I need space on my desk so that I can have everything I need easily accessible. Space is also good to display quotes or art to get the creative juices flowing.
3. A desk lamp. I write at night and find a lamp saves power instead of using the ceiling lights. It's also better on the eyes when I type.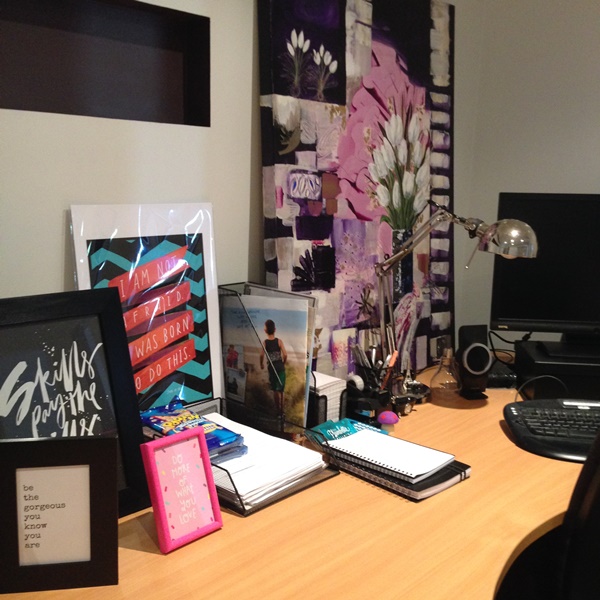 4. Notepad. Or three. I can't have enough of them. I use them to write down inspiration for new posts. I hate not having a pad to write lists down on or dates I need to make a note of.
5. Pen. Can't use a notepad if you have no pen to write with. And have a few hidden because your kids will most likely steal them. Or suck them dry.
6. Weekly and Monthly Planner. A weekly planner is great to get down to the nitty gritty work of scheduling blog posts. A monthly planner is great to plan ahead and gives a great overview of the month.
7. Printer. Everything with blogging is done online, but printers are good when printing off receipts and tickets for events to do with blogging.
8. Internet/phone. Consider using an independent telco like iVox because you will be using your internet and phone extensively as a blogger.
9. Comfortable chair. You're going to be sitting in that chair for a while as you type out blog posts. You don't want your bum going numb from all the blog posting or sitting. Or both.
10. In tray. I find an in tray great for keeping mail correspondence or product brochures that wish to be featured on my blog.
11. Quotes and Artwork. Quotes and artwork are great to look at when you need some inspiration. It also makes your office desk look pretty.
12. Storage. I like to keep a clean desk, so in order to keep it neat and tidy, I need storage like filing cabinets to keep all papers in order. I have files for bills and receipts. Having a dedicated storage facility like a filing cabinet means when it comes to tax time you know where to find those important receipts and invoices for claiming.
Where do you blog at home? Do you have an office dedicated to blogging? What could you add to my list?
This is post has been written in accordance to my disclosure policy.