Last Friday night I was after a bath salt soak recipe to help relieve pain and possible swelling in my knee and foot.
After dropping Phoebe to her classroom, I was quick to walk out the school to get on with my day.
Unfortunately, the tip of my sandal caught the lip of the top step outside the school office and I tripped forwards and fell over. I landed hard on the black grip dots on the concrete step with my left knee, and my hands caught my fall. I'm lucky I didn't break anything.
I grazed both palms, my left knee, my right shin and I hurt the top of my left foot.
After hobbling back home (a 2km walk), I got on with my day, but my knee was painful to walk on and it hurt when I sat down.
After the kids went to bed that night, I looked up how I could make a magnesium spray… without magnesium, lol.
Instead I came across a bath salt soak using Epsom salts and Bi Carb Soda. I learned that Epsom Salts were a form of magnesium! I also researched which essential oils to add to the bath because I love good scents, but I also wanted ones which would support my sore knee and foot.
I added 1/3 cup of Epsom salts, ¼ of bi carb and a few drops of Siberian Fir, Peppermint and Eucalyptus. I also added some castile soap, in the hope it would make bubbles. It didn't.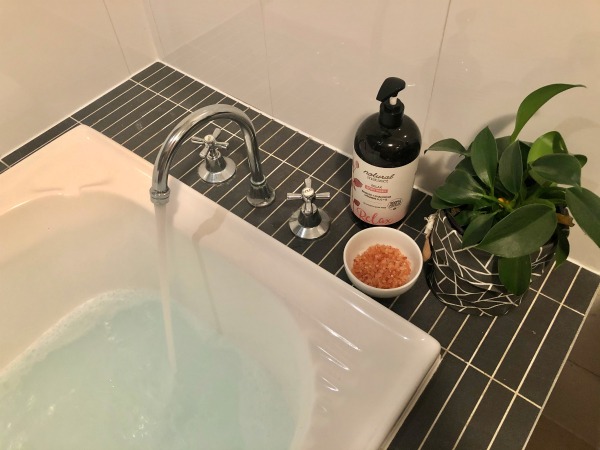 The bath smelled amazing though. After reading for half an hour and immersing myself into the hot water, I had a really great sleep and I noticed my knee wasn't as painful to walk on the next day.
This bath salt soak recipe is more powdery than course – which many bath salts tend to look and feel like. I like this recipe as it disperses well into the water, avoiding grit at the bottom of the bath which makes me feel like I'm bathing with sand.
I enjoyed the bath so much, I made a batch to put into jars to make it easier to draw the same bath in the future.
I thought I'd share the recipe with you. I've outlined the reasons why I added different ingredients and oils to make the bath salt soak more tailored for my needs. You can change the oils for your preference. I got most of the ingredients from Oils for Life Australia.
The oils I added to my bath were
Siberian Fir: good for muscle and joint support, can soothe minor skin irritations and offers a calming and relaxing scent.
Peppermint: can soothe soreness, assist with shock.
Eucalyptus: can soothe tired and sore muscles.
Epsom Salt is a form of magnesium, which the body can absorb when dispersed into a bath. Epsom salts can help relax sore muscles and flush out lactic acid build up.
Bi Carb Soda: Can soothe irritated skin, relax sore muscles.
Ingredients for Bath Salt Soak
2 Cups of Epsom Salts
½ Cup of Bi Carb Soda
5 Drops of Peppermint essential oil
5 Drops of Eucalyptus essential oil
5 Drops of Siberian Fir essential oil
Mix all the dry ingredients together and then add the wet ingredients. Use the back of the spoon to mix the oils to create a 'wet sand' yet powdery consistency.
Scoop into jars and keep a tight lid as salts can absorb moisture in the air.
Use within 3-6 months. Add ½ to 1 cup to a bath or more if needed.
For other DIY recipes, why not make your own Air Freshener and Linen Spray.