Getting your outdoor area ready for summer is probably on your to-do list of household chores now that the weather is warmer.
Often, the area can accumulate with leaf debris and dirt and sometimes it just needs a good clean to remove cobwebs and dust from the furniture. Usually by spring, the area needs a bit of an overhaul to get it looking like a place to retreat to.
Here are some tips for getting your outdoor area ready for summer
1. Book a termite inspection
If you have a deck or any timber structures around the home in your outdoor area, it's a good idea to have a termite inspection. This should be done yearly. Termites can cause terrible structural damage and there is no point painting that deck if you have termites lurking beneath. For peace of mind, book an inspection.
2. Remove all furniture from the space and pressure clean
When we're in drought, this may not be an option. But if you have tank water or are willing to pay the extra price on your water bill, pressure clean the area. We have a small area to pressure clean and I use the Patio Cleaning head from Ryobi on their Pressure Washer which helps clean the area twice as fast.
3. Use outdoor rugs to create designated lounging areas
I use a rug to create a designated lounging area in our outdoor space. The rugs can also help keep the floor cleaner. Recycled Mats have some fabulous rugs and mats for outdoor use. I personally bought a cheap Kmart rug and sprayed it with a waterproof spray. It's been going strong for the last few years that we've had it.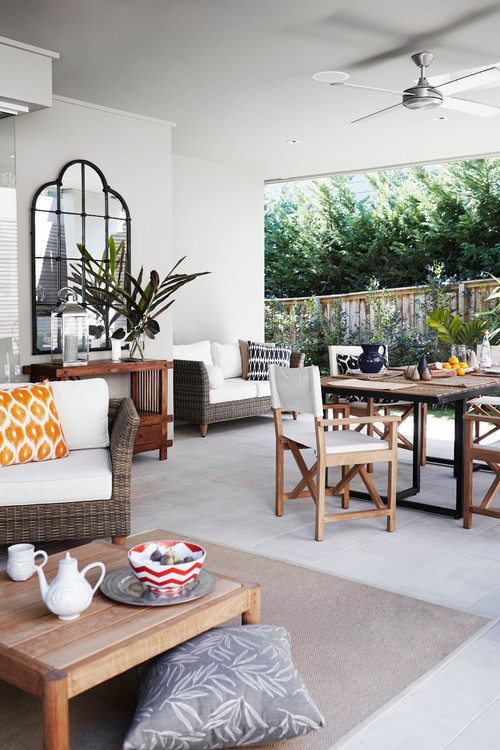 4. Clean existing outdoor furniture
For timber furniture a light sand and oil can bring them up as good as new. For plastic furniture, a multipurpose cleaner can remove the dark dust that settles on the chairs. Wash the cushion covers and seating pads and check for mould. Get rid of anything with mould growing in it or on it.
5. Invest in affordable outdoor furniture
Some furniture like your wicker and cane furniture can fray from the rain, humidity or birds pecking to help build their nests for spring. Outdoor furniture can be expensive to replace, but there are budget-friendly outdoor furniture sets which you can get for under $1000. Invest in new if your furniture is worse for wear and can't be repaired.
6. Buy UV Resistant cushion covers
Bunnings and Sunburst Outdoor Living offer a great range of UV resistant cushion covers. You also want the covers to withstand wet weather and prevent mould growth. I bought UV resistant fabric from Spotlight to cover over our outdoor furniture seat cushions to protect them from stains and mould. So far so good with these.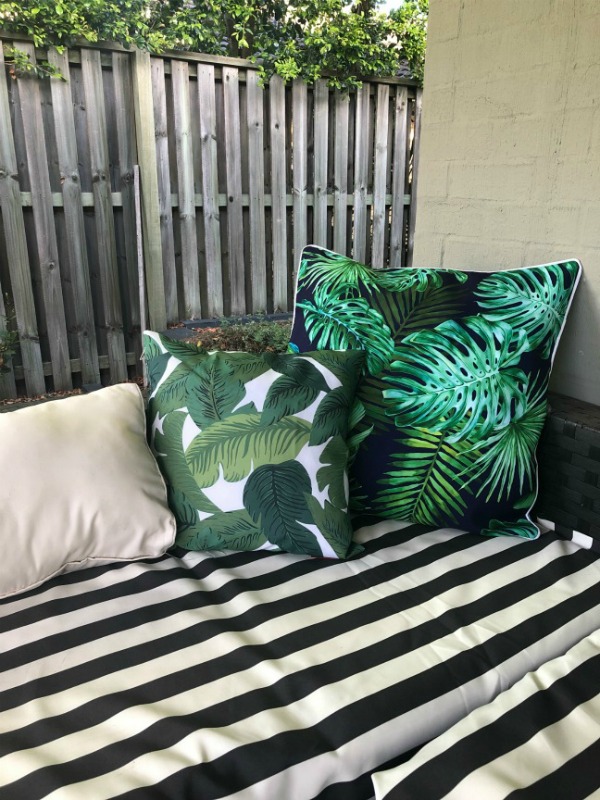 7. Check outdoor plumbing
It's important to check the plumbing is not only adequate around your outdoor area, but it's also clear to remove water away from the area during a wet weather event. Remove leaves from gutters and use your hose to spray down downpipes to ensure there are no blockages. If you do have water pool up through the gutters, you will need a plumber to come out with equipment that has better pressure to blast away any blockages.
8. Check lighting and power
When entertaining or using the BBQ at night, having adequate light is important. Check all lighting works and book an electrician to come out if more lighting is needed.
9. Clean the ceiling and fan
If you have an overhead fan, chances are it will have cobwebs or have rust marks. Give it a good clean and test that it works for when you need some air circulation during the hot months.
10. Increase the greenery
I love having potted plants in our outdoor area and you can make it a stunning outdoor oasis with a variety of different heights of plants and planters. Add an elkhorn to the wall to create an instant green wall.
11. Clean BBQ and check gas installation
If you have a BBQ, now is the time to give it a good clean and check the level of gas in the bottles. Get them refilled or exchanged for full bottles. If your BBQ is fed by natural gas, it's always ideal to get a licensed gas plumber to test for gas leaks. Protect your BBQ with a cover to prolong the exterior of the appliance.
12. Check your contents insurance
Now that your outdoor area is clean and ready for entertaining, it's important to check you have adequate insurance to cover all that you own in our outdoor area.
Contents out in the open like outdoor furniture, moveable BBQs and play equipment (ie Trampolines) will be covered under contents cover (read your PDS though because they may also limit what is classed as outdoor contents). You need to read your insurer's guidelines on whether they have limits on contents 'out in the open ' or 'out in the air'. Some will only allow a small percentage of your contents sum insured to replace outdoor contents. (Suncorp covers 100% outdoor contents because they know how Aussies love to entertain outdoors and crazy weather events can happen quickly – especially in QLD)
So if you have only $20,000 contents insurance and a maximum of 25% of this is allocated to outdoor contents, you will only have $5000 to replace your outdoor contents. When you add the spring-free trampoline, outdoor furniture and BBQ, you have to consider if this stipulation will adequately cover you.
Check your insurer's guidelines to ensure you have adequate insurance for what you own outdoors.
What tips would you add for getting your outdoor area ready for summer?
Disclosure: All tips are from my personal experience and knowledge. For all insurance questions, direct these to your insurer.