Christmas decorating in our home can be best described as a mish mash of themes but also a hint of traditional colours of red, white and green.
We tend to decorate late November to enjoy the change of scenery in our home, but also to work out if there are any gaps in decorating.
This year, the Christmas tree was decorated with red, white, rose gold, black and timber decorations. My pom pom Christmas tree skirt adorned the bottom of the tree perfectly.
Love when the lights go on. We bought an Aldi tree last year with the lights in the branches = game changer!! No lights to untwist or wrap around the tree!
I also love bright and bold colours at Christmas time. I bring out my rainbow garland and Christmas tree advent calendar each year to display on our console. This year we have a new console as we upgraded our dining table. It now sits at the opposite side of our dining area.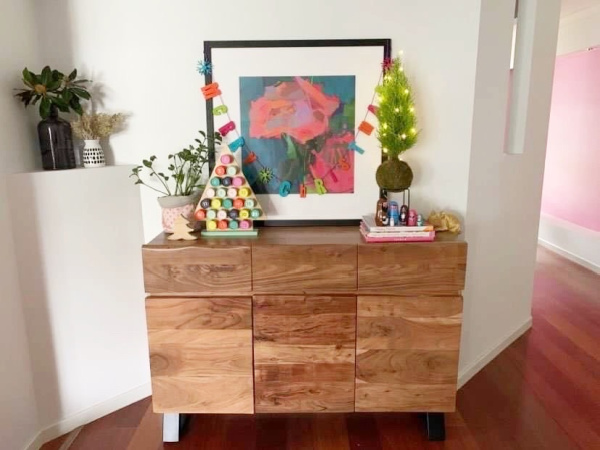 These decorations come out every year. I have a Babushka Doll Nativity set. It's a miracle Jesus is still in the set as he would always go missing when Phoebe was a toddler!
The new addition to the console was a live Christmas Tree Kokedama, which has suffered a bit from being in 24/7 air conditioning.
It was a purchase from the Southbank Markets from FlowersPlus. We added festive lights and it's been a welcome sight to our Christmas decorating.
I also ordered a wreath from Catrin's Christmas Creations. Catrin is the daughter of a dear friend and work colleague who was taking orders Australia wide to create stunning Christmas wreaths.
Christmas decorating should be fun for the whole family to get involved. It certainly brings the spirit of the season into the home. Childhood memories are built when you bring the same decorations out each year.
After building our collection of baubles and decorations, we can choose what theme we go with.
But the favourites still come out year after year even if they don't match with the theme.
Other Christmas Decorating Posts