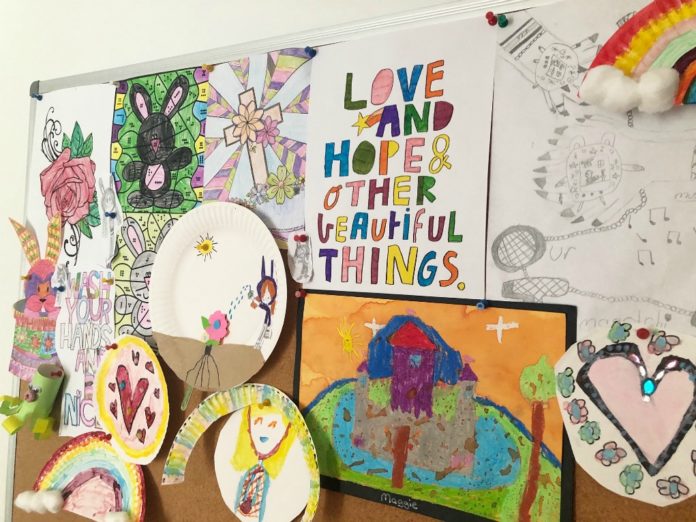 Create a visual journal of crafts made with your kids at home in isolation. The cork board craft display will be a tangible visual reminder of the fun you got up to with your kids.
We've had our first week and a bit in isolation due to the QLD government announcing a pupil free week before the Easter school holidays.
I know this has not been the case for other states. Some have been doing home school. It's been a crazy juggle for parents as they manage working from home, while ensuring kids are… occupied and learning. It's not easy.
But, I decided early on if the kids were to stay home from school, I would do fun things with them. Can I just say it takes discipline to do this, when you have a long list of things that need doing. I am grateful that I can work at night.
By removing the pressure from myself to do all the things during the day, it resulted in a pleasant week. Last week was full of crafting, baking, indoor scavenger hunts, games and teaching a few chores or two.
I  remember when there were three kids at home and the days would seem to go on forever. I'd also be frustrated at trying to fit work in during the day and I would resort to working early in the morning or late into the night.
To give some routine to our day, we would start our morning with a fun craft (which I'd share on Be a Fun Mum and fill the day with a lot of snacks, reading, chores and any work I could squeeze in between.
I'm finding this time round of having 3 kids at home a blessing. It could be because they're older and a bit more independent.
I remember reading somewhere we only get 18 summer holidays with our kids. And when they go to school those years and the holidays seem to fly.
I've seen this first week in isolation as an extra week of having them home. An extension, if you will, of the 18 summer holidays which are now down to half that amount because my kids are older.
There will be a day when the girls won't want to do craft anymore, so I'm making the most of this time together. And I'm going to cherish it.
One of the rooms in our house which we have wanted to update this year is the playroom. We've halted on our update as we need to order artwork and a rug.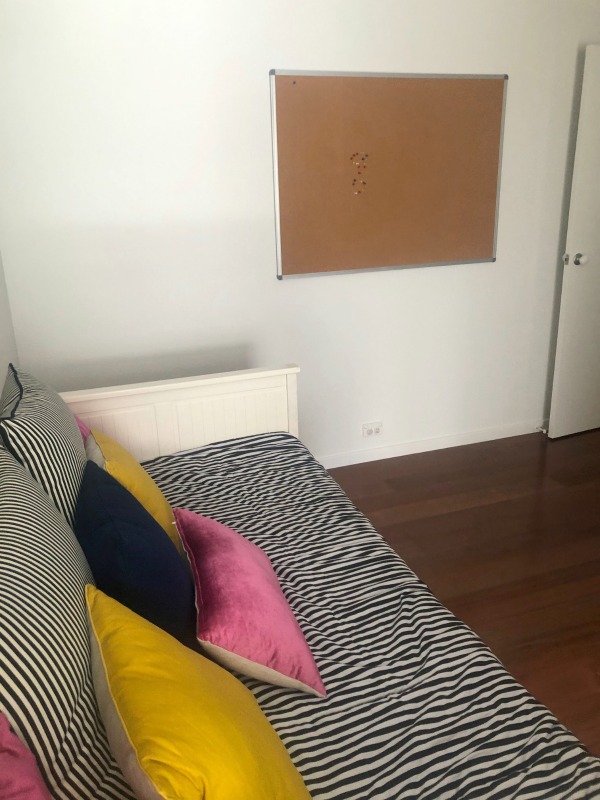 We used to have a large cork board in the playroom displaying all the kids Kindy craft. I kept some of the favourites and binned the rest earlier this year while preparing the room to be painted.
The cork board had been sitting in my office and I was adamant it wasn't going back into the playroom.
And then coronavirus disrupted our life. My mum tagged me into a Facebook post to get the girls to write a journal about their time in isolation.
The journal idea gave me inspiration to get the cork board back into the playroom, but this time curating all the craft made during our time at home.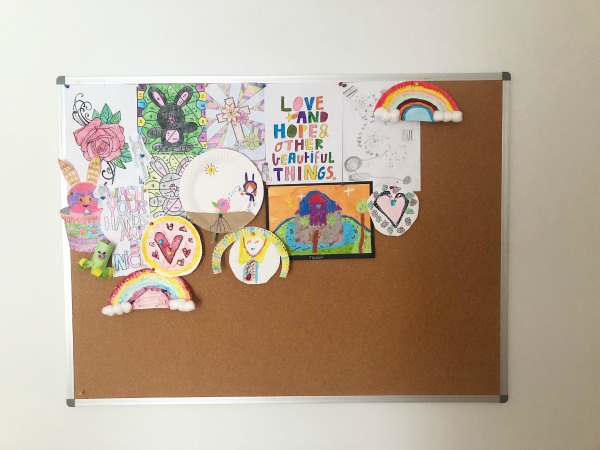 Each day if we colour in a page or make a craft, we add it to the wall. It probably doesn't look amazing right now, but when it's filled with paintings and drawings and toilet roll creatures, it will serve as a reminder of this time in isolation.
Jacob got our cork board custom made a few years ago as it was a wedding anniversary gift. Cork was the anniversary gift of choice that year.
If you want to create your own cork board craft display, here are some available online.
Jason.L Cork Board Various Sizes $45*
The ones with the * are the ones I receive a commission on if you purchase. It costs you nothing more, but the sales of these help me keep this blog going.
If you're after some fun colouring pages or craft ideas to make, here are some links to check out
Are you keeping a diary or journal while in self-isolation? What fun things are you doing with your kids while at home?