It's my turn to host Christmas lunch this year and I've been looking for ways to decorate my Christmas Table on a Budget.
I would usually go all out on decorating, but this year I will be working full time right until Christmas Eve. I won't have time to shop and with the expense of food, I want to limit spending on the decorating.
I'm hoping these tips might help you if you can't afford to buy new, but need to add a bit of cheer to your existing décor.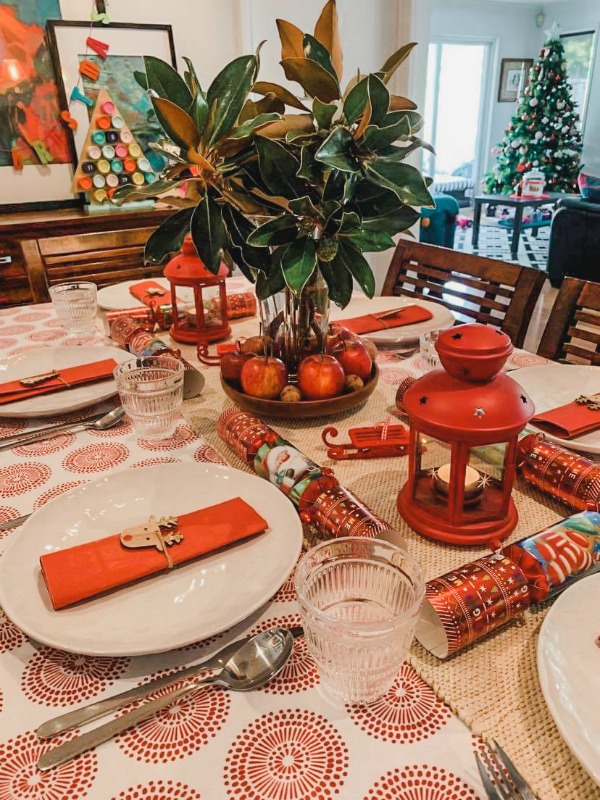 Tips to decorate your Christmas table on a budget
1. Use what you own
Use your own plates, glasses, cutlery, and table linen. This will obviously save money, but it will also prevent the paper plate/plastic options ending up in landfill.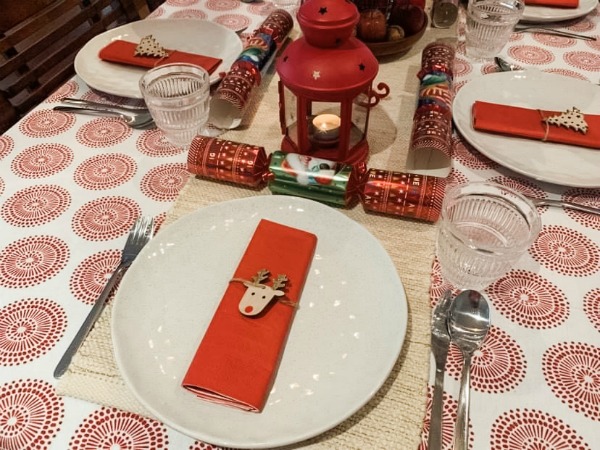 2. Find decorations from your stash to fit your theme
I've gone with a red and white theme this year with accents of gold and timber. I think gold cutlery would elevate this table setting but I won't have time to buy it and it's an unnecessary expense for one day of the year.
3. Cut green stems from your garden
We have Magnolia trees which give glossy green foliage. I did lay these on the runner in the middle of the table to create a garland. But I opted to put in a vase instead to create a centerpiece which can be easily moved.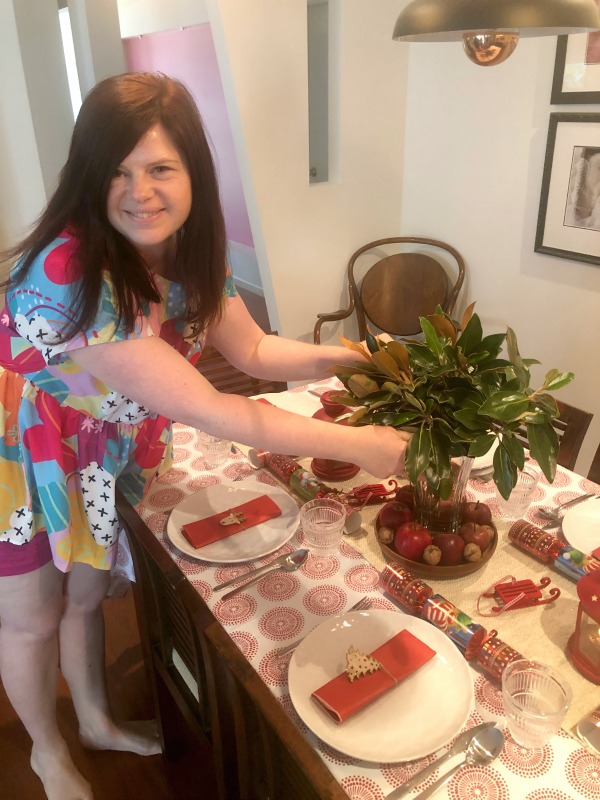 4. Incorporate fruits, herbs and nuts in your styling
Apples and walnuts are affordable ways to style the Christmas table and they can be eaten after the lunch and dinner affairs are finished. I placed red delicious apples and walnuts around the base of our vase. The timber bowl is one Jacob made, which I've used as a tray under the vase.
Obviously if anyone has allergies to nuts, avoid this option. Use pine cones or gum nuts instead.
Other green options are using herbs. Why not place a sprig of rosemary on each plate? I've also seen it formed into a mini wreath.
5. Insert napkins through present toppers or tree decorations
If you don't have napkin rings, use present toppers or Christmas decorations to keep the napkins in place. I bought these wooden toppers from Woolworths. They add a fun festive touch to plain red napkins. It's also a token gift for guests to take home.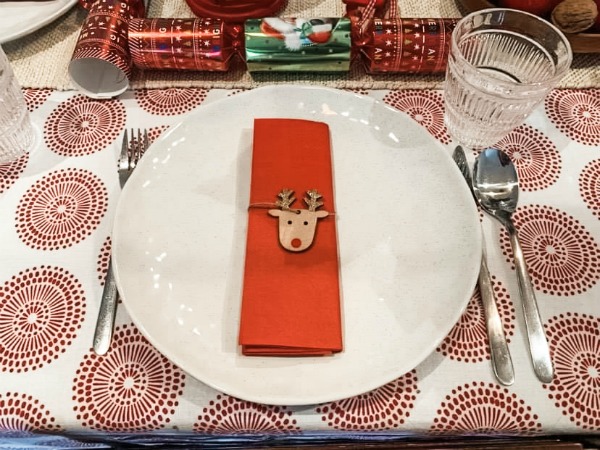 6. Make your own Christmas Crackers
Making your own Christmas crackers is as easy as wrapping paper around an empty toilet roll. You can tailor the surprise to everyone's tastes or make it simple with wrapped lollies.
My grandparents gifted me the Christmas crackers for our table this year. They got the ones on table from Aldi.
7. Include tea lights for sparkle
I've owned these red IKEA tea light lantern holders for a few years now and they offer a safe way to light a tea light without causing décor or foliage to catch on fire.
8. Start traditions with your décor to build nostalgia
The best budget friendly tip when decorating the Christmas table is to reuse the same pieces each year to build nostalgia.
This year I've looked at what I own differently. My white and red tablecloths only come out at Christmas as does the Christmas Tree Advent calendar. The décor we bring out each year builds the Christmas memory bank in our children.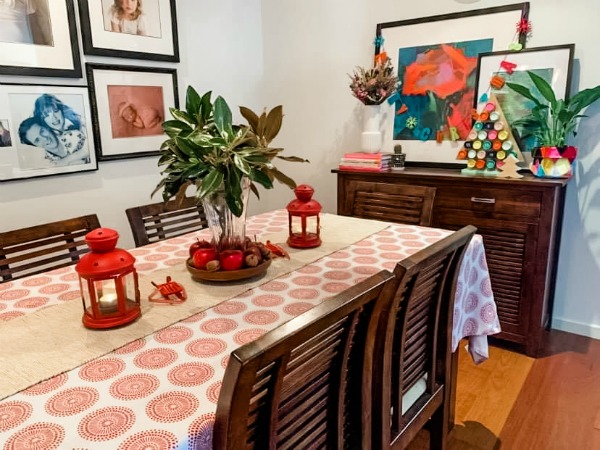 I still remember helping my Grandma Jones decorate the silver tree, which I now own and set up on occasion.
Don't underestimate the feeling of nostalgia when choosing what you put on the table at Christmas.
I'm avoiding the shops as much as possible in the lead up to Christmas. If you can't find what you're looking for, start at home and build the Christmas table with what you own already.
What do you use each year to style your Christmas Table on a Budget?