If you're new to my blog, I'm doing a series of posts sharing what home maintenance I get up to each month. This was the home maintenance we got up to in March.
March was a month which took everyone by surprise at the sheer impact of coronavirus. This was the month I got little done because of work and work trips. It was a month where the breaking news was one dire report after the other and it rendered me exhausted.
The home maintenance in March was not a lot, but I have no doubt it will increase in the coming months. Or maybe it won't because I'll be homeschooling my kids.
Home Maintenance in March 2020
Replaced Garage Door Rod and Motor
After 15 years of use, the motor on our garage door decided to pack it in. We got good years out of it as they usually have a lifespan of 10-12 years.
I rang Centurion Garage Doors and they had someone out within the hour. $715 later and our garage door was fixed. I also now have a panel on the wall so I can press the button as soon as I walk into the house. For 15 years, I've been pressing the button on the motor to bring the roller door up and down.
Did you know you should get your garage door serviced annually? I didn't! I need to add this to the annual home maintenance checklist. You should unhinge it from the motor from time to time to see where the door balances as it starts to shut. This shows if the springs still have spring in them.
Pruned Lilly Pilly Hedge
The lilly pilly hedge started to disperse in March and our whole right side of the house got covered in yellow.
It has since been trimmed.
And our neighbor cut it right down which allowed us to get our veggie patch sorted over the Easter long weekend. It is looking fabulous and I will share that in my April Maintenance post ;). There was no point doing our veggie patch until the hedge was trimmed.
Set up Cork Board in Play Room
After removing the cork board and painting the play room, I had decided not to reinstall the cork board.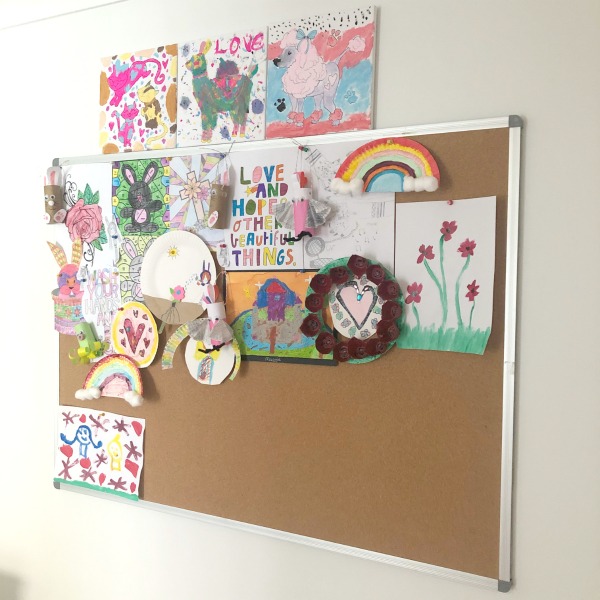 And then I changed my mind as I thought it could serve the purpose of journaling all our crafts done in home isolation.
It's slowly filling up and makes me smile each time I walk past it.
So March wasn't a huge month on the home maintenance front and I don't know how much we will get done in April. I do have plans painting the bathrooms and the front feature wall in our home. Slow progress is still progress though isn't it?
Other posts in this series
What home maintenance have you got up to in isolation?