Clean drinking water is something we all take for granted here in Australia. With one flick of a tap, we can fill a glass, take a gulp of water and have no fear of dying from a disease.
While the taste may not be pleasant in some areas of Australia (I admit, I can be fussy about my water), we really don't have it hard when it comes to accessing clean drinking water.
Sadly, despite clean water being a necessity and essential to life, it's not available like this to everyone.
It's been on my heart to help bring clean drinking water to communities that don't have it.
Each December and early January, I always get a reminder email about World Plumbing Day which is celebrated on March 11 each year. While it's an event that celebrates the work plumbers do in protecting the health of our community, I do think about communities worldwide that don't have plumbing systems in place to give them clean water or remove their sanitary waste away. I have visited these myself, first hand.
Those thoughts have led to wanting to help in a practical way through my blog. And this year, I have made it a goal to find projects to support this desire.
Well it didn't take me long to come across a project that was asking for donations for the exact cause I wanted to help with.
Last Sunday, I found a call out for help from a small business called Mosi Mtoto run by Natalie McPherson.
Nat started the business after visiting Kenya in 2008,  and was compelled to donate all profits from her business to a number of small organisations. The business is not a registered charity, but operates to donate proceeds from sales of products and donations to smaller projects that are more remote. One of those is a school called Mama Paulina School of Hope in a small village called Makuru, in rural Kenya.
The school is run 100% by volunteers. The money that is raised and donated to Mosi Mtoto gets donated straight to the school.
Right now, their biggest need is to raise funds for a 10,000Lt rainwater tank to provide water for the school children and their families.
As Nat explained via her Facebook post
"I'm desperately concerned about the current water source for our school and the village. There are around 50 families that share the one bore water pump and daily, each family are allowed one bucket of water. This water is relatively clean and they use this for drinking. ONE bucket for a whole family! Some families have 8 children, as they've taken in orphan children."
The collected water is sourced from a water bore 5km away. It's a 10km round trip to carry 1 bucket of water. Usually it's a job for the women (they often carry 20 litres at a time!), but the founder of the school, Joseph, has advised the school has had to send children out to collect their water in buckets during school time.
Due to the effort needed to access this clean water, many in the village are forced to drink unclean water and this has resulted in both the children and adults getting sicknesses like typhoid, dysentery and cholera. These sicknesses often result in death.
Mosi Mtoto has received a quote on the funds needed to install a 10,000Lt rainwater tank in the village to prevent the children making the dangerous walk along the highway to get clean water and to prevent more casualties drinking unclean water.
The plan is to get the rainwater tank hooked up before the rain season starts in April/May. The amount needed was $2500, with donations tallying currently to $1000, but there is a $1500 shortfall which needs to be received by early March so the tank can be installed and ready to collect rainwater from the start of the wet season.
How You Can Help
There are various ways we can help this project and the many ongoing projects Nat has for the village. The immediate need is raising funds for the rainwater tank, but if the donations over cede the goal, there are other sustainable projects to help with to ensure the village can one day stand on its own feet.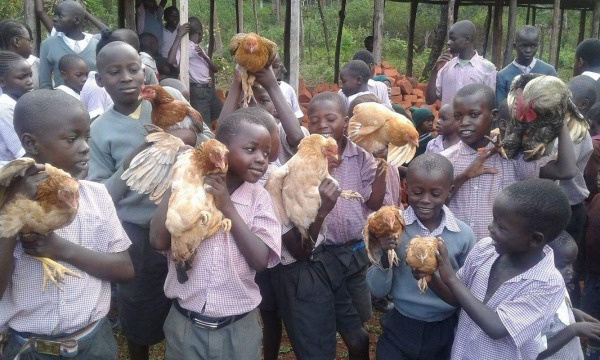 If you are keen to help, here are some ways to do so:
Donate
It doesn't matter how small the donation is, every dollar counts. As Nat says, many hands make light work. If you can donate directly to the Mosi Mtoto Paypal Account: jambomtoto@hotmail.com and put WATER and your name in the subject line, when the rainwater tank is installed, a plaque with your name (and others who have donated) will be placed at the rainwater tank. (Please note, as this is a small business, your donation will not be tax deductible.)
Buy something through the Mosi Mtoto site
Proceeds from these sales will help with the sustainable projects that Mosi Mtoto supports. You can read about these here. There are new products being added throughout the year. (The earrings are stunning. I've added to cart immediately!) When buying a gift, why not purchase it through here, knowing your money is helping those less fortunate.
Buy something through one of the banners advertised on The Plumbette or Styled by Bec
I will be donating 100% of the approved commissions I receive in January to the cause. If you have bought anything in December through one of my blog posts or sidebars, (not banners that sponsor this blog: Sleep Republic and Fusion-Loc Bathroom Accessories) your purchase has already helped as this will be donated to this project. If you buy something from one of my sidebars from now till the 1st February 2019, that commission will also be donated.
It's my hope that the full amount is raised and the rainwater tank is installed sooner rather than later.
Once the rainwater tank is installed and in use, I will share with you the finished project to show the impact of our donations.
If you want to follow the projects or see new products release from Mosi Mtoto, why not follow their Facebook page.
Thank you for your support with this cause. Clean drinking water is something I wish for everyone to have access to. You can head here to donate.