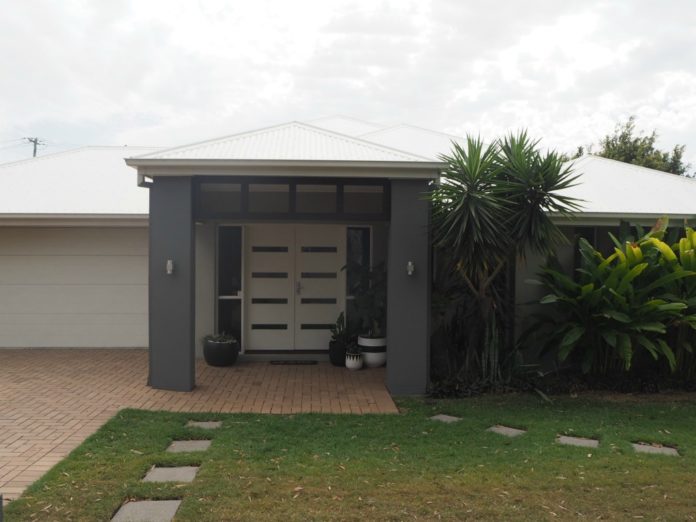 If you're after a home maintenance checklist which can be done throughout the year, this post is for you.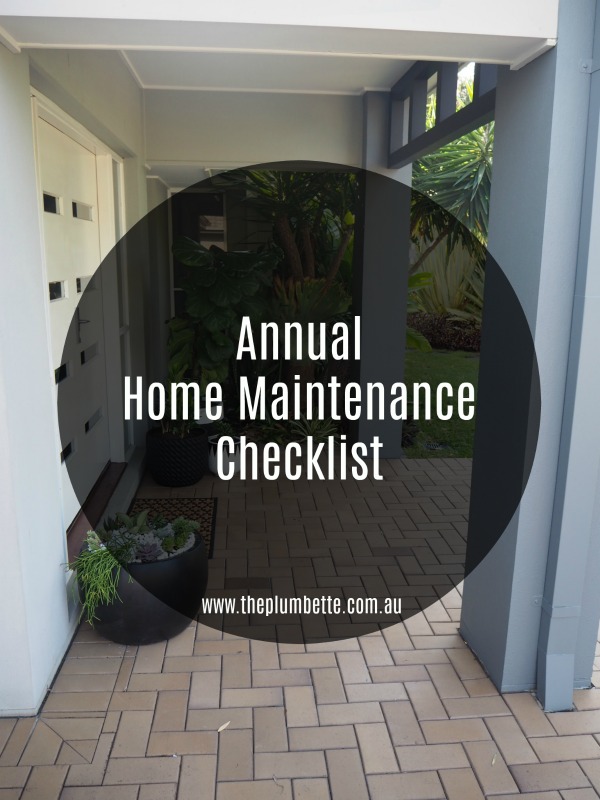 2020 is the year of home maintenance in The Plumbette HQ. It's actually been ongoing since we moved in 12 years ago, but this year, there is more to be done.
Our home is 15 years old and while we've changed taps, replaced the hot water unit, replaced the ducted air conditioning, added solar, changed lighting, painted and the list goes on, there are PLENTY of jobs I need to get on top of this year.
The benefit of buying a home is the security of never having to leave and being able to change the interior and exterior to how you please.
But one undesirable aspect is the cost and time to maintain the property to keep it in good condition. If you don't maintain the upkeep of a home, it can become quite a costly job to tackle when a problem does arise.
One way to keep on top of it is to have a home maintenance checklist. You can place dates next to each as they've been done.
In September, I walked around the house with my dad and made a list of things to get done.
There are downpipes to be replaced, painting to the exterior and interior, old gardens to be removed and replaced with new, the driveway needs to be fixed, plastering, lights need to be replaced, silicone removed and replaced, room furniture rearrangements and a whole lot of organising and decluttering. The actual list is a little overwhelming, but I know we can get it all done this year. And I'm hoping it can be done during child free hours and on weekends.
I'm going to share what I get up to in the house as I know it will be great content for the blog.
So if you need a bit of motivation to get some things done around the house, let this blog be your inspiration. I've also seen Katrina Chambers share tips on the best white paint which is a great place to start if you're looking to brighten your walls.
In the meantime, here is an Annual Home Maintenance Checklist. Now some of these inspections can happen every couple of years, but from my experience, if it ain't broke, it doesn't get attended to so aiming for yearly is our goal – especially if it hasn't been done fore a few years. Sometimes it's lack of funds or it's pushed down the list of priorities. Either way, this list is a great place to start as a way to check off each area if it's applicable to you.
Annual Home Maintenance Checklist – Tradies and Professional Services Required
Air conditioner service and filter clean.
Termite and pest inspection.
Hot water unit service. This ensures connections and valves are working and calcium build up removed from instantaneous gas units. Flush out storage units to ensure they are working at capacity.
Smoke detectors tested. Batteries need to be replaced or detectors replaced to bring up to new standards.
Safety switch check.
Solar system service and panels cleaned.
Inspect rainwater system and ensure it's not a breeding ground for mosquitoes.
Check swimming pool pump for efficiency.
Gas inspection and test on appliances.
Annual Maintenance – Visual Checks and Cleaning You Can Do
Check roof, gutters and downpipes
It's important to do a visual and tap test for rust or blockages. Rusty downpipes and gutters will crumble when tapped. They won't hold water when you need them to during a summer storm or hail. If during a heavy downpour, you have a water mark on your ceiling, it's time to call a roof plumber to investigate the source of the leak.
Clean the BBQ and check gas connections
The BBQ often gets a workout during Summer. It makes sense to give it a clean and check the gas connections. For LPG gas, it's a simple as changing the bottle over when empty, for natural gas, organise a gas plumber to check and test all gas connections in your home – including the one to your BBQ.
Clean solar panels and check inverter and credits on bill
Your solar power lose effectiveness by up to 30% when the panels are dirty. You can get a professional solar panel cleaner, or if you have a single storey home, clean the panels yourself but have a safety harness, wear sneakers with good grip and clean first light of a morning, not in the middle of a summer's day. Always check your inverter is in working order. Don't make our mistake by going through a whole summer and not converting the solar.
Repair damaged fences and gates
Fix any panels that can allow vermin in and ensure gates shut.
Clean any chimneys and fireplaces
Best to do this after winter in spring or early summer.
Pressure clean outdoor areas and roof
A pressure cleaner is great for removing dirt and dust from large outdoor surfaces. If in drought, use a broom instead to clean away dust from outdoor areas.
Oil your deck
Maintain your deck by oiling it. This will extend the life of the timber boards.
Patch holes or cracks in plasterboard
Use gap filler to fill in holes. If they reappear, you will need to call in a professional plasterer who can give a quote to replace coving. (this is on our list to get done!)
Inspect exterior of house
Check for peeling paint, cracked render or loose weatherboards. A visual inspection can determine whether the job can be fixed by yourself or needs the expertise of a professional.
Maintain gardens
Check for overgrowth towards the foundations of your home and remove plants if necessary. Some plants are protected, so do check with council on what plants can or can't be removed.
Clean windows
Clean windows – inside and out. Also repair flyscreens to keep insects and other animals out of the home.
Check all grated drains outside and inside your home
Inspect all the grated drains. Use a torch to see if there is a water trap seal to prevent sewer gases entering your home. If the water level is high – or near the top of the grate, this means you have a blockage. If you can see no water and the bottom of the trap, you need to refill with water to replace the water seal. This seal will prevent bad sewer gases.
Clean ducted air conditioning vents
The space around your ducted air conditioning vents can create a ring of dust where the air blows out. Clean the vent and the ceiling.  It is a sign to get your air con unit serviced and the filter cleaned.
Clean and test ceiling fans
If you have dust or cobwebs hanging off the blades, get them clean. If your fan no longer works, organise a maintenance check by a licensed electrician.
Clean out skylights and dust light bulbs
This will ensure their efficiency. Skylights can't let much light in when they've full of dust.
Clean your dishwasher every month
The inner parts of the dishwasher and hoses can build up with food and residue. Commercial cleaners ensure the efficiency of your dishwasher and keep all hoses clear from blockages.
Replace faulty fridge and freezer seals
These seals on your fridge and freezer ensure the efficiency of your appliance. Check the water connections to water and ice dispensers. Replace the filter when alerted to do so. Call a plumber or fridge sealer to repair.
Clean the oven each year
The buildup can make this job harder as each year goes on. Keeping your oven clean ensures it works at its optimum and will extend its life expectancy.
Clean exhaust fans and rangehood
Most bathrooms will have an exhaust fan and the kitchen stove top will have a Rangehood. The bathroom exhaust is usually covered in dust and the rangehood with oil and grease residue. Cleaning these will ensure their efficiency in the home.
Clean washing machine yearly
Read your washing machine manual to see what the manufacturer recommendations are. Remove lint from the dryer after every use.
Check all taps and all flex hoses for leaks and drips
Leaking taps are easy to spot and get fixed. Flexi hoses on the other hand require a visual inspection and checking if the hose has frayed wires. If you can see rust or unraveling of wires, you need to organize a licensed plumber to replace these straight away.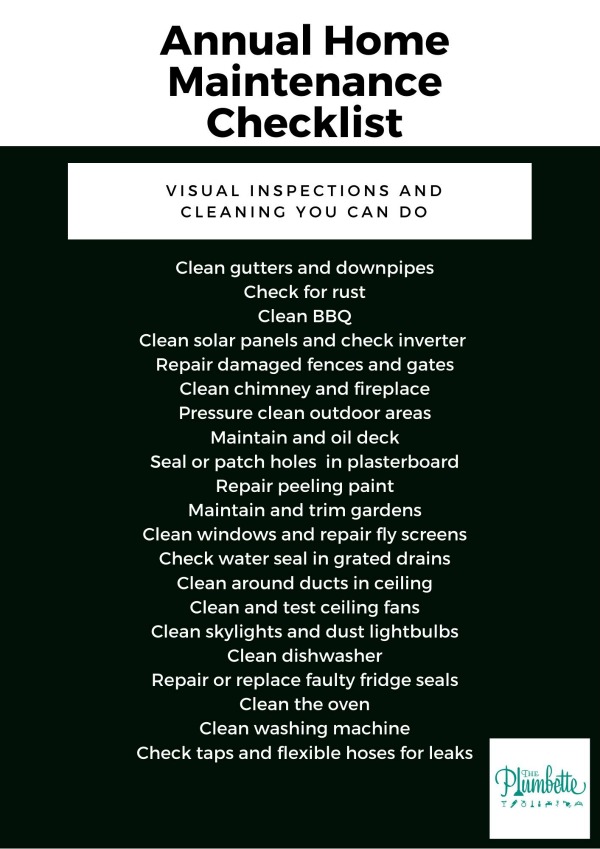 When you get a tradesperson out to fix a problem, get them to inspect and test all areas of expertise at your home during the same visit. Get more bang for your buck and make the most of their call out fee.
If you enjoyed this post you may enjoy
Do you use a home maintenance checklist?