In my effort to remain consistent with these posts, life and work has got in the way of maintaining the momentum with our home maintenance.
As I've reflected through my pictures though, we still got a lot done and have been ticking off boxes on our checklist.
If you're new to these posts, each month I write a round-up of home maintenance projects we got up to in the month.
It's been a slow progress, but the reality is, home maintenance is just that. It's doing little bits at a time to maintain the home and keep it fresh and running.
Budget and time are also factors so we haven't put pressure on ourselves to get all the things done at once.
Home Maintenance May
In May, we painted both bathrooms, sorted out towel rails for everyone's towels and painted our entry and hallway.
The hardest part in all this process was choosing paint colours!
I had an image in my head of what I wanted our hallway to look like and then the testers threw my confidence out the window.
In the end, we painted over our feature wall with Taubmans Admiralty (navy) and painted the recess of the hallway in Taubmans Muted Fuchscia. Both colours were picked up by our Hayley Wills painting.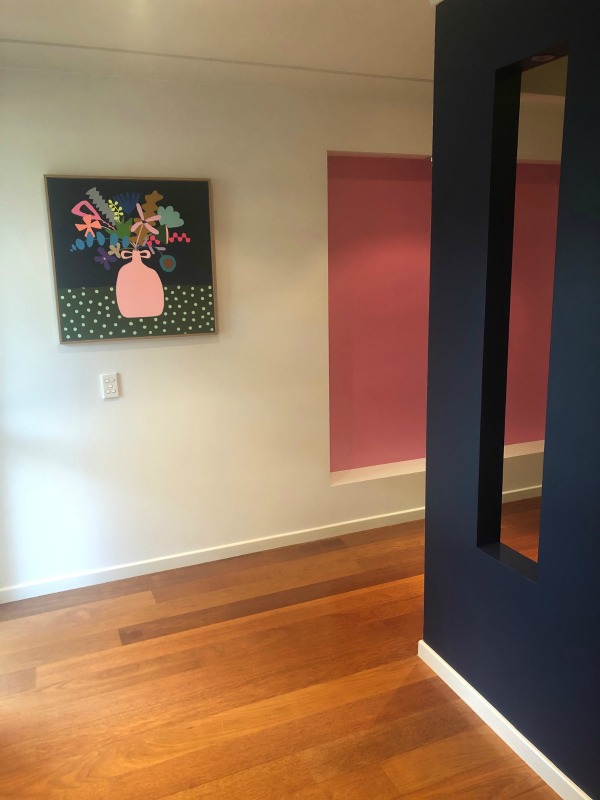 The same navy was painted as a feature wall in the main bathroom. It was in a need of a refresh from the purple it was originally painted 15 years ago.
We installed towel rails for all members of the family and that system has been working well for us – especially during winter when towels can take a while to dry.
June Improvements
In June, I gave the toilet bowls a deep clean to remove scale, which I believe has built up from using natural cleaning products. I never used to have it when I bought store bought products. I'm still doing research on this to find another solution.
We got the carpets professionally cleaned after a traumatic spewing episode from one of my daughters. It took Jacob and I a few hours past midnight to clean the disaster zones. After our epic cleaning efforts, I couldn't delay a professional carpet clean any longer.
When booking trades, be sure to let them know of any sickness, especially during these COVID times. Thankfully it was just an upset tummy for our little one and we booked the clean a week after the event.
My dad offered to replace the downpipes and paint the exterior of our house in June while Jacob and I have been working full time.
The first project was to replace the downpipes, pressure-wash the exterior walls of our home and fill in the gaps.
After cleaning our house with the pressure-washer, it revealed old graffiti on the walls which must have occurred when it was a display home.  We had graffiti all around the house. This discovery got our act together to choose an exterior wall colour we were happy with.
This decision was also agonizing as none of the ones I chose were similar to our original house.
In the end we went with Dulux. If it's too dark and not enough contrast to the two front columns of our house, we can change the colour of the columns! But I think it will be ok.
Another update, which wasn't on my home maintenance checklist but still worth a mention, was we updated the girls quilt covers. The girls love their mini bedroom makeover and the end of financial year sales made it an affordable update.
Hopefully next month I will be able to share the before and after photos of our house after being painted.
Other posts in the home maintenance series