I love reading the routine of a person's day. It gives me an insight into how they live their life and it often makes me feel relieved that I'm not the only one living an often monotonous life. But when you have little kids, if you don't stick to a routine, the day can be spontaneous! My nights seem to be like this too. We have a fairly good routine that we stick to at night, but I thought I'd share with you what a night in the life of a blogger and mother – me – looks like and some tips on how I can look fabulous if the night has seen me up and down from my pillow. Here is a typical night in The Plumbette HQ.
5:30pm – 6pm – Jacob arrives home from work. The house is a pigsty. Toys and clothes are strewn across our living room. I look tired and haggard.  If I've been organized during the day, I usually have dinner ready in the slow cooker, but sometimes it's a mad rush putting together something quick and easy that the kids will eat. On this night, I had been organized and we had bangers and mash ready for dinner.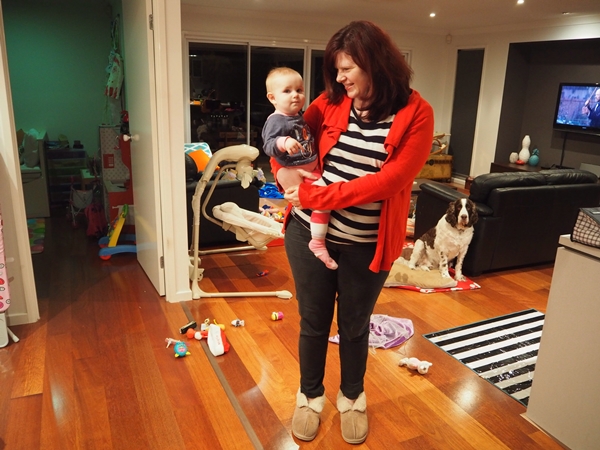 6pm – Dinner is served. Usually I feed Phoebe at 5:30pm and then give her finger food to eat while we eat our dinner, but on this night, I wasn't so organized.
6:30pm – Usually I will do a quick tidy of the dinner table while the girls have their bath. Jacob runs the bath for the girls and chaperones.
I usually head to our ensuite for a shower and I get dressed in my jammies. I wash my face with Garnier Pure Active Cleanser because my skin has had a fair few breakouts in the last few weeks. Once I've showered, I will apply a night cream. I decide to use my Garnier Miracle Sleeping Cream for the first time. This cream has not hit shelves in Australia yet, but I was given a sample in a goodie bag after attending the Kidspot Voices of 2015 Masterclass.  The packaging on the cream says it will fight skin fatigue and I should notice a difference in the morning with rehydrated, illuminated and rested skin. Sounds like a miracle and if I'm honest, I need all the help I can get because I'm not sure how much sleep I will get through the night. I rub the cream in and it has a lovely fragrance. It's a thicker cream which absorbs well into my skin. The cream is meant to work it's anti-ageing properties on my skin while I sleep at night. I'm not sure how much sleep I will get, but I'm hoping it will be enough so this cream can work on those lines and keep my skin looking like I'm in my 20's. One can only hope.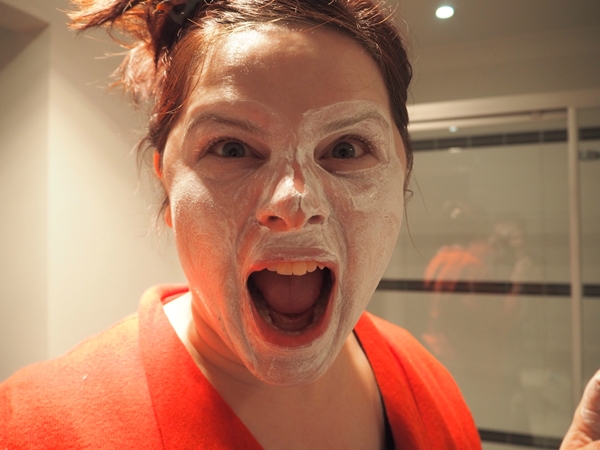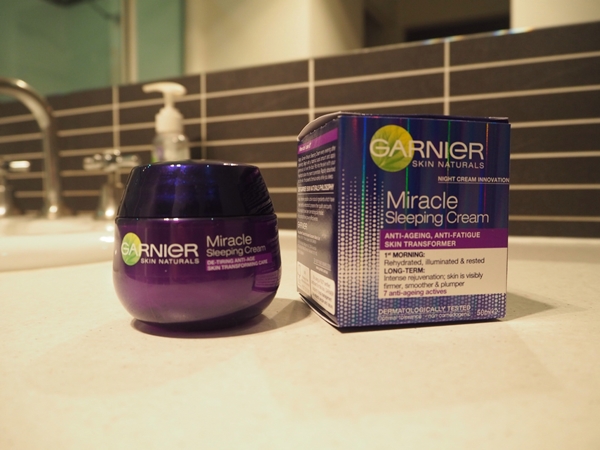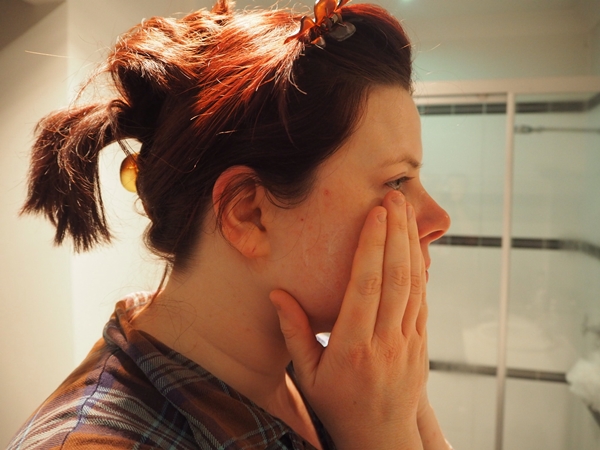 7pm – Cuddle time with the girls on the couch. Usually they will play with Jacob. On this night, the girls were intrigued by the toys in the Kmart and Target catalogues. So intrigued by the pictures, they took themselves off to Esther's bed to do some 'light' reading and make a list of toys they would like for Christmas.
7:15pm-7:30pm – I will breastfeed Phoebe and put her to bed. I will then say goodnight to Magdalene and Jacob will put her to bed. I put Esther to bed where we say prayers and I sing her a song or two and lightly tickle her arm. It's become a routine now where she wants me to sing to her in bed. I enjoy this time with her.
7:35pm – I head to my office and start my blogging work. I write blogs for other websites, respond to emails and comments on my blogs. I will usually work until 10:30pm or until my eyes start to feel droopey.
10pm – Esther usually wakes and has night tremors. I console her back to sleep. Sometimes she doesn't need consoling and will go back to sleep herself.
10:30pm – I will check on the girls and head to bed and do some reading. I usually can only read 1-2 pages before falling asleep at 11pm
1am – Phoebe unexpectedly wakes. Jacob hears her and brings her into our room. Jacob goes back to sleep and I breastfeed Phoebe to go back to sleep. She doesn't wake much during the night and I don't mind putting her to sleep this way knowing it won't be long till I stop breastfeeding her. I will have to cuddle her to sleep when that happens. I can't think too far ahead. I will tackle that challenge when it comes.
1:30am – I put Phoebe back in her cot where she momentarily opens her eyes and then rolls to her side to sleep. I stumble back to bed. And toss and turn because I can't get back to sleep.
7amish – Jacob will wake me from my slumber. Esther is our alarm clock in the morning. She wakes Jacob first and he allows me to sleep to catch up on what I've missed the night before.
7:15am  – I head to the bathroom to check out my face. It feels hydrated and looks pretty good for 7 hours of broken sleep. That Garnier Miracle Sleeping Cream did good.
7:20am – I go back to make the bed and find Esther and Magdalene jumping on it and falling into the pillows. Phoebe has found my handbag and is deciding to go through it's contents!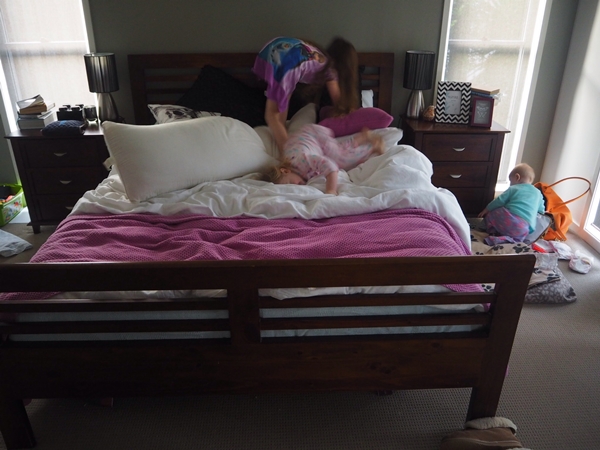 8am – I'm usually showered and dressed and get the girls ready for the day or have my breakfast.
So that's what a typical night looks like in our household. Sometimes I'm up multiple times, and some nights, not at all.
Is your night routine similar to mine? How does it differ?
Disclosure: I was gifted a Garnier Miracle Sleeping Cream as part of attending the Garnier Breakfast organized by Kidspot Voices of 2015. All opinions are my own. To find out when this product will be available on Australian shelves, head to Garnier's website and sign up for their updates so you will be the first to know. This post has been written in accordance with my disclosure policy.
I'm linking up with With Some Grace for FYBF.