Dear Renee,
When you told Lauren and I at the beginning of the year that you weren't going to go to Problogger Conference 2015 I was sad. How was our trio going to survive the Problogger experience with one third of our group missing? I know you would have looked at the photos on the weekend and felt a longing to be with us. And while you may have had a fear of missing out, I had a fear I would miss out on fun by not having you at the conference. You've become my blogging bestie. The conference experience was not going to be the same without you.
Of course I had Lauren and 698 bloggers to keep me company, but I still missed you and decided I had to share with you all the behind the scenes moments you didn't get to experience because you decided not to come.
The RACV Royal Pines resort was fantastic from get go. The service was exceptional. I imagined long lines of bloggers waiting to check-in, but there were none. When we went to go to our room, our keycard wouldn't open the door. The porter was very helpful by using his card to let us into our room and went downstairs to retrieve new keys for our room. The television had a welcome message and we had a great view overlooking the gardens. I did wonder how we were going to go with Phoebe in the hotel room. Jacob and I made do by moving the chaise lounge in front of the porta cot and piling the pillows up so that she wouldn't see us when she would try to go to sleep at night. It worked, but with much audible disappointment from Miss Phoebe. You missed out on a comfortable bed and being woken by a screaming baby at 2am in the morning if you happened to stay in a room next to 518.
The first networking event at the Hydrate Bar was MADNESS. I didn't move from the entrance of the bar for an hour because I was in my element catching up with bloggers I hadn't seen in ages or was meeting for the first time. Jacob wrangled Phoebe while I talked. There are too many to bloggers to mention here and I'm scared I would forget someone should I list who I caught up with, but the vast majority would have known you too.  One of the few male bloggers came up to Jacob to ask him what he blogged about. He was thankful for some respite with the domination of the lady bloggers. It was another year of spot the male blogger. It got me thinking maybe Jacob could write a blog? We might ponder that some more. Before we knew it, it was 6pm and time to head to our dinner reservation. We were the first to have dinner and it was nice just to relax and not talk to so many people at one time.
Once Phoebe was bathed and put to bed, I left Jacob to look after he while she screamed MUMMA MUMMA MUMMA! I headed to Level 21 and caught up with some of my favourite bloggers. The conversation ranged around the difference between sorbet and sorbent and we even got a live demonstration of how to cook crepes. I had a second dessert before we headed back to our separate rooms at a reasonable hour.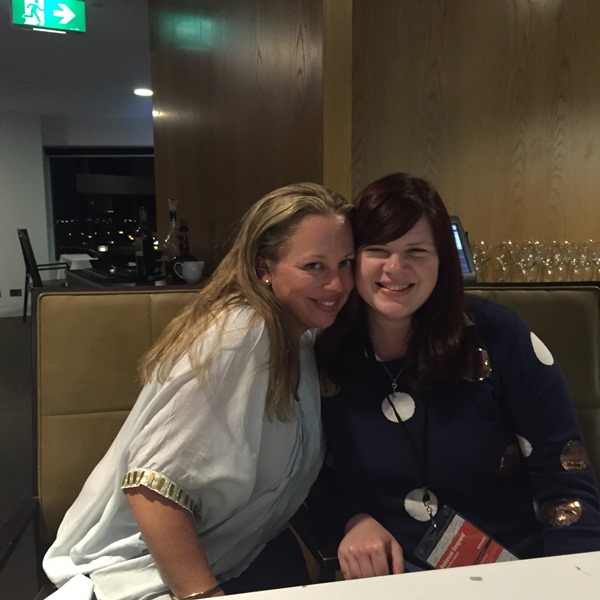 The first day of conference was awesome. I got Lauren to save me a seat because we (Jacob, Phoebe and I) were late getting breakfast. We had a poo explosion of epic proportions to clean up. So much so it went everywhere and I gave strict instructions to Jacob to buy Phoebe new pyjamas that day.
The line to the buffet breakfast was very long which resulted in us taking a while to eat. Anna from Colour Me Anna gave up her table so we could get Phoebe settled to eat. I loved catching up with her and realized she is one of the few bloggers I didn't get to have a photo with. Never mind. You can see us posing together at Kidspot earlier this year.
The best session for me was the beginners class on how to use my Olympus camera. As you know I've had the camera for a year and because we received the camera around the time of Phoebe's birth. My priority back then though was learning about my newborn rather than my new camera. My mind was officially blown by how amazing the Olympus O-MD EM10 is. I was even given a tip on how to put a filter on the camera so I'm always looking my best. The cost of the conference was worth that session alone. Matt from Olympus was very patient and he totally blew my mind when he showed how the screen could come away from the camera. I couldn't wait to tell Jacob about it and was deflated when he already knew!
The last session of the day was from Heather Armstrong of Dooce. A blogger who has had her fair share of being attacked online. She showed courage by sharing what people had written to her over the years while she wrote her personal blog. I walked away from that session thinking about how I would handle negativity online. Usually my first reaction is anger, and then I want to retaliate with a smart ass response. I need to work on this.
Once the last session finished for the day, you should have seen the mass of bloggers heading to the lifts to get ready for the networking party. I wished I had my plumbing shirt on so I could skip to the goods lift. Eventually staff did direct bloggers to the goods lift. When I finally got into a lift, you wouldn't believe it but the lift got stuck. Of all times for a lift to get stuck, it had to happen when I was busting to go to the toilet! We were stuck for around 10 to 15 minutes. It could have been longer. There were helpful suggestions of periscoping our fate. A few photos were taken. Caro Ryan from Lots a fresh air admitted she got stuck in the lift at QT at the last conference too. (mental note, don't enter a lift with Caro in future). After consistently ringing the bell and calling reception to rescue us, someone suggested trying to pry the doors open with our hands. Would you believe it worked and our lift had stopped at the Lobby. I was glad to finally get out of the hot lift. I was even more thankful no one had decided to drop their guts.
The networking party was heaps of fun. I didn't venture too much from the entrance because I was in my networking element. I tried to message Lauren to find where she was. In the end, she and Lucy came and found me. I was a little worried about my outfit because I was scared it was too much BLING, but I saw bloggers with light bulbs wrapped around their heads and I much preferred my style of attire. I knew I'd hit the jackpot when Aleney from Boy Eats World offered to buy the dress from me. I wrote about where I got my dress from here.
I said hi to Heather Armstrong from Dooce. I felt sorry for the all the bloggers trying to get her attention when all she wanted to do was eat her food. So I stepped in and held her plate so she could eat. I also got a photo with her just for good measure.
After countless selfies and catching up with more bloggers and meeting new ones, I headed to up to Lauren and Lucy's room. Dannielle joined us in her pj's and we got to talk a bit more. At 10:30pm I said I had to go. I said the same thing half an hour later. By 11:30pm, Dannielle and I left to go to our rooms. When I got to my room, Phoebe was fast asleep and Jacob had waited up for me. By the time I got snuggled into bed to snooze off, Phoebe woke up. It took Jacob and I 2 hours to get her back to sleep. I was exhausted. I was glad for the sleep in the next day.
Nothing really out of the ordinary or eventful happened on the second day of conference. I JUST GOT TO SIT NEXT TO Mrs Woog during the session by Carly and Christina. I felt like I was sitting next to a celebrity. I hoped that my bowel would behave because being nervous does funny things to my lower system. It did and we ended up taking a selfie. It's on my post on how to stand out in a noisy crowd and it's above in the collage.
I was able to catch up with some bloggers who blog at The Joy Project. They had previously asked for my advice about some aspects of blogging, so I was DELIGHTED when I saw them at the conference. While the conference is a place where you can relate to everyone because they write a blog, these ladies were even more relatable as they had similar beliefs to me. You should read their blog. It's specifically for people who arrive from overseas and try to settle in Australia. They also share day trips and reviews of places to visit. Although, maybe they should check out your post on Kidspot on great places to go in Brisbane as a family.
There were times during the conference where I stood by myself contemplating who to speak to next or just enjoying the solitude of not having to talk to anyone. In those solitude moments I thought of you and hoped the photos weren't making you envious.
I left the conference motivated to do several things rather than one thing. One of those things was to write you this letter to fill you in on what happened behind the scenes. I've done that now, so I'm ticking it off my list. You have to come next year. I hope your FOMO kicks in and you won't hesitate buying a ticket to next year's conference.
Love Bec