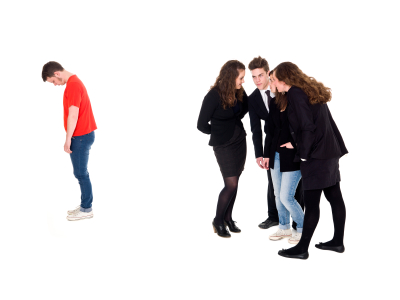 Problogger Conference is in 3 days time and I'm more excited than nervous at the prospect of meeting other bloggers for the first time.
But I have seen so many posts in recent days about being nervous about meeting new people and not knowing anyone and fear of being dissed by their star-struck blogger whom they follow and read religiously.
So I thought I'd share some tips about building your confidence when meeting new people for the first time because while this is my first Problogger Conference – well actually the first blogging conference I have ever attended, I have more than once been in situations where I have been the only girl at a Tafe full of blokes or a training conference for plumbers and tradies. I had to learn pretty fast how to overcome my nervousness of meeting and interacting with blokes I'd never met before while being the only one to represent my sex at these functions.
Here are my tips on how to build your confidence when meeting new people
1. Remember why you are going to the conference in the first place. You're going to learn so you can better develop your craft as a blogger. Remember the big picture.
2. Remember you're loved already by your spouse, your kids, your family, your friends and your online blog community. You don't have to prove yourself to be loved here. So if you are snubbed off (which I hope you aren't because that is just so rude.) don't take it personally. Easy said than done but again remember you're already loved.
3. Put away the iphone when you arrive and congregate in the welcoming area. If you want people to approach you, no one is going to approach someone playing candy crush or pretend tweeting or texting on their iphone.
4. Smile. I love greeting people with a smile and I always smile to people when I approach them or am being approached.
5. Wear comfortable clothes and shoes. I'm used to wearing flats at work and I'm not confident to wear heels yet after being used to wearing flats all the time. Wedges and flats will be my shoes of choice. It means I won't embarrass myself by stacking it when I walk or worry about whether I will stack it when wearing heels. Don't wear an outfit that needs to be tugged or pulled to stay in position.
6. Brush your teeth and have mints on hand so you don't feel nervous about whether you have bad breath. Thinking about what you look like and whether your breath smells bad are instant confidence killers.
7. Be organized. Have your business cards accessible in your bag/wallet so that you're not flustered trying to get them out when you introduce yourself for the first time.
8. Bring spare pens and offer a piece of paper to someone who hasn't been organized or has lost their pen. This is a great way to meet a new person and gain a new friend. (and a new blog reader, a new Facebook liker and new Twitter follower.. you get the picture) 🙂
9. Rather than wait to be approached, why not approach someone who is standing by themselves? I have always remembered and have held a soft spot for the people that have personally stepped out of their comfort zone and welcomed me into the fold. When you do this once, it gets easier to do it time and time again.
10. Be yourself. Don't be someone you're not. The reason you're loved (back at tip 2) is because you are you. There is no one like you in the world so walk in confidence knowing others have the privilege of getting to meet and know the only you.
Can you add anything?