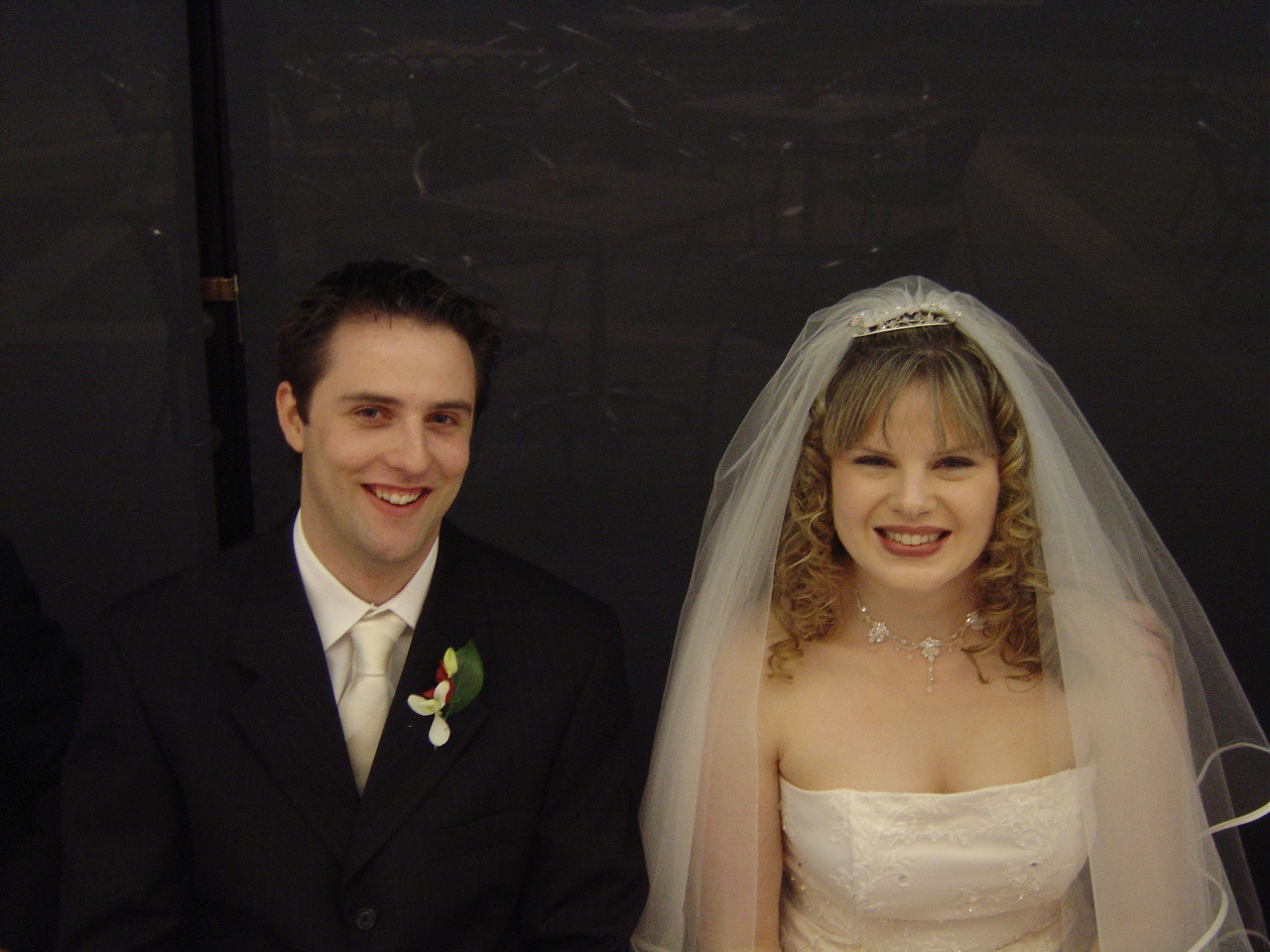 I have been married to my husband for over 7 years. We have been together for 11 years this December.
With schoolies in QLD finishing this last weekend, it reminded me to the start of my romance with my gorgeous husband.
I first met my husband at a 'Battle of the Bands' school function on a cool night in June – it was a Wednesday night in 2001. At the beginning of the year I had been dumped by a guy who I thought was my Prince Charming. This guy immediately started going out with another girl as soon as he broke things off with me. I was in year 12 and my pride was in tatters and so was my heart. I was really hurt and broken. After this particular incident, I tried to focus on finishing year 12 and really got into church and God.
As I was part of the school elective, I thought I should go to this Battle of the Bands function more for being an example to the other kids, not so much to listen to the bands. It was raising money for a mission trip overseas for some students to build a school in a third world country.
For SOME reason, I had this FEELING that I was going to meet my husband at this Battle of  the Bands function. It was a real conviction that I was going to meet a guy who was going to be my next boyfriend and future husband. I prayed about it and didn't think much of this until years later.
At the function, I hung out with friends, gave relationship advice to a guy who had dated most of my friends and was now heavily keen on another girl (and can you believe they are high school sweethearts and are still married with children to this day!) and then I met one of my high school teachers who had brought along a guy from her bible study group. This teacher and the guy she brought along attended the same church I did but I had never met this guy in my life – our church had and still has a huge youth group.
I didn't catch thisguy's name. I didn't understand his jokes. There was general chit chat and then my parents arrived to pick me up to take me home.
I didn't meet anyone that night that was future boyfriend material (or so I thought!!) and I felt foolish with my thinking.
The following Sundays I started to notice this guy more at church. The more I looked at him, the more I realized how good looking he was. We were in completely different friendship circles. He was 20 and hung out with the older members of the youth group, and I was still finishing year 12 and hanging out with the 15-17 year olds!
But each week, I would watch where he sat. Watch when he worshiped God. Watch as he would walk the aisles of the church collecting the offering. Watch when he would walk down the aisle to the front of the church to get prayer. I was smitten with this guy because he was so into God and yet I knew little about him and I didn't even know his name!
My heart is actually getting giddy as I reflect on the moments when I thought he was looking at me and he was actually trying to get someone else's attention! I was infatuated!
To find out his name and where he lived, I started going through the church directory. It had pictures correlating to the names and so I started with A and finally got to F and thought What if his surname starts with Z? So I headed to the back of the directory and I got to S and found him. Jacob Senyard. What a cool name!
The teacher who brought Jacob to the Battle of the Bands was fairly close to Jacob and knew a lot about him. She told me that he had recently got a new job in a government department. I decided to make this news an opportunity to talk, so I sent him a congratulations card on his new job (little had I known that he had been in his job for a few months!!). The following Sunday, I went up to Jacob and asked him if he had received my card and he told me 'So you're the one who sent me that card!'. Again we had general conversation and nothing came out of our talking. Damn!!
My school formal was coming up and my teacher encouraged my group of girlfriends that if we didn't have a partner for our school formal, she knew of a perfect guy at her church. After the teacher left, I looked at each of my friends and told them 'HE IS MY DATE'. The following Sunday, I had to make it official.
I still remember sitting in church, next to my dad, thinking about how I was going to ask Jacob to my formal. When the service finally finished, with boldness and confidence, I walked straight up to Jacob and then as soon as I was face to face with him, my hands got sweaty and in my head I thought wtf am I doing? I felt my heart start to hammer and then I blurted out that my school formal was coming up and I needed a date and was he interested in coming as a friend?
There was a pause (my hands were like water by now!!). Then Jacob said "I'm not sure because I don't know if I have anything on that night". To me this answer was a no. After more talking, Jacob eventually said, yes, he'd love to be my date and I FINALLY had my FIRST official date with a guy who was only taking me to my formal as a friend.
They say the rest is history. The week after schoolies finished, Jacob and I officially became an item. We dated/courted/went out for over 3 years before he popped the question and asked me to be his wife.
It wasn't until I was married to Jacob for a couple of years that I remembered that Battle of the Bands school night and that FEELING that I was going to meet my husband.
The thing was I DID meet my husband that night. It was Jacob. I believe that because I was so involved in church and had an intimate relationship with God, that FEELING I felt  on that night was really the Holy Spirit preparing me for my first meeting with my husband. Still gives me goosebumps to this day.
I follow a lot of blogs and read books by successful entrepreneurs giving their tips on how you can be a success in your field of work. Sadly most of their marriages have broken up. I don't want to judge, but at what cost has being their own success come, if their marriage falls apart? If only they applied the same passion to their marriages as they did with their business's and careers. I am no longer inspired by successful millionaires who are divorced. No amount of money in the bank compares to the riches gained by having a warm and intimate marriage and a complete family unit.
I'm not saying not to pursue success, but make sure your time and attention is mixed equally with your pursuits and your love life.
Marriage is not easy, but it is certainly fun and Jacob and I have to ensure we invest time into each other to make our marriage work. We sometimes get the balance wrong. We have busy weeks (which will now get busier with a bu
b on the way!) and hardly feel like we've seen or talked to each other even though we share the same bed. But rather than give up or resume with the same routine, we change it.
I don't want to be separated from Jacob and I warn him that his life will turn to crap if he leaves me ( he knows this too as he told me that his life started when he met me!!) We talk, we play, we have fun, we go away, we create babies (with God's help) and life with Jacob is enjoyable – I couldn't imagine spending the rest of my life with anyone else.
Marriage is so important in our society. Not everyone marries for the right reasons or realizes the time it takes to invest into a solid marriage but it is worth it. Marriage builds character and character is what gives you perseverance to be the best you can be in whatever field you choose to be a success in. I can't do what I do without Jacob's love and support, and vice versa. A strong marriage is the key to success. It's certainly been the key to mine.