Jesus Christ!
Christ Almighty!
Good Lord!
Sweet Baby Jesus!
Jesus, son of Mary!
Oh My GOD!
Jesus Wept!
All these curses are just a handful I've heard this Christmas. Or I've read them online. Many of them were popular on the construction site. There might have been a few F words flung into the mix to give the curses extra bite. Sometimes the word 'broken' or 'crap' didn't cut it. 😉
The name Jesus is uttered and cursed in a manner of all situations and circumstances, and yet this name is one that has divided the world, despite God's intention saving it. And save it, Jesus did.
When I came up with the idea of a chocolate Christmas Nativity a month ago, I wasn't sure how well it would be received. I didn't expect it to be shared as much as it was. I didn't expect people to admit they wouldn't be able to eat baby Jesus, role played by a Starburst Jelly Baby.
Jesus means nothing to some, yet everything to many.
For me, Jesus birth is a significant event that is the reason for Christmas. No amount of presents from Santa can outdo the present of Jesus, sent to Earth, to save the world and reunite us back to our creator. We all have a desire to know where we come from because it helps us understand who we are and how to live. Each one of us has a purpose here on Earth. Some of us are walking it, while others ignore it, while still others search for that purpose elsewhere. Each of us matter and each of us are living for a reason. We're not some accident.
The world doesn't need more religion, but it certainly needs to be reconciled to God and that can only happen by believing in Jesus and trusting him daily. And with recent world events, we need Him more than ever.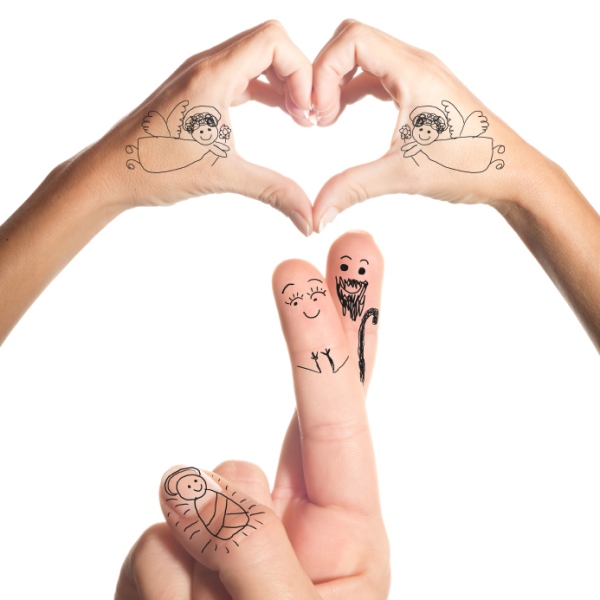 The name that is uttered as a curse, is really a blessing at Christmas and every day throughout the year.
Having said that, I love the festivities that surround Christmas.
I love all Christmas traditions. We do Santa at our house. His delivery of presents is highly anticipated by my two eldest girls. Phoebe has no clue and will be happy with a new toy or two that she doesn't have to share with her sisters.
I love the gift giving, the baking, the crafting, the caroling, the lights, the over-eating and the time spent with family and friends.
So far our family has yet to be marked by a tragedy to dampen our Christmas Spirit. We still miss a grandpa who is living it up in Heaven, and a grandma who is stuck in a body and mind that no longer correlates with the world she lives in. We're so thankful that both know Jesus .
We also celebrate Christmas, knowing it could be the last one for some members of our family. Jacob and I are lucky to have most of our grandparents still alive, but they are just getting by and each day is a blessing, with no guarantees.
But with Jesus there is the guarantee of peace, even when life is terrifying and uncertain around us. A heart that is sure in the promises of faith is not easily broken.
For me, Christmas is a reminder that when things look bleak, God has a plan, even if I can't see it or understand it. The nativity scene is the perfect example of God demonstrating this.
Many still don't understand Jesus birth or recognize it's worth for what it is. All the extravagance that surrounds Christmas is an outpouring of love, yet it often overrides the significance of Jesus birth.
This Christmas, my prayer is that you understand the true meaning behind Jesus and that you experience profound peace and contentment with your loved ones. I pray that the name of Jesus is less of a curse word and more of an anchor in your life for 2016. I pray 2016 is a year of plenty for you and your family and that you won't know what to do with those blessings, except share them with others.
My prayer is that violence in all forms of war and in the family home, cease. Sadly it's on the increase and I find it ironic that the more we curse Jesus, the less love and tolerance there is with others. I pray that we can learn how to love, even when we don't want to, and learn how to bless when we have little to give. The world becomes a better place when each of us knows our worth and we live in our purpose.
From my family to yours, we wish you a very safe and Merry Christmas and that as you ponder these things, you will have a profound understanding that you can carry on into the New Year.