It's interesting to reflect that this time last year I was not in a good way emotionally. It was hard for me to get into the Christmas spirit when I was worried about so many things: Not having work, becoming unexpectedly pregnant, fearing what people and clients would think of me after closing our family business. But the biggest fear I had?
Fearing I had failed God with the so called God ordained plan of running our family plumbing business. Poor Jacob was the only one I could confide and bawl my eyes out too because I didn't know how to explain it – couldn't explain it without sobbing over all the changes.
So I prayed. And I prayed. And I prayed.
What do I do now, Lord?
Crickets
What do I do now Lord? What can I do? What should I do?
Christmas Beetles
What do I do now Lord? I need to do something. I need to know. What can I do? What should I do?
Silence
WHAT DO I DO NOW LORD????
Be still. You're pregnant for goodness sake. Grow where you've been planted.
WORD!
So I threw myself into being a full time mummy, and allowed myself to relax in the excitement and anticipation of a new baby. I was going to be a mum to THREE kids!! I didn't know how we could afford all the expenses for 2014, but I had faith that a God of unlimited resources would provide in amazing ways.
And He did.
While I continued to pray for direction when it came to work, I decided to work a little harder on my blog. I decided to open up more and it helped me find my voice. Grow where you've been planted.
Then in March or April when the Kidspot Voices of 2014 Top 100 were announced, I didn't quite understand what a great achievement that was and didn't attend the Master Class or Launch Party in Sydney. I was over half way through my pregnancy and I had already been to Sydney a few weekends before for Colour Conference. I resorted that I couldn't do everything.
But the enormity of making it into the Top 30 for personal and parenting hit me when I realized all the blogs I read who I assumed were in that category weren't. What the heck?
I didn't make the Top 5. I wasn't disappointed because the timeframe of writing posts for Kidspot during the end months of pregnancy wasn't something I wanted added to my plate. The top 5 were so worthy of their placing. Such wonderful blogs to get lost in.
The first sponsor challenge came through for Olympus and then after Phoebe was born, the Garnier and Healtheries emails were sent through. I hesitated on doing the Healtheries challenge because the Olympus and Garnier posts were very time consuming and when you have a little baby and two kids under three, time devoted to my blog was limited.
I ended up signing up to the Healtheries challenge on the deadline. Esther and Magdalene had been eating so much packet food since I had Phoebe, it would be a good change to add some healthier packets of snacks to the pantry. Thank God for that last minute decision!!
I decided sometime in September that I would try and get to the Kidspot Awards night even though I wasn't nominated for anything as a way to celebrate my Top 30 nomination. It would be like a Christmas party for working on my blog.
As soon as the invitation came, I booked grandparents to babysit, flights for Jacob, Phoebe and I, accommodation and then I started to think about what we would do on our spare day in Melbourne. There were two ports of call. Myer Giftorium and Tiffany's. Both of those will be explained in another post next week.
Leading up to the Awards night I was worried about getting to and from the Sketch bar from my hotel. I didn't really want to catch a taxi by myself late at night. I prayed again and Kirsten from Kirsten and Co answered my prayer, asking me where were we staying and could we cab in and out together? YES absolutely YES. Everything was falling into place beautifully.
I arranged to get my make-up done at the Benefit bar in Myer and that was just a random decision because Jacob and I happened to walk past it while going to the Lift. I needed another primer and thought I may as well get my make-up done for Saturday night.
Kirsten and I met up in the foyer of our hotel and Jacob did the honours of taking our photo. We were in matching jumpsuits. You can read Kirsten's blogpost here, and my styling one here. Soon after, we caught a taxi and headed off to Docklands where the Sketch bar was located.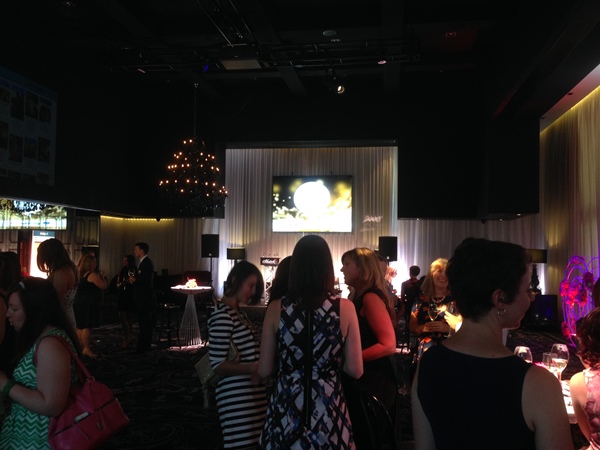 What a brilliant location and fancy do. The red carpet was out, there were photographers everywhere and the drinks were aplenty. Kirsten and I were a bit taken back by how light it was still outside despite it being night time. It felt like 4pm in the arvo but it was actually 7pm!
I mingled with bloggers who I read every week.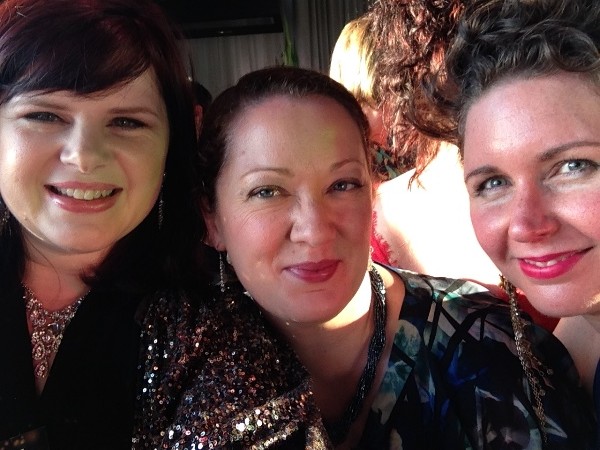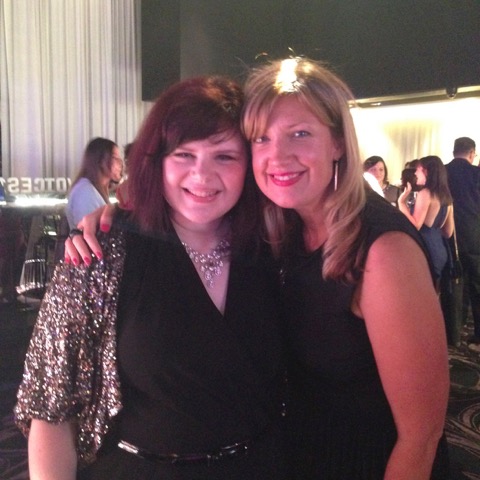 I went up to check out the toilets and by the time I found them, thought I may as well use them and realized I had to completely undress to use them! The joys of wearing a jumpsuit
And then it came to announcing the winners for the sponsor challenges. Thank goodness I used the toilets because The Plumbette won the 2nd prize for the Garnier Smart Beauty Challenge. I screamed in surprise because Plumbing and Beauty? How random. But how AWESOME.
Kirsten & Co got announced as a winner for one of the Olympus prizes. I was glad we both won something in the end. And then she was up again for Healtheries and I was in awe that she got to go up on the stage twice.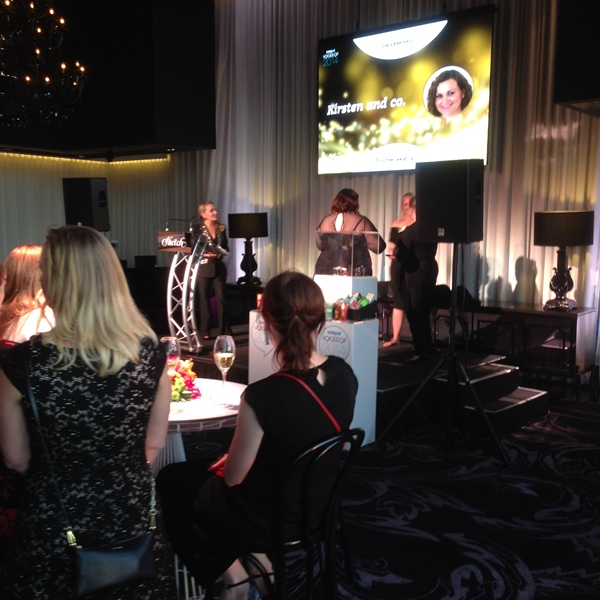 And when the major winner for the Healtheries Challenge was called I thanked God I used that toilet because I couldn't believe it. I screamed. I jumped. I crouched low as if I needed to use the toilets again. I had to make a speech and I hoped I made sense in what I said. Sorry if I didn't. Blame the shock.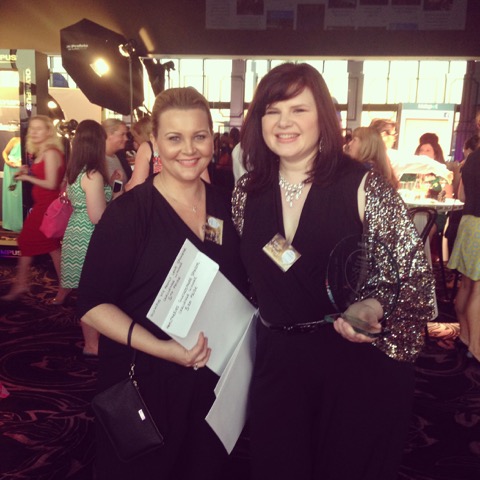 My iPhone died fairly soon after the announcements were made so I'm sorry if I didn't answer all your Twitter, Facebook and Instagram messages of congratulations. But I read them all back at the hotel room. With tears in my eyes.
A special thanks has to go to Kidspot and all the sponsors for putting on an event that rewards bloggers for their hard work. I have to especially thank Healtheries and Garnier for choosing The Plumbette as a worthy winner. You can read about the rest of the winners here.
The prizes amount to approximately $13000. All items that I need. All items that I prayed for and needed divine provision to allow me to continue blogging.
There are many bloggers who will read today's blog and wish and hope that they get the same recognition and I say to you – yes you can. If it can happen to me, it can happen to you. 2014 is drawing to a close which means 2015 brings new hope and fresh anticipation of being recognized and achieving your blogging dreams of the future.
But my advice is, don't do it for the awards. Do it because you love to blog. I loved the challenge of the sponsor challenges and I'm so thankful I put my heart and soul into them.
So one year on after all my curve balls, I'm actually in a good place. Those fears have subsided. Everything works out in the end. God's got my back. It's a good place to be.
How has 2014 been for you? What do you anticipate or want to achieve in 2015?