This week we celebrated the life of Jacob's Nanna, Ethel Pansy Senyard. Known as Pan to friends and family, but nanna to us.
I had just had a lovely breakfast with Lauren last Saturday morning, when I jumped in my car and was trying to navigate my way out of a Westfield car park, and I got a call from my mother-in-law to say Nanna was not well and the time was nearing for her passing.
When I got home, Jacob and I were able to send a text message that could be read to Nanna while she received prayers, visits from her pastor and doctor, and goodbyes from family that lived close by – including her husband of 69 years, Poppa.
Nanna passed away last Saturday night and the celebration service was held on Tuesday.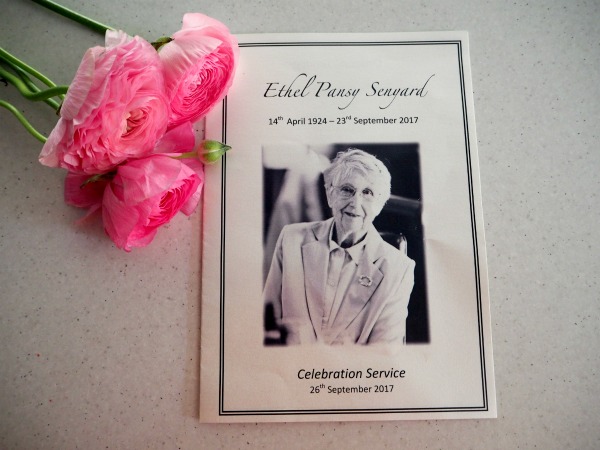 In my social media posts this week (which was far and few between, sorry about that), I think I may have said we attended the funeral. But the service was far from a funeral. It was a celebration of a life well lived. A life poured into others. A life that was disciplined in staying the path and keeping the faith.
No matter what Nanna and Poppa faced, they did it together and with dedication.
Jacob often told me stories from his childhood of visiting his Nanna and Poppa at Palm Beach. And then in Maleny. My first memories of Nanna and Poppa were in their home at Gaven, their last home before they settled at a retirement village.
One of my favourite memories of Nanna was when she'd greet you or say goodbye, she would cup your face and kiss your cheek. It was her signature way of making you feel special. You knew how Nanna felt about you as soon as you walked through the door.
While I listened to the Eulogy, other readings and thought back to the memories Jacob shared with me, as well as my own, Nanna certainly lived a good life. A full life. Yet, it was not without problems or struggles and even day-to-day issues that many of us experience in our own simple lives. She had four children, and was often left to keep the family and household running when Poppa worked away. She did mention that it was hard having a baby and young children and not having Poppa home to help. I may have just had Esther at the time when she shared this with me to encourage me that I would cope when Jacob would eventually go back to work.
She had an unshakeable faith in God. Loved her husband and was faithful to him. Loved her children and grandchildren and great grandchildren.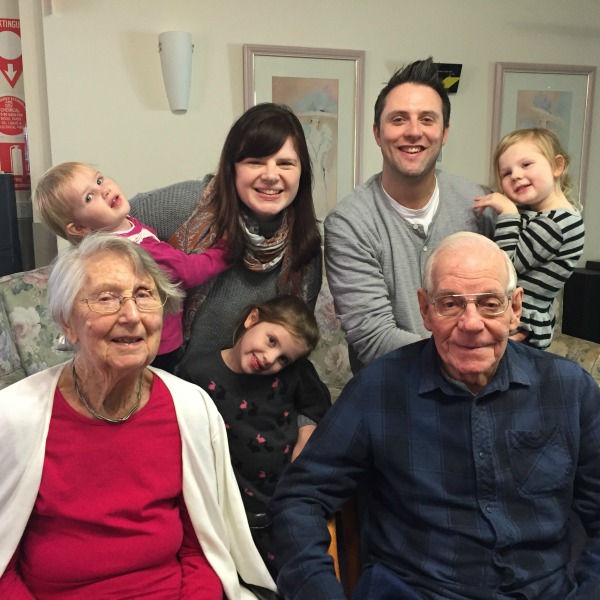 Family was her business. And her 93 years of life revealed to me that the legacy she left behind wasn't in a business, nor from the things she made or baked. But simply from the way she made people feel.
And what a remarkable legacy to leave behind. What a priceless gift she imparted to us while she lived on earth.
And so when I reflect on Nanna's life – I'm reminded that while it's important to work in jobs we enjoy and pursue things that stir our heart, nothing can compare to how we make people feel from our presence and our day-to-day interaction in their lives. It's a privilege and task any one of us can do, but only few perfect the art of it.
We often say the world needs more kindness. But the truth is, the world needs more than kindness. It needs more reverence in seeing the value God has on others. And that's what Nanna did. And we will miss her greatly because of it.
So the answer to my question, what does a life well lived look like? I don't think it's about age or accomplishment. It's living your life in a way that ensures others know they are valuable and loved. And that is something we can all do, in our own unique way.
2 Timothy 4:6-8 NIV "For I am already being poured out like a drink offering, and the time for my departure is near. I have fought the good fight, I have finished the race, I have kept the faith. Now there is in store for me the crown of righteousness, which the Lord, the righteous Judge, will award to me on that day – and not only to me, but also to all who have longed for his appearing."