Sponsored by Stockland
If you reflect on your 20s, you're bound to have fond memories of good times and the youth that you often took for granted. You may also have regrets about things you should or shouldn't have done. I believe missed opportunities will always present themselves again at the right time, because I'm optimistic like that. But I wanted to share with you six things I don't regret doing in my 20s.
Around two years ago, when I was fully immersed in my 30s, I felt like I may have missed the opportunity to live a little wilder in my 20s. At the time, I had three children under five, so I'm not sure whether the feelings were prompted from being on call to three little people day in and day out, or whether it was a spiritual lie, prompting me to do something outrageous to break my 'good girl' mold. But I got through that thinking, and upon reflection have no regrets.
When I reflect on my 20s, I wasn't like most twenty year olds. I was determined to be a good adult by studying and getting a full time job as soon as I could so I could start saving for a house deposit. I never went clubbing. I never got drunk. And I wasn't interested in partying through the night.
But that headspace and discipline set me up to make some wise decisions in my 20s. I thought I'd share with you six of those decisions that I don't regret today.
1. Telling my dad his dating rules sucked
Technically this happened when I was 17, but it set me up for one of the best decisions of my life and all before my 21st year.
After I graduated from school, my dad told me that I wasn't allowed to date until I finished my tertiary education. He didn't want a relationship to distract me from finishing my Diploma in Business Marketing. I remember sitting Dad on my bed and nicely telling him (with a little exasperation) that I couldn't wait that long. I had taken Jacob to my formal the previous year. I knew I was the one for him, and how unfair it would be to make him wait for me while I completed my studies? Dad relented. Jacob and I got together when I was 20, and I was in a steady relationship from that point onwards. We got engaged and married before I was 21. This April, we will have been married for 13 years.
Was it a good decision to get married so young? I believe so. We got marriage counselling before we headed down the aisle and we had talked on length about what we wanted in life. While we were in love with each other, we were also grounded and were in it for the long term.
2. Buying our first house
When Jacob and I were newly engaged, we pooled our money together for a house deposit. At that time, it was about looking for a house we could afford. It also needed to be near public transport so Jacob could get to work as we only had one car, and couldn't be too far from my work at Salisbury. It needed to have access to our church and a shopping centre (a girl needs to shop get groceries). Forest Lake ticked all those boxes at the time. We spent a whole day looking at cottages and villas, and by the end of the day, we knew which house we wanted. We took my parents through, who also thought it would be a good starting house for us, and made an offer that night. Once accepted, we bought our first home. I was 20 and Jacob was 24.
3. Starting and completing my plumbing apprenticeship
A year after Jacob and I had been married, I changed jobs, but realised I wasn't happy with my work situation. I have always been a forward thinker. I knew I wanted to have children, and wanted to have an established business that I could earn an income from while I had kids. I also knew our existing house was not a forever home either. We needed to upgrade to a bigger family home.
I discussed this with my Dad, who suggested a few days later that I become a plumber and take over our family plumbing business. So at the age of 22 I started my plumbing apprenticeship.
During the apprenticeship I regretted starting it. It was hard. I was out of my comfort zone on a daily basis. There were tears. There were frustrations. But I knew I couldn't quit. And I didn't because when I was 25 I completed my apprenticeship. It was a relief when it was finished. But then, the business changed a bit due to the global climate and reigning in the business to create a better lifestyle.
4. Upgrading our home to a Stockland estate
During the first three years of being in our first home, there were things that needed to be done to the house.
We painted rooms, laid new carpet in the bedrooms, installed an air conditioner in our main bedroom, changed the taps, replaced the hot water unit, installed a new roof on the existing pergola and replaced the sleeper retaining wall that housed a family of termites. Buying an older home for our first home didn't come without expense.
But then there was a real estate boom in Brisbane. Houses were being sold at record prices. We had been eyeing off a newly developed Stockland estate in the next suburb over. I walked through display homes with my Mum as she and Dad decided to build their next house. I knew that this was going to be our next move. Stockland was going to be the place Jacob and I would raise our family.
I fell in love with the new residential community, Parkwood Estate. I loved the suburban feel. It felt like the right place to raise a family. There were gorgeous parks that I could imagine taking my future children to. It was also in the vicinity of shopping centres and public transport.
The house and land packages were affordable. But by the time we made our move, many of these had been snapped up. We opted to buy a display home. The design was exactly what we were after and the price was right for our budget. The display home was more than we could have ever dreamed of to raise our family in.
If you're in the market to purchase your first home, consider your lifestyle both now and in the future. There is peace of mind when buying a house and land package in a Stockland estate because there is likely to be very little maintenance in the first 5 years of living in your new home. You also have freedom to choose what you want from the start when it comes to colour and material selections.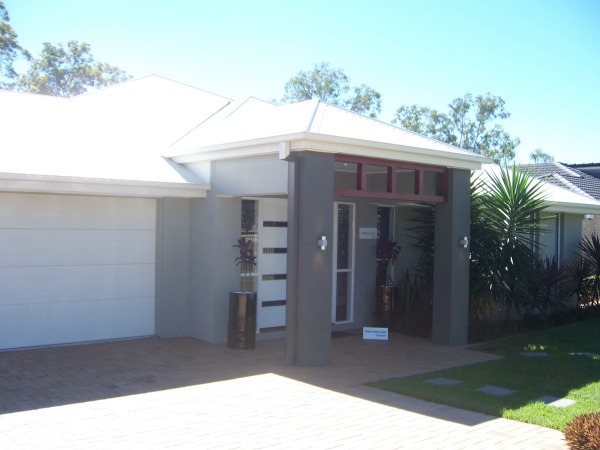 If you're still unsure about where to buy your first home, Stockland have created My Place, which offers tips about purchasing your first property. Knowing what to expect before you head down the home building process is important, and Stockland offers great tips to help you through the process.
5. Overseas travel
Getting into the work force, and saving money like crazy, still allowed for a few overseas holidays. Jacob and I managed to go to Africa on a mission trip before we got married. During the earlier years of our marriage, we went to New Zealand, Fiji and Europe, spending one week in London, and another week in Paris. When we got home from Paris, I thought I had a severe case of jet lag. But it seemed visiting the 'City of Love', set us up for the next stage of our life.
6. Having children
I was 26 when I had my first child and I had my last child two days after I turned 30. The last half of my 20s consisted of baking and raising babies. All the while juggling plumbing work and writing this blog. They were busy and crazy years that are a bit of a blur because having babies in quick succession can do that to you. I don't regret having my girls when I did. But I do feel like I've lived a lot of milestones in one decade.
They say your 20s are the years when you're free to do what you want. It's the years of finally getting out into the world by moving out of home, going to university and travelling overseas. But my 20s were years of making decisions that would set Jacob and I up for the future. It certainly hasn't come without its challenges, but after writing this post, I certainly don't have regrets.
Now my thirties are about paying off the mortgage, raising the kids and getting them through school, while creating wonderful memories together along the way.
I still remember when we first moved into our current home, and feeling like it was empty. But now, as I look around, it's full. Full of Shopkins, Duplo and Lord knows what under the couches. But seriously, it's full of love and life. Full of fun and laughter. And for that, there are absolutely no regrets.
Disclosure: This post has been written in accordance with my disclosure policy. All opinions are my own.